Niyo: Special teams play nothing special for Lions
John Niyo
The Detroit News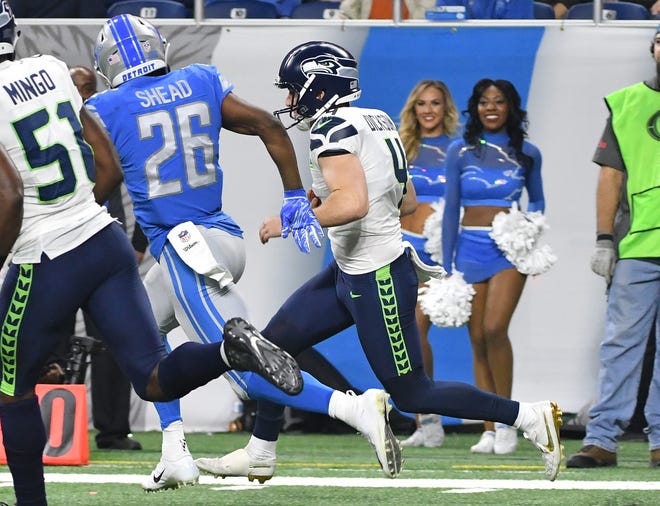 Detroit — This wasn't the plan.
That thought was running through Seattle punter Michael Dickson's head in the final minutes of Sunday's Lions-Seahawks game at Ford Field.
But this season, when it comes to Detroit's special-teams units, the best-laid plans generally aren't required. Anything goes, and everything works. And Sunday really was no different, in the end.
Dickson, Seattle's drop-kicking rookie sensation from Down Under, knew the safe play was the one the coaches had called from the sideline. His team was up, 28-14, with 2:18 to play, and with the Seahawks pinned back at their own 3-yard line facing fourth-and-9, Dickson was just supposed to burn some clock and then step out of bounds for a safety. No sense running the risk of a blocked punt.
But as the play developed, with gunners split wide to each side and the Lions' rushing eight at the line of scrimmage, Dickson started hearing voices as he rolled to his right to "try and soak up as much time as I could."
More: Wojo: Lions can't run, can't hide from their flaws
More: Justin Rogers' Lions grades: Trenches, special teams awful
He surveyed the field in front of him, saw that DeShawn Shead had lost outside leverage rushing off the edge, saw the Lions' Cre'von LeBlanc locked up with Seattle's Akeem King nearly 15 yards upfield, "and there was just so much open space," Dickson said, explaining what unfolded next as he stood in a rowdy visitors' locker room after the game.
A couple weeks ago, after a rout of Oakland in London, Seattle's free-spirited head coach, Pete Carroll, had teased Dickson, who grew up in Sydney playing Australian Rules football.
"Pete came up to me — I think he was joking — and he goes, 'When are you ever gonna run one?'" Dickson said. "And I said, 'When have you told me to?' And he goes, 'No, no, no. If it's open, run it.'"
When Dickson told Seattle's special teams coordinator Brian Schneider that, "he's like, 'Don't ever run it. Don't listen to Pete.'"
Surprise sprint
So, yes, Dickson admits he was a bit conflicted in the moment. But as he took one more look at all that green in front of him, he decided, for Pete's sake, why not?
"It was too good not to try and take," Dickson said. "And once I started running, I was like, 'There's no turning back now. You can't just turn around and get a safety now.' So I took it and knew I was gonna get hit and I braced for the hit …"
And when it finally came, well, the hits just kept coming. Dickson had the first down, the Seahawks had the game well in hand, and his head coach was running down the sideline like he'd just won a Super Bowl, smacking Dickson on the helmet along with all the rest of the rookie's teammates.
"I can't love a play more than that," Carroll said. "It was like he went against all tradition, all thinking and everything. But he saw a situation and he took advantage of it. And I think that's what great players do and they surprise you sometimes. That was truly a surprise."
It was only later, back in the locker room, that Carroll came up to Dickson and asked him the obvious question.
"He was happy but he was, like, 'What were you thinking? Why'd you do that?'" laughed Dickson, who said he ran two fake punts in college at Texas but had one called back by a holding penalty against USC. "So, I guess I took the frustration out today."
Next door, of course, this was no laughing matter, as the Lions dropped another home game with an all-around awful performance.
Seattle finished with 176 yards rushing, Russell Wilson ended his day with a perfect passer rating, and the Lions committed three turnovers while forcing none. But it was another disastrous performance by Detroit's special teams that punctuated the loss.
Ameer Abdullah fumbled on a kickoff return to set up Seattle's second touchdown, the return and coverage units committed three more penalties — that's now 11 for the season — and the Lions lost the field-position battle all game. Seattle's average start was its on 26-yard line, while Detroit's was its own 15.
Bumbling blunders
"It's frustrating," said the Lions' Charles Washington, who actually got things started on a positive note by tackling Seattle's Rashaad Penny at the 17-yard line on the opening kickoff. "We have good coaches. None of what they're coaching is what we're doing. I mean, that's all self-inflicted on the players and we have to be better as players."
They'd gotten a bit better, it seemed, in recent weeks after a horrendous start in the season-opening losses to the Jets and 49ers, one that called into question the job security of special teams coordinator Joe Marciano, one of the few holdovers from Jim Caldwell's coaching staff.
"Lack of discipline, lack of being detailed, could be better coached — it's a combination of a lot of things," Marciano said a few weeks ago, when asked about the struggles in 2018 coming off back-to-back seasons with standout special-teams play in Detroit.
September's issues with kickoff coverage seemed to be corrected in the interim, but the return teams continue to be a problem. A pair of holding penalties — on Washington and Jalen Reeves-Maybin — and an illegal block by Christian Jones cost the Lions some 52 yards on returns. Sam Martin also had a punt for a touchback and a 28-yarder from midfield that went out of bounds.
Abdullah's fumble, meanwhile, couldn't have come at a worse time, immediately after the Seahawks scored to tie the game at 7 in the first minute of the second quarter.
"Definitely can't do that in that moment on that side of the field," said Abdullah, who took a big hit from Seattle's Tedric Thompson at his own 31-yard line. "You can't let the ball go.
"It's definitely disappointing. I'm disappointed in myself for putting the ball on the ground in that situation. But the mark of any good team is bouncing back, and we didn't bounce back today."
Wherever the blame for that lies — whether it's on the players or Marciano or even Patricia and general manager Bob Quinn for the personnel they're putting out there on special teams — the truth is it might be too late to fix the damage already done to the Lions' season.
And the fact that it was a rookie punter putting the finishes on it only added insult to injury.
"I mean, it all adds up," Dickson said, shrugging. "Every yard counts."
john.niyo@detroitnews.com
Twitter: @JohnNiyo