Tigers would surprise everyone if Casey Mize isn't their first pick

Lynn Henning
The Detroit News
For at least three months he has been college baseball's version of Justify, the glorious 3-year-old thoroughbred who on Saturday will go for a Triple Crown victory at Belmont Park.
Casey Mize has looked to those who scout and follow baseball's annual June draft as the safest and surest bet at No. 1 overall, which the Tigers are expected to certify at 7 p.m. Monday when the big-league draft begins (MLB Network).
Mize has been steady. He has many times been overpowering. He has shown uncommon polish for a college junior. He has been stingy with hits and walks and has gorged on strikeouts, as was the case Saturday during Auburn's NCAA regional victory against Army, when Mize worked seven innings, allowed four hits and a run, struck out 11, and walked two.
His tote-board numbers for the 2018 season must begin with an astonishing ratio: 151 strikeouts to 12 walks. In other words, about 12½ strikeouts for every base-on-balls he allows.
To roll up those digits, not to mention a 2.95 ERA, and a .195 batting average for rival batters, is particularly stunning when Mize pitches in the closest competitive arena this side of the big leagues: the Southeastern Conference.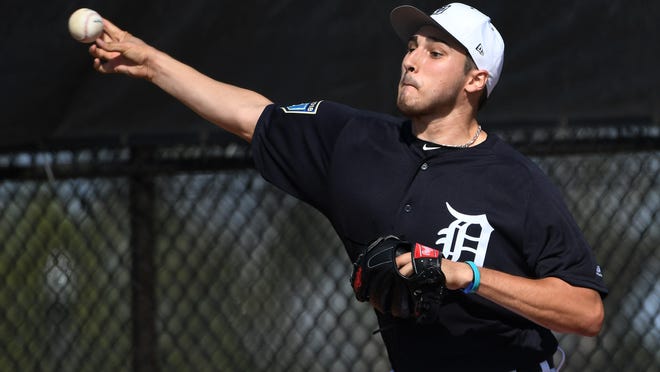 He has a fastball that cruises at 94-95-mph. He owns a cutter, as well as a slider, and mixes in a split-finger change-up that once upon a time might have been called a forkball.
It is a devilish battery of pitchers for a man from Springville, Ala., who is 21, and who goes 6-foot-3, 220 pounds.
More: Wojo: Tigers hunting for next big piece in rebuild
More:Rodriguez hints Tigers might have gotten prize in Upton trade
The Tigers have, quietly anyway, had Mize in the top spot at least since late winter. They have seen from him the same portfolio other teams and scouts have been documenting as teams have etched names and notes into their laptops, with enormous details surrounding those names.
Such is the pressure to draft well, particularly in the first round, and especially with the first pick.
There is a certainty that the Tigers wanted in 2018 to grab a hitter with baseball's consolation prize for having finished last in 2017.
The Tigers could, at least in theory, go that route Monday night.
But as much as they have wanted to be sold on a bat, on a position player they could drop onto their farmlands and groom for work at Comerica Park, they have not found a hitter they believe can bring as much long-term value to their roster as Mize.
Joey Bart, the Georgia Tech catcher, will be a solid big-league player. But the Tigers have just enough questions about his everyday hitting potential to place him behind Mize as they project long-term exceptionalism.
They liked, also, to a lesser extent, Wichita State third baseman Alec Bohm, as well as Oregon State second baseman Nick Madrigal. They are not sufficiently sure about Jarred Kelenic, the left-handed-hitting Wisconsin prep muscleman.
They believe also that the man who entered the calendar year as everyone's first-overall favorite, Brady Singer, the University of Florida ace, will be a lovely rotation piece but that he lacks Mize's capacity to dazzle.
And so it looks all but a lock that Mize's name will be the first blared Monday by Commissioner Rob Manfred as Rounds 1 through 2 are completed, with the remainder of the 40 rounds set for Tuesday and Wednesday.
There are a couple of potential caveats.
The Tigers could always change their minds ahead of Monday evening, unlikely as that may seem only hours before the draft is launched.
If they pull a surprise, if they reverse course on Mize, it could be because of a money issue. 
The Tigers, of course, like all teams, at all draft levels, are awarded certain budgets for each slot and are not to exceed those limits, within reason, lest they invite more than a hand-slap from Manfred's office.
The Tigers are allowed just over $8 million for their first overall pick, which appears bound for Mize.
But it must be remembered that rarely do teams exhaust their full allotment on that first-overall pick. Players typically sign for something less, which the Tigers very much hope will be the case with Mize and with his advisers/representatives, The Bledsoe Brothers. 
The Tigers are probably thinking of something more along the lines of $6 million. Mize and his counselors would naturally want a figure closer to maximum, especially considering he has been a season-long celebrity as the popular first pick.
The Tigers would appreciate having some of that extra cash to entice later selections. The idea is, the more money you can offer a high-school player, or college junior, to either forgo college or bypass returning for a senior year, the better the chance you have at persuading a talented youngster to sign with your club and get on immediately with the business of becoming a professional player.
This is where it can get sticky.
Say the Tigers offer Mize a good deal less than $8 million. Say they cap their offer at $6 million.
Mize could always decide that his would-be new team should go fly a kite while he heads back to Auburn for a grand senior-season finale.
But exactly who expects a pitcher, with those kinds of life-sustaining paydays a signature away, to snort at the Tigers' offer?
The Tigers, of course, aren't interested in kneecapping a terrific pitcher and potential artwork for their rebuilding project. They would appreciate if Mize feels as good about their new life together as they will profess to be once Monday night's pick is final.
So, there are some issues here apart from identifying talent. There are conversations about money. There are considerations to be made about picks deeper in the draft.
It's quite a process. It's thoroughly exhausting. And, of course, in baseball it all comes with a non-guarantee that even the first-overall prospect will ever spend a nanosecond in the big leagues.
With that known, and plenty yet unknown, it will still astonish just about anyone with draft expertise if the Tigers on Monday pick anyone but the gent who most mandates being grabbed with that first pick: the main man from Auburn, Casey Mize.
lynn.henning@detroitnews.com
Twitter.com/Lynn_Henning 
Draft days
Tigers' top picks the last 15 years:
Year, Player, Round/Pick
 
2017, Alex Faedo, RHP, 1/18
 
2016, Matt Manning, RHP, 1/9
 
2015, Beau Burrows, RHP, 1/22
 
2014, Derek Hill, OF, 1/23
 
2013, Jonathon Crawford, RHP, 1/20
2012, Jake Thompson, RHP, 2/91
 
2011, James McCann, C, 2/76
 
2010, Nick Castellanos, 3B, 1/44*
 
2009, Jacob Turner, RHP, 1/9
 
2008, Ryan Perry, RHP, 1/21
 
2007, Rick Porcello, RHP, 1/27
 
2006, Andrew Miller, LHP, 1/6
 
2005, Cameron Maybin, OF, 1/10
 
2004, Justin Verlander, RHP, 1/2
 
2003, Kyle Sleeth, RHP, 1/21
* Compensation pick