Division 3: King gets revenge, claims another crown

David Goricki
The Detroit News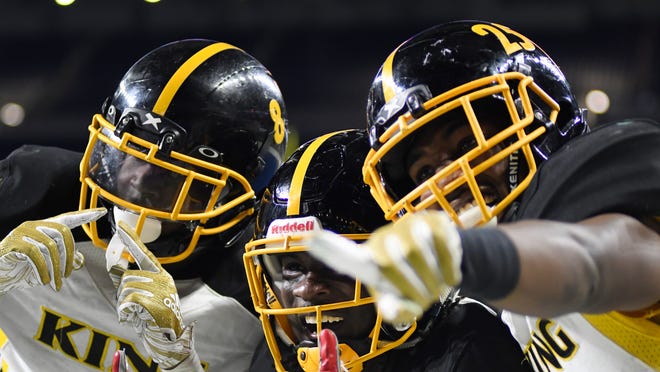 Detroit — Dequan Finn wanted a rematch after Detroit King lost to Muskegon 24-21 in an early-season game in late August.
Finn got the rematch with No. 3 Muskegon with the Division 3 championship on the line Saturday night at Ford Field.
And, Finn made the most of it, throwing for four TDs and running for another score to lead No. 10 King to a 41-25 victory to end Muskegon's 27-game winning streak.
It was the third state championship for King (12-2) in the past four years. It earned Division 2 state titles in 2015 and 2016.
BOX SCORE: Detroit King 41, Muskegon 25
Finn completed 9-of-13 passes for 173 yards, including TD passes of 44 and 22 yards to Dominick Polidore-Hannah, a 22-yard scoring toss to Ahmad Gardner and a 3-yard TD strike to Darrell Wyatt. 
"I'm just happy with the whole team, the effort that we gave," Finn said. "It's a surreal moment right now, I'm lost for words."
Polidore-Hannah was ready to produce on the big stage.
"Coach (Tyrone Spencer) just told me to calm down and play my game, go out and be a playmaker and I told him I got it," said Polidore-Hannah who had high praise for Finn. "He's an incredible quarterback, the best in the state. I'm so proud of him. He was incredible."
Junior running back Peny Boone scored on a 52-yard run to open up a 35-17 lead midway through the fourth.
"It's my first time out here so I just had to run crazy," said Boone who only had a handful of carries in the first game between the teams after transferring from Warren Fitzgerald. "I was just supposed to take care of the ball, I didn't think I'd get a big run like that (52-yard TD). I have to give credit to my offensive line. I love those guys."
Said Finn: "It helped a lot to have him (Boone) back there, balanced out the whole thing and we produced good and scored a lot tonight. It's just a blessing to have all those weapons, have the receivers run the right routes. I'm just thankful for having them on my team."
Muskegon junior quarterback Cameron Martinez, who entered the game with 2,316 yards rushing and 36 TDs, ran for 211 yards on 37 carries and two TDs.
Still, King made Martinez earn his yards, holding him to a long of 29 yards.
Finn had an outstanding first half, completing 5-of-6 passes for 127 yards, including TD passes of 44 and 22 yards to Polidore-Hannah.
It was important that Finn connected with Polidore-Hannah on the first scoring toss since Muskegon had just taken a 7-0 lead on an impressive, 97-yard, 13-play drive with  Martinez running for 57 yards on seven carries, including a 10-yard TD run.
"We had practiced that route all week in practice, the dig route, we practiced it over and over and my quarterback got it to me and my receivers had a great block and I had a chance to score," Polidore-Hannah said of his first TD grab.
King was aided by a pair of perfectly thrown passes from Martinez which would have led to long gains, possibly TDs, if not dropped by wide open receivers.
After the second drop, the snap went over the head of Muskegon punter Carlos Hernandez, who retrieved the ball but could only muster a short punt, giving Finn and King a short field to work with at the Muskegon 30.
Finn made sure King would take advantage of the situation, picking up 17 yards on a fourth and 4 from the 24, then scoring on a 7-yard run on the next play for a 21-10 cushion with 9:16 left in the third.
Then, Martinez led Muskegon on a 62-yard TD drive, running 12 times for 59 yards, including a 2-yard TD run to cut the deficit to 21-17 with 2:02 left in the third. At the time, Muskegon held a 48-23 advantage in plays.
Finn would make sure King answered with a TD of its own, directing his team on a 73-yard drive, picking up 10 yards to the Muskegon 45 on a third-and-3 keeper, then using his poise to find Boone for a 17-yard screen pass to the 28 after his receivers downfield were covered.
Finn converted another third-down pass when he lofted a perfectly thrown ball over the head of defensive back Myles Walton and into the hands of Gardner who was in the back of the end zone for a 22-yard TD and a 28-17 lead with 9:26 left.
"I knew that my guy was better than his guy so I just trusted him and put all my faith in him and I just had to deliver the right throw," Finn said.
King put the exclamation point on the rematch victory when its defense pinned Muskegon deep in its own territory, then got the ball at the King 48 after the punt.
On the first play, Boone busted loose for a 52-yard TD for a 35-17 advantage. He finished with 111 yards on 14 carries. Finn had 73 yards rushing on 11 attempts.
"That Peny Boone run was huge," King coach Tyrone Spencer said. "They haven't seen this Peny Boone. He just did what he had to do and I'm proud that he ran the way he did today."
Still, the night was Finn's.
"He's been here before and he looked like it," Spencer said of Finn who was the starting quarterback in King's 18-0 win over Walled Lake Western in 2016. "He didn't look rattled or he wasn't doing too much. He just played in the moment and that's why we played so well."
david.goricki@detroitnews.com