David Goricki's football state finals MVPs

David Goricki
The Detroit News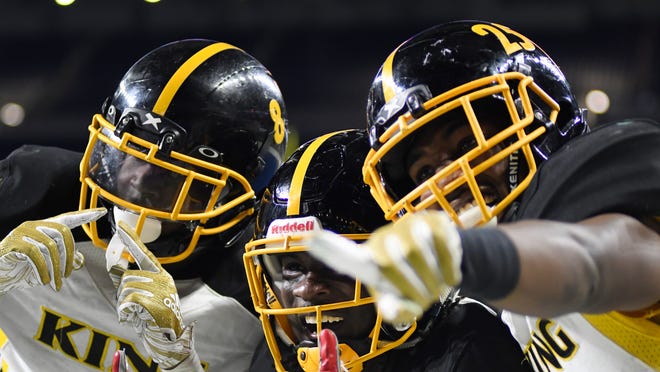 David Goricki of The Detroit News picks a most valuable player from each of the eight football state finals games at Ford Field:
Division 1
Tommy Schuster, Chippewa Valley: Schuster completed his senior year in style, hitting on all 13 of his pass attempts for 205 yards, including TD strikes of 36 and 25 yards to Martice Bunting, leading Chippewa Valley a perfect 14-0 season with a 31-30 win over defending champion Clarkston. It was Chippewa Valley's first state title since winning a Division 2 championship in 2001 at the Pontiac Silverdome.
Division 2
Jacob Dobbs, Warren De La Salle: Dobbs, a Holy Cross commit, got in on 16 tackles and forced a fumble to help De La Salle repeat as state champion with a 29-16 win over Muskegon Mona Shores. He made two big fourth-down stops in the opening quarter to set the tempo.
More: Tommy Schuster, Dequan Finn masterful under finals spotlight
Division 3
Dequan Finn, Detroit King: Finn, a Central Michigan commit, helped King avenge a Week 2 loss to Muskegon by throwing for 173 yards and four TDs, and rushing for 73 yards and a TD in leading King to a 41-25 win to earn its third state title in the last four years.
Division 4
Dillon Hursh, Edwardsburg: Hursh, a junior linebacker, was all over the field for Edwardsburg in its 28-7 win over Chelsea to give the school its first championship. He made 14 tackles, including three TFL.
Division 5
Isaac TeSlaa, Hudsonville Unity Christian: TeSlaa was an impact player on both sides of the ball in Unity Christian's 42-7 rout of Portland. He rushed for 97 yards and two TDs, threw for a TD and made two interceptions from his secondary position.
Division 6
Nick Thomas, Jackson Lumen Christi: Thomas ran for 249 yards and two TDs while also getting in on 10 tackles, including two sacks, to help Lumen Christi to three straight state titles for the first time in school history with a 42-28 win over Montague.
Division 7
Avery Moore, New Lothrop: Dual-threat quarterback Avery Moore rushed for 132 yards and four TDs and threw for 99 yards to help New Lothrop to a 50-44 win over Madison Heights Madison in what was the highest scoring game in state finals history.
Division 8
Ethan LoPresto, Reading: LoPresto rushed for 123 yards to headline a ground attack that piled up 275 yards and four TDs in a 39-20 win over Breckenridge. LoPresto also had one-half sack for a defense that accumulated 10 TFL.