'I loved it': Detroit King four-star RB Peny Boone commits to Maryland

David Goricki
The Detroit News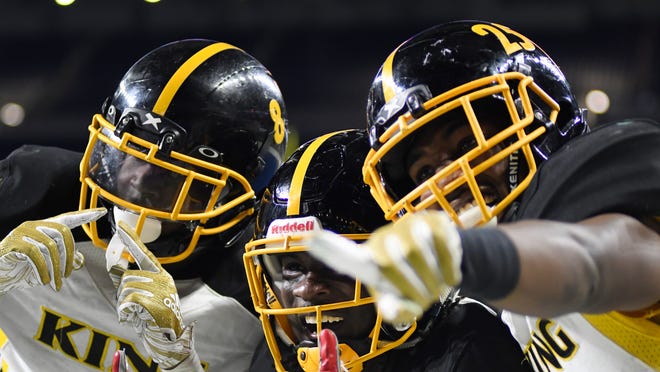 Peny Boone announced Monday he would be play college football in the Big Ten, just not for Michigan or Michigan State.
Boone, a four-star running back for Detroit King, committed to Maryland, picking the Terrapins over dozens of schools, including the Wolverines and Spartans.
Boone, 6-foot-2 and 225 pounds, will be the premier back in the state this fall after helping King to the Division 3 state championship last year, rushing for 634 yards during five postseason games.
"I'm going to the University of Maryland," Boone told The Detroit News. "I just went down there Saturday, took an unofficial visit, talked to the players, when out to eat with them. I loved it. It just felt like home to me."
Boone said Maryland was not always his No. 1 choice.
"I wasn't looking at them all the way, but when I went down there, that's when I decided it was the place for me," Boone said. "They (coaches) were just keeping it real with me, telling me if I came there and worked my butt off I get the chance to play."
King has won three state championships in the last four years, including Division 2 titles in 2015 and 2016.
More: Justin Rogers posts photos from Alabama but says 'nothing's changed' about Kentucky commitment
King coach Tyrone Spencer said Michigan and MSU both put a priority on recruiting Boone. Spencer said UM coach Jim Harbaugh visited his office to extend an offer to Boone.
"Michigan State really wanted him, recruited Peny hard, but he just felt comfortable at Maryland," Spencer told The News.
Spencer said Boone simply wanted to get away for college.
"You know, it's just like Cass Tech's running back (Jaren Mangham) deciding to go to Colorado last year," Spencer said.
Boone transferred to King last fall from Warren Fitzgerald and got comfortable with King's offense midseason, then took his game to the next level during the postseason.
Boone had 250 yards and three TDs in the district final win over Warren Woods Tower, 148 yards and two TDs in the 34-21 state semifinal win over DeWitt, and 111 yards – capped off by a 52-yard TD run – in the 41-25 state championship game win over Muskegon, avenging a loss earlier in the season.
Spencer believes Boone is capable of being a 2,000-yard rusher his senior year. King will enter the season as The Detroit News' No. 1 team in the state, with Boone joining four-star Indiana-bound receiver Rashawn Williams to provide a strong 1-2 punch, with incoming freshman quarterback Dante Moore, who already owns an offer from Michigan, getting his feet wet. He will work behind an offensive line that includes three-star tackle Deondre Buford.
"Dante Moore, he's looking good for sure," said Boone of Moore, who will be getting some work in later this month during 7-on-7 competition.
Buford has had a busy month, taking official visits the last three weeks to Purdue, Arizona and Pittsburgh. He said he hopes to make his decision in August or September.
"I'm interested in Purdue, West Virginia and Toledo, but I don't know where I'm going to take my final official visits," Buford said. "Michigan's been in contact with me a little bit, but they haven't offered. I haven't talked to Michigan State."
King will be tested early, facing Detroit Catholic Central in the season opener Aug. 31 at Wayne State before hosting Muskegon Sept. 6.