Four-star Oak Park lineman Rayshaun Benny commits to Michigan State

David Goricki
The Detroit News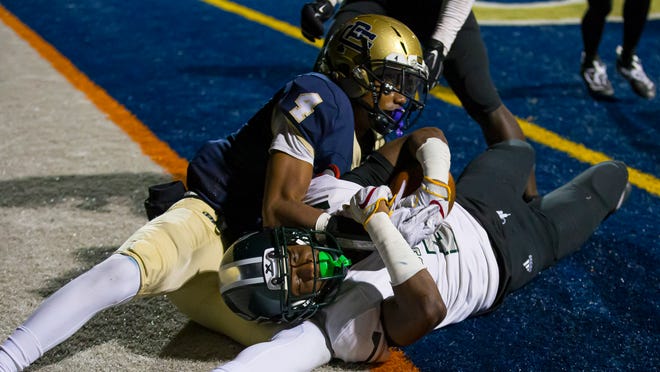 Rayshaun Benny, a two-way lineman from Oak Park, verbally committed to Michigan State on Monday.
The 6-foot-4, 290-pound Benny chose the Spartans among a final four that included Michigan, Penn State and Kentucky.
"My decision was a family thing and Michigan State just reminded me the most of Oak Park," Benny told The Detroit News. "I've been here since the second grade, and that was a big thing in my recruitment that I wanted to look for.
"I just connected more with them, more of the staff at Michigan State. Not to say I had a problem with any of Michigan's staff, but Michigan State just stood out with me since I have family that go there; I have cousins and then people who have been around me my whole life that go there." 
Benny was the top uncommitted football player in the state's 2021 class, checking in at No. 6 in Michigan, according to the 247Sports composite, No. 15 nationally at defensive tackle, and No. 188 regardless of position.
He is No. 5 in The Detroit News' top 20 players for the 2020 high school season.
Benny, who plays defensive end for Oak Park coach Greg Carter, said he'll play defense for the Spartans, and hopes to make an immediate impact.
"Anything is possible (on playing right away)," he said. "I have the work ethic to do it and the skill set to do it."
Benny missed the first five games of the shortened six-game regular season due to knee surgery for a torn meniscus after getting injured in a Lyft transport accident this summer. He said his knee is now fine.
Benny returned in the season finale, a 47-0 loss to Clarkston to drop Oak Park to 0-6 before helping his team to consecutive postseason wins over Grosse Pointe South and U-D Jesuit.
Oak Park plays at Wyandotte in a Division 2 district championship game Friday night.
"He's probably the best lineman that I've coached to be honest with you," Carter said. "We had a guy at (Detroit St. Martin) dePorres (in thelate 1980s) who was really good, and he kind of reminds me of him on the field, Franciscus Mills, who went on to Indiana and played (defensive tackle) in the NFL.
"Rayshaun is probably the best all-around lineman that I've had, and it's for a combination of reasons, how he plays every down, being real forceful at the point of the attack. He's a great technician, pass protects well. Him and Marlon (Dawson) both stabilize the defense, they are both edge players, defensive ends, three technique type of kids."
Oak Park's defense is anchored by Benny and three-star Marlon Dawson, who is committed to defending Mid-American Conference champion Miami (Ohio), along with Toledo-bound safety Jaylin Mines and three-star junior safety Glenie Cross.
Benny becomes the highest-ranked player so far in Michigan State's 17-member 2021 class, which lost a commitment from three-star safety Jah'Von Grigsby over the weekend, and its second four-star recruit, joining New Jersey guard Geno VanDeMark.
He is one of three players to commit to Michigan State in the past two days, following three-star Conyers (Georgia) Salem offensive lineman Kristian Phillips, the first verbal commit for the Spartans' 2022 class. About an hour after Benny announced his commitment, Michigan State received a commitment from Independence (Kansas) Community College offensive tackle Brandon Baldwin, a Southfield A&T product.
Benny and Baldwin are the fifth and sixth members of the class from the state of Michigan, including Oak Park teammate and running back Davion Primm, whose influence helped Benny make a decision.
"I've been with him nearly every day the past two months," Benny said.
East Lansing offensive tackle Ethan Boyd, Warren Mott defensive end Tyson Watson, and Detroit Loyola defensive tackle Derrick Harmon also are in-state prospects in the class.
david.goricki@detroitnews.com