Friday's baseball: Dodgers deal Puig, Wood to Reds for Homer Bailey
By Joe Kay
Associated Press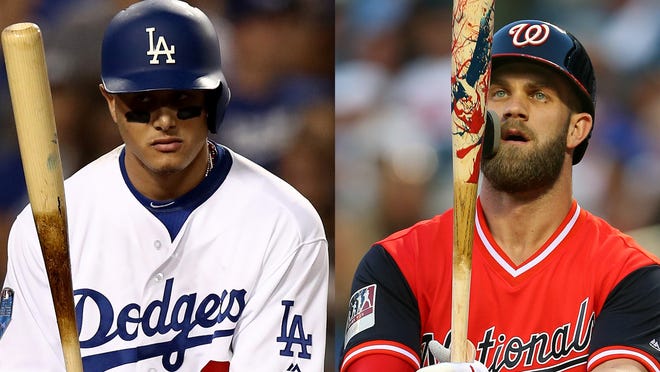 Cincinnati — The Los Angeles Dodgers had a surplus of outfielders. With one attention-getting deal, they reshaped their roster in hopes of another pennant run.
The reigning NL champions shook up their lineup on Friday, trading Yasiel Puig, Matt Kemp and left-hander Alex Wood along with cash to the Cincinnati Reds for a pair of prospects as part of a seven-player deal.
The Reds included starter Homer Bailey in the swap, a way of freeing them from the $28 million owed him in the final year of his contract. Bailey didn't fit into the Reds' pitching plans, so they wanted to include him in a deal if possible. The Dodgers plan to release him.
"It was to grant him his release, more of fitting into the overall construct of the deal," said Andrew Friedman, the Dodgers' president of baseball operations.
The Dodgers get minor leaguer infielder Jeter Downs and right-hander Josiah Gray. The Reds got catcher Kyle Farmer for depth at the position.
"I think if you look back over last few years, a hallmark of our teams has been depth on our roster," Friedman said. "This put us in position with a surplus in the outfield and pitching. A big focus was to figure out moves on those fronts that made sense."
For the Reds, it's another move toward becoming competitive after four straight 90-loss seasons. Cincinnati has been rebuilding since 2015, and decided it's time to spend some money and make some deals to complement its core of young players.
"We still have (financial) resources to make this team better – we're not done yet," said Dick Williams, the Reds' president of baseball operations. "We did trade some good prospects here, but we acquired four major league players that address needs for us and I think we're better in the short-term."
Last week, the Reds traded pitching prospect Tanner Rainey to the Nationals for 32-year-old starter Tanner Roark, who led the National League in losses last season while going 9-15 with a 4.34 ERA.
Cincinnati didn't know what to do with Bailey, who went 1-14 last season with a 6.09 ERA and resisted a move to the bullpen. He threw a pair of no-hitters before his career was sidetracked by three arm operations. He was entering the final year on a six-year, $105 million deal.
The rotation has been the Reds' biggest problem, with prospects failing to produce consistently, and Wood provides another upgrade. He was an All-Star for the Dodgers in 2017, going 16-3 with a 2.72 ERA. He was 9-7 last season with a 3.68 ERA in 27 starts and six relief appearances.
"We think he's a solid middle-of-the-rotation guy who's going to fit in really well," Williams said.
The Reds' outfield was in flux when they chose not to tender a contact to Billy Hamilton, making him a free agent. Puig is expected to play right field. He's in the final year of a seven-year, $42 million deal.
Kemp, 34, batted .290 with 25 doubles, 21 homers and 85 RBIs last season, when he was an All-Star for the third time.
The Dodgers felt good about the chance to deal from their glut of outfielders and pitchers.
"If you look at our rotation and outfield four hours ago, it was not a functional roster," Friedman said. "It's a deal that makes sense."
Rangers trade Profar to A's
Texas traded infielder Jurickson Profar to the Oakland Athletics in a three-team deal that included Tampa Bay and netted the Rangers four prospects.
Oakland also finalized a $15 million, two-year contract with free agent right-hander Joakim Soria, giving the A's a reliable and versatile reliever.
The 34-year-old Soria, a two-time All-Star, went 3-4 with a 3.12 ERA in 66 appearances and 60 2/3 innings this year for the Chicago White Sox and Milwaukee Brewers.
He gets $6.5 million next year and $8.5 million in 2020, and he can earn $500,000 annually in performance bonuses for games finished: $250,000 each for 35 and 40. Soria would get a $750,000 assignment bonus the first time he is traded during the contract.
Profar, who at 19 in 2012 homered in his first big league at-bat before shoulder issues forced him to miss two full seasons, hit .254 with 20 homers and 77 RBIs in 146 games while playing all four infield positions for Texas this year.
In Oakland, he will take over at second base for departing free agent Jed Lowrie. Profar had been expected to become the starting third baseman for the Rangers after Adrian Beltre retired last month.
The Rangers acquired right-hander Yoel Espinal and left-handers Kyle Bird and Brock Burke from Tampa Bay, and infielder Eli White from Oakland. Texas also got $750,000 international signing bonus pool allocation from the A's.
Texas sent right-hander Rollie Lacy to Tampa Bay. The A's also sent right-handed pitcher Emilio Pagan and a 2019 competitive balance Round A pick to the Rays, a selection projected to be in the high 30s overall.
The Rangers had two more seasons of arbitration eligibility for Profar before he can become a free agent. General manager Jon Daniels said there had been discussions about the possibility of an extension but that it became clear that wasn't going to happen.
Daniels said the A's had been consistent in their interest in Profar, and with Tampa Bay in the deal it enabled the Rangers to get the full value they felt was needed to consider trading away the player that signed with them as a 16-year-old in 2009.
The GM said all four players coming to the Rangers are at the upper levels of the minor leagues and knocking on the door of the big leagues.
Cardinals land Andrew Miller 
Reliever Andrew Miller agreed to a $25 million, two-year deal with the St. Louis Cardinals that includes a club option and performance bonuses that could make it worth $36 million over three seasons.
The 6-foot-7 left-hander has been dominant for much of this decade, but he went just 2-4 with a 4.24 ERA in 37 games with Cleveland last season while dealing with hamstring, knee and shoulder issues.
Miller gets $11 million next year and $11.5 million in 2020, and the deal includes a $12 million team option for 2021 with a $2.5 million buyout, The option would become guaranteed if Miller has 110 games as a pitcher in 2019 and '20 combined.
He can earn $500,000 annually in performance bonuses based on games pitched: $100,000 each for 40, 45, 50, 55 and 60. He would get a $1 million assignment bonus each time he is traded.
The Cardinals went 88-74 this year but missed the postseason. They already made waves this month by trading for slugger Paul Goldschmidt.
The St. Louis bullpen had plenty of issues last season. Luke Gregerson hurt his hamstring in spring training and posted a 7.11 ERA in 17 games. The Cardinals signed Greg Holland at the beginning of the season, but he too had an ERA over 7.00 when he was released at the beginning of August.
Bud Norris had 28 saves for St. Louis last season, but he is now a free agent. Lefty Brett Cecil had a 6.89 ERA in 40 appearances.
Miller began his MLB career in 2006 with Detroit after being drafted by the Tigers in the first round. He was later dealt to the Marlins in the deal that sent Miguel Cabrera to Detroit.
Since making 12 starts for Boston in 2011, Miller has been used only in relief. He was traded to Baltimore in 2014, then signed with the New York Yankees before the 2015 season. The Indians acquired him from New York in 2016.
In the past three seasons, Miller had 16 saves, 263 strikeouts and a 2.00 ERA in 171 innings.
The Cardinals designated right-hander Ryan Meisinger for assignment to make room for Miller.
Dodgers sign Joe Kelly
The Dodgers officially announced signing setup man Joe Kelly to a three-year deal worth $25 million that brings the 30-year old right-hander back to Southern California. Kelly was born in Anaheim and grew up in Corona, where most of his family still resides.
"It is one of those things where I am at a point in my career where I have tons of family that is local. I also wanted to be on a team that wins year in and year out," Kelly said during a conference call.
Kelly leaves Boston, who acquired him from St. Louis in July 2014. He is expected to be a setup man for closer Kenley Jansen, who is still recovering from an offseason heart procedure.
Kelly gets a $1 million signing bonus and salaries of $3 million next year and $8.5 million in each of the following two seasons. The Dodgers have a $12 million team option for 2022 with a $4 million buyout.
He could earn $2 million annually in performance bonuses for games finished: $250,000 each for 30, 35, 40, 45, 50 and 55, and $500,000 for 60.
Murphy signs with Rockies
The Colorado Rockies have brought in Daniel Murphy to play first base, signing the veteran to a $24 million, two-year deal.
The 33-year-old Murphy started slow last season as he recovered from right knee surgery. He still hit .299 over 91 games with Washington and the Chicago Cubs.
The plan is for Murphy to take over at first base, meaning Ian Desmond moves to the outfield.
Murphy is a three-time All-Star who finished second in the NL MVP voting in 2016 after hitting .347 with the Nationals. He's been a postseason regular, including the 2015 World Series while with the New York Mets.
The Rockies have been to the playoffs in back-to-back seasons for the first time in franchise history.
M's target of bias suit
A wrongful-termination lawsuit filed by the Seattle Mariners' former high-performance director alleges she went to team owners John Stanton and Buck Ferguson and CEO Kevin Mather as far back as March to complain about alleged discriminatory treatment.
The lawsuit also says several Latino players complained to Dr. Lorena Martin about feeling excluded and that general manager Jerry Dipoto took midseason steps to deliberately undermine the progress and mental state of star pitcher Felix Hernandez.
Martin's lawsuit, filed Wednesday, counters claims by the team that Martin did not approach anybody with complaints of racial and gender discrimination before making accusatory Instagram posts last month that led to her termination.
The Seattle Times reports that the lawsuit states Mather, after hearing Martin's complaints about Dipoto, vowed to address the matter and put a stop to what Mather viewed as bullying.
And the lawsuit says Dipoto blamed Latino players for ruining the team's clubhouse culture and a second-half collapse that left the Mariners out of the playoffs for the 17th consecutive season.
The Mariners have denied Martin's allegations and Major League Baseball is investigating.
Around the horn
Left-hander CC Sabathia had a stent inserted after a blockage was found in an artery from his heart, and the New York Yankees anticipate the 38-year-old pitcher will report to spring training on time.
... Switch-pitcher Pat Venditte has agreed to a one-year contract with the San Francisco Giants.
... The New York Mets have agreed to a minor league contract with outfielder Gregor Blanco that includes an invitation to major league camp for spring training.
... The Los Angeles Angels have officially agreed to a one-year deal with pitcher Matt Harvey.