Avila: Tigers' Ausmus 'all-in,' and players responded
Chris McCosky
The Detroit News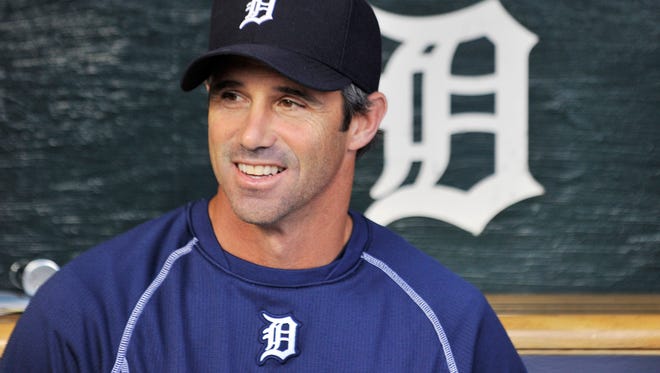 Detroit — The subject of manager Brad Ausmus was raised, not by the media Thursday, but by Tigers general manager Al Avila himself.
"You have to give Brad all the credit in the world for keeping (the ball club) together," Avila said during an 80-minute press luncheon. "And I give the players credit. People say there was a lack of leadership; let me tell you something, our players kept it together and you have to be proud of them.
"I am very proud of Brad, the staff and players how they kept everything together despite all the negative stuff that was going on."
When Avila took over the baseball operations after Dave Dombrowski was fired, owner Mike Ilitch gave him full authority to either fire or retain Ausmus, who is under contract through 2016. And to his credit, Avila didn't simply bow to public opinion. He gave Ausmus August and September — months that were bound to be arduous given the state of the team — to state his case.
"It was in my mind 24-7 about whether to fire him or not," Avila said. "It's not like I took the job and said I'm keeping him no matter what and it's not like I took the job knowing I was going to fire him no matter what.
"We've got August and September and it's going to be the toughest two months."
Rondon volunteers for TigerFest, winter caravan
The hottest fire forges the toughest steel. Ausmus confirmed in those two months what Avila believed when Ausmus was hired before the 2014 season — he was the right guy to lead the team.
"Your true inner self comes out when things don't go well," Avila said. "He showed me he's a tough guy and he can get through almost anything."
Avila was extremely involved in the hiring of Ausmus. Twice during the interview process, Avila took Ausmus to dinner on his own. Avila said he had a list of concerns and items he felt Ausmus needed to look after.
Ausmus has answered every concern.
"I see Brad and the staff prepare before a game, I see how they prepare before a series," Avila said. "I see how he gets personally involved, one on one, with the players, particularly the young guys. What impressed me the most through this season, through all the bad stuff, he never stopped working that way.
"He never stopped preparing. He never stopped talking to players. When things got worse, he got more involved."
Henning: Tigers GM Avila charges forward with striking candor
Avila gives Ausmus and his coaching staff high marks for the patient development of Nick Castellanos, Anthony Gose, Jose Iglesias and James McCann. Avila also liked the way Ausmus would get involved with the pitchers, even to the point of catching their bullpen sessions.
"You say, of course he does that, that's what he's supposed to do," Avila said. "Well, not every manager does that. That involvement, that dedication told me this guy is engaged. He's all-in. And the guys responded to him. The veteran guys, you saw them demonstrate that they were upset at how the manager was being treated and being talked about. They thought he was good, without me asking.
"I am proud of how he held it together through the worst of times. I think it bodes well for how he will be in the best of times."
chris.mccosky@detroitnews.com
twitter.com/cmccosky