Tigers' Rondon resolutely looks to reestablish himself
Chris McCosky
The Detroit News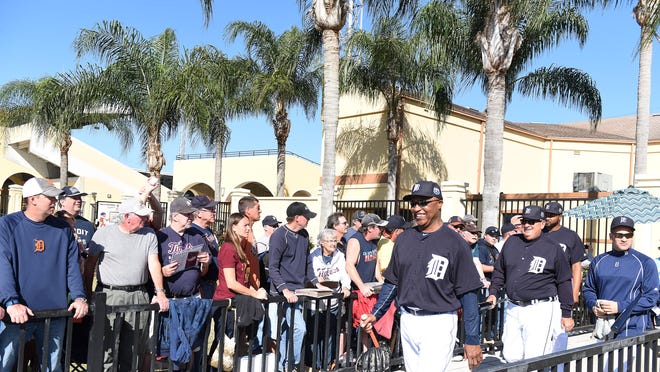 Lakeland, Fla. — He wasn't going there. No matter how many different ways the question was asked, Tigers' enigmatic right-hander Bruce Rondon wasn't going to talk about what happened last season.

"I am feeling good," he said through interpreter Aileen Villarreal Friday. "I'm ready to concentrate and do my job."

The Tigers sent Rondon home last September. Both manager Brad Ausmus and general manager Al Avila agreed that he was becoming a distraction to the team. They said at the time that he was sent home because of a lack of effort. 

But it was a confluence of things. He had grown aloof from his teammates. His fitness level had worsened. There was a game where he didn't throw a fastball harder than 94 mph even though he was healthy and capable of throwing his usual 97 to 100 mph.  

His teammates felt like he'd quit on them.
New Tiger Parnell hopeful of return to form


But whatever it was that Rondon was feeling last year, whatever was truly bothering him, he's keeping it to himself.

Asked if he was embarrassed to be expelled, he said, "Yes. It was difficult. But it is a new year and I am ready to go."

Asked if he felt he had to do anything to win back the trust of his teammates, he said,
"Everybody has received me well. All the guys have received me well. Like I said, I am ready for a new year."

Asked for the sake of the fans who are trying to understand what happened, if he would explain why things went sour last year and why he had to be sent home, he said, "There were decisions made back then and I don't really want to go back to that. It's a new season and I am ready to go."

Asked if he felt any more pressure or a different kind of pressure to get back into the good graces of his teammates and the organization, he said, "I don't feel pressure. I came here to do my job … It's just like every year. I have to show that I am ready to go and that I've been working hard. The decision-making is up to them."

 So, as far as Rondon is concerned, the past is dead. His eyes are now focused forward. And, as it turns out, Ausmus feels the same.

"I am working on the assumption that the offseason was good for Bruce Rondon and that he's going to come back and slide right back in as a Detroit Tiger and pitch well," Ausmus said. 

It's going to be a long road back, though. Ausmus and Avila both during the winter meetings made it clear that Rondon was not assured a spot on the 25-man roster. In fact, he is one of a growing list of candidates vying essentially for two spots. He is not being considered for any of the set-up or closer roles at this time.

"There's nothing specific (that Rondon needs to show), we just want to see more maturity," Ausmus said. "He seems to be in a good frame of mind. Last season is in the past and we're hoping he's the guy the Tigers have thought he was for the past three years or so."
Tigers' Verlander ready to reclaim ace status

Compounding the problem for Rondon is that because of a mosquito-transmitted virus he contracted in Venezuela this winter he's about a month behind in terms of his throwing regimen. While other relievers threw 35-pitch bullpens Friday, Rondon threw 25. 

"That was only his second time throwing off the mound, so he's a little behind," Ausmus said. "He looks like he's in pretty good shape, though. I don't know if that's because of the illness that he's lost some weight or what."

Rondon, who pitched well in the Venezuelan Winter League before the illness, said his body and his arm felt good.

"Very close to 100 percent," he said. "Maybe two more bullpens and I will be (caught up)."

Ausmus said, barring any other behavioral issues, Rondon will make the club or not based on his performance.  He's willing to let bygones be bygones. And that's all Rondon is asking for.

"In baseball you learn small things every day," Rondon said. "And that was a difficult time. I am ready to keep learning and moving ahead."
chris.mccosky@detroitnews.com
twitter.com/cmccosky