Tigers' Hardy back on track, sets sights to next season
Chris McCosky
The Detroit News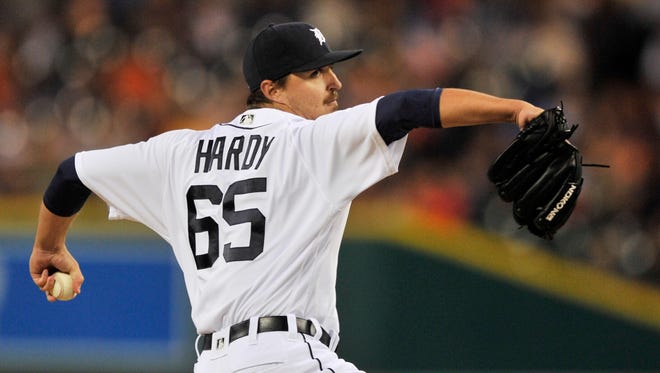 Cleveland — This has been a trying season for Tigers' left-hander Blaine Hardy.
"It's (stunk)," he said.
It was supposed to be the year he further solidified his role as the versatile lefty who could be used in long relief or situationally. He was supposed to be the complementary lefty to set-up man Justin Wilson.
Instead, he started the season on the disabled list and has been toggled between Detroit and Toledo three times. And in the meantime, Kyle Ryan seized the second lefty role.
"It was one of those scenarios where my arm felt good, then all of a sudden the shoulder decided to stunt my growth," he said, with a wry smile. "I had to deal with that and then coming back, Brad (Ausmus) was a little skeptical about using me like he did last year.
"Then I got in the habit of going four, five and six days off without throwing (in a game). It's hard to get in a groove when you get that much rest."
Ausmus lost some faith because Hardy lost his money pitch – his curveball.
"Yeah, I know the one thing that hurt me was when I was back and healthy, my curveball wasn't what it was and Brad saw that and shied away from using me," Hardy said. "He didn't want me to go out there and get shelled like I did in Kansas City."
Tigers resisting cortisone shots for Victor Martinez
That was June 17 and Hardy, who started his career in the Royals' organization, was tagged for five runs and five hits in one inning. He gave up another run the next day and was sent back to Toledo.
"That was the only one really bad outing," he said. "And yeah, it lingered for a while. I hadn't done that since I was in Omaha (Triple A). They'd switched to a new stadium and all of a sudden the fences were 30 feet closer and the wind was blowing out.
"I gave up a broken-bat home run and that just baffled me. I was thinking about that the whole inning and after it was all said and done, I gave up like three home runs and five runs. I'd never done that before until that day in Kansas City."
That was the low point. Hardy has regained the sharpness and consistency of his curveball and he's attacking hitters confidently again – as was evident by his 3.1 scoreless innings against the Twins on Wednesday.
His stuff is back, but his role is not. He will be a long reliever for the remainder of this season.
"I got everything turned around when I was in Toledo," Hardy said. "Now that I am back, Brad has guys up here throwing well. There is no reason for him to try and throw me into the mix and screw up somebody else. I am just going to pitch the rest of the year when they need me and get ready to go for next year."
Around the horn
Erick Aybar got the start at shortstop Friday largely because he's had good production against Indians starter Corey Kluber (5-for-12).
"It's kind of a perfect storm," Ausmus said. "Aybar has had some success, Jose Iglesias has struggled against him (1-for-9) and Iggy could use a day. He's not worn out physically or anything, but a day off won't hurt him."
…Ausmus said the Tigers' fifth starter is still up in the air. Jordan Zimmermann is scheduled to throw a bullpen Saturday. A decision could be made after that, depending on how he felt.
Ausmus also said Mike Pelfrey would be available out of the bullpen Saturday. So the decision is likely between Anibal Sanchez and Zimmermann.
…Miguel Cabrera is three hits away from 2,500 in his career. He is attempting to become the eighth player in MLB history to achieve 2,500 hits in his age-33 season. The others are Hank Aaron, Ty Cobb, Jimmie Foxx, Rogers Hornsby, Mel Ott, Alex Rodriguez and Robin Yount.
...The Tigers announced Friday that individual tickets for any potential home playoff games (wild card or American League Division Series) will go on sale at noon Thursday. Those tickets can be purchased only at www.tigers.com. The American League wild card game would be Oct. 4.
Twitter: @cmccosky