The Detroit News top 50 Detroit Tigers prospects
Lynn Henning
The Detroit News
Click through the gallery above to view The Detroit News' top 10 Tigers prospects, compiled by Lynn Henning. (Go here if you have trouble viewing the gallery.)
This year's Tigers farm crop is better, much better, than last year's. Next year's lineup should be considerably richer.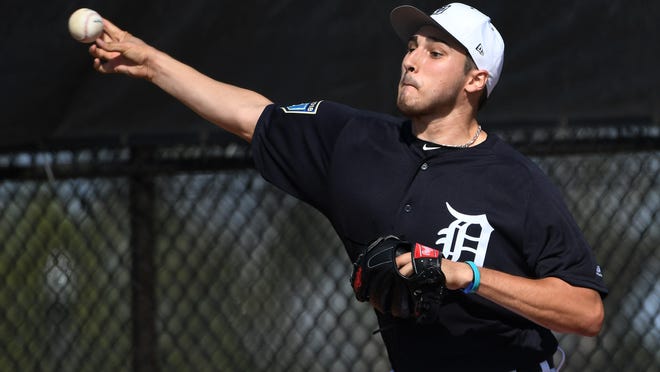 It's one of baseball's inverse laws: The worse you're faring at the big-league level, generally anyway, the better your farm system stands to be.
The Tigers are testaments there. Their minor leagues withered while they were regularly spending Octobers in playoff duels. Now that they're among baseball's truly needy clubs, old stars have either departed or grown old, trades for youngsters have been the objective, and draft picks will now be earlier and juicier than they have been in years for Detroit.
Their farm system got nearly a dozen healthy transplants last summer and autumn by way of trades that turned the Tigers' minors from bottom-dwellers in potential big-league talent to something closer to mid-range. And with three of the top 100 picks headed their way in June's draft, including the first overall, a farm system long-abused and raided should, by next year, be in baseball's upper half.
The extent to which last year's deals and draft picks have changed the face of the Tigers farm system is made clearer by yet another arbitrary dive into their farm depths, which leads to an unveiling of the 2018 Detroit News Top 50 Tigers Prospects.
It should be noted that players who already have a fair amount of big-league time – JaCoby Jones, Joe Jimenez, Jeimer Candelario, etc. — are not considered prospects as the 2018 Tigers farm is here dissected.
1. Franklin Perez, 20, RH starter, 6-3, 197: In a native Venezuelan's right arm is the primary payoff for the Tigers bestowing Justin Verlander — and by extension, last year's World Series party — on the Astros. He was the Tigers' top prize in August's midnight-oil transaction that also brought to Detroit a potentially solid center fielder in Daz Cameron, as well as a defensively gifted catcher in Jake Rogers. But it was Perez's combination of youth (he turned 20 in December) and achievement, which last year saw him reach Double A, that pushed the Tigers to hold out for Perez. He has a fastball he can throw to appropriate spots that runs 93 and up, as well as a fine curve and change-up, and a slider that could help push him to Detroit by 2019. The slider will be his primary project as he polishes his repertoire this year at Double A Erie, and perhaps soon, at Triple A Toledo. Perez signed as a 16-year-old for $1 million. Teenagers get that kind of money only rarely — when their talents are likewise viewed as rare. Perez's stock has only risen since.
2. Beau Burrows, 21, RH starter, 6-2, 200: Going to be a rather eventful season for Burrows, it would seem. He has a chance to pitch his way to Toledo and maybe to Detroit for a September cameo. Either way, Comerica Park is drawing closer. He is a legitimate high-end rotation bulldog, with a big-league fastball that can cruise in the mid-90s, a curveball that bites, a slider that needs more seasoning, and a change-up. He was a first-round pick three years ago and has done nothing but shine at two low-Single A stops ahead of last year's move to Double A, where he'll begin his 2018 trek. Burrows must sharpen his slider. He must command four pitches. But the arc has been smooth at every level. He'll add some necessary polish in 2018.
3. Isaac Paredes, 18, SS, 5-11, 175:The Tigers might have gotten one of their more blessed trade-delivered prospects in years when they pulled Paredes from the Cubs in July's deal for Justin Wilson and Alex Avila. It isn't certain he'll remain at shortstop; he's bigger and thicker than is typically the case for shortstops who must show reasonable defensive range. But he should be an excellent big-league second baseman, or third baseman, when his defense already is strong and his bat is potentially stronger. It's customary for teenage minor-leaguers to be shy on power. Their bodies haven't yet developed sufficiently to make home runs part of their hitting profile. Paredes, though, balances power and line drives with nice plate discipline (.341 on-base percentage in 174 minor-league games). The Tigers have been crying for an infielder who has potential all-around All-Star-grade skills. They likely got him in Paredes.
4. Alex Faedo, 22, RH starter, 6-5, 225: This is an interesting guy to anoint as a team's fourth-best minor-league prospect. He has yet to pitch in a professional game. Which tells you how talented is Faedo, who was the Tigers' first-round pick in June. Faedo showed enough during his college days at the University of Florida, and through the Gators' 2017 College World Series victory party, to make projections easier than would typically be the case. He is a powerful and poised artisan, with a slider that can make hitters consider a different career. His fastball is of the 92-93-mph variety. He has a change-up that will get sharper in 2018 as he finally pitches professionally, which figures to be at Single A Lakeland. But it's the slider that's his trademark, and it's the slider most of Faedo's new followers in Detroit will be most watching during spring camp and beyond.
5. Daz Cameron, 21, OF, 6-2, 185: He, too, was one of the prizes the Tigers insisted upon when Verlander was forwarded to Houston last August. The Tigers had liked what they saw during a June-July-August spree when Cameron, then playing Single A ball for the Astros, had these OPS numbers in successive months: .849, .906, and 1.026, including a .460 on-base percentage and .566 slugging that forged his August OPS (.377 batting average). Cameron, of course, is the son of ex-big-leaguer Mike Cameron and was a first-round pick in 2015 (37th overall) as he departed Eagle's Landing Christian High in McDonough, Ga. The Tigers liked him a lot during last October's instructional camp — his approach, his power, which seems to be gaining as he adds years and muscle — and will give him a shot at Double A Erie once Florida camp adjourns. A serious kid who works hard. Not much to not like about Cameron.
6. Gregory Soto, 23, LH starter, 6-1, 180:Here is another of the power-armed gents who could, and probably should, be bidding for Comerica Park rotation shifts as early as 2019. Soto's fastball can run in the higher 90s, with a slider (more of a "slurve") that makes him particularly unpopular with hitters. Numbers in two categories explain his ruggedness: He has struck out 144 batters last season in 124 innings. He has allowed 97 hits. A pitcher who strikes out more than a single batter per inning while allowing markedly fewer than nine hits per nine innings is a nasty hurler. Ah, but there is one issue: control, which will need to be improved upon in 2018. He's developing. He is not a fast-lane arrival. But he could be worth the wait.
7. Matt Manning, 20, RH starter, 6-6, 190:It's necessary to remember this, until a couple of weeks ago, was a teenage pitcher. Percentages have never been terribly high when it comes to projecting big-league starters long before pitchers are old enough to drink. That's the hang-up with Manning. When they made him their top pick in 2016, the Tigers liked him, in great part because of his overall athleticism and the sport in which he then specialized. He was a basketball player whose arm had a minimum of mileage. The rawness was on display during Manning's first season and-a-half as a professional. He has much development ahead. He also has a terrific arsenal with which the farm coaches can work. Best advice in tracking Manning: Be patient. He'll likely be at high Single A to begin the year. The Tigers, who were careful with him last season, will be content with a slow-growth process when it offers so much dividend down the road.
8. Jake Rogers, 22, C, 6-1, 190:Part of the trifecta that came Detroit's way thanks to the Astros-Verlander swap, Rogers will be a plus defender in the big leagues, with, per usual, his bat determining if he starts or works more often as a backup. But go ahead and bet Rogers will bat with enough crunch to make him an everyday catcher. That's what the Tigers were forecasting when last August's midnight deal was being sealed. Rogers' defense is indeed superb. And he has a furious arm. A third-round pick out of Tulane in 2016, Rogers, who turns 23 in April, could be moving to Detroit as early as sometime next season. Depends much on how that bat develops in 2018. But that .817 OPS at three Single A stops in 2017 hinted at a reasonable hitter's profile.
9. Kyle Funkhouser, 23, RH starter, 6-2, 220:Credit the Tigers' scouts on this call. No one says he's a sure thing. He needs to show he can pitch 150 sturdy innings. But the big-picture view of Funkhouser is that the Tigers probably stole a first-round arm with a fourth-round draft pick in 2016. He has missed most of last season's second half because of an elbow strain. But there wasn't any ligament damage and most of Funkhouser's issues can be traced to nearly a year on the sidelines after he was drafted in the first round by the Dodgers in 2015 and decided against signing. He instead opted for a reunion with the University of Louisville, where he got his degree, then watched his draft stock in '16 slip to the fourth round. The Tigers saw last season at West Michigan and at Lakeland a pitcher who was cut straight from his 2015, first-round status. Expect him to be a rapid-climber in 2018 — if he can get his body to cooperate.
10. Dawel Lugo, 23, 2B, 6-foot, 190:He was another of the poker chips sent Detroit's way when the Tigers last July forwarded J.D. Martinez to the Diamondbacks. He is considered a middle infielder, but the Tigers are thinking of him more as a second baseman, if not a third baseman, as he settles in at Double A Erie. They also have hopes his right-handed bat will progress, which, again, means fans might or might not see in Lugo a player whose offense matches his defense. But he has slammed 46 home runs in his relatively short minor-league life and the Tigers are content to let Lugo evolve as he moves potentially closer to becoming Ian Kinsler's replacement at second. One fact not always known about Lugo: He got a whopping $1.3 million from the Blue Jays to sign as a 16-year-old. No one of credible perspective has whispered the word "bust."
11. Mike Gerber, 25, OF, 6-foot, 190:About the only way he doesn't see Comerica Park this year is – well, there really isn't a way. Assuming he bypasses the disabled list, Gerber will be, at the latest, a September call-up. Given the way in which outfielders find their way to the DL, Gerber could be in Detroit much, much sooner. The primary reason is that Gerber has had this habit since the Tigers drafted him as one of those 15th-round, lottery-ticket larks in 2014: He has hit. He has batted .291 in his 433 minor-league games, with a meaty .835 OPS. He can play three outfield positions. His left-handed pop makes him an inviting addition at whatever point the Tigers decide he's ready for Detroit, which probably will be sooner rather than later.
12. Anthony Castro, 22, RH starter, 6-foot, 174:Castro doesn't incinerate hitters. But his fastball/cutter combination can be mendacious, particularly when he counters with a curveball that has been sharpening by the season. He has work ahead on his change-up, not that it puts him in exclusive company as he pushes toward a probable slot at Single A Lakeland ahead of what could be a later shift to Erie. He was a Tommy John surgery casualty in 2015, but he's back on path. He had a 1.16 WHIP in 108 innings last season for West Michigan, where he struck out 95, allowed 91 hits, and walked 35. The Tommy John days should be sufficiently in his scrapbook that they won't have much effect on a pitcher who could be a breakout starter in 2018.
13. Gerson Moreno, 22, RH reliever, 6-foot, 175: That was a nice promotion the Tigers handed a gifted young reliever last season, an all-expenses-paid excursion to Double A. And then realities set in for a 21-year-old pitcher. He had a 6.43 ERA in 20 games and 28 innings. He struck out 36, which explained why a then-21-year-old was at Double A. But he walked 17. He will work on his dance moves with the strike zone again at Double A in 2018 and, assuming progress, Moreno could be a warrior when and if he and his 100-mph fastball reach Detroit. Moreno has a vicious slider, as well. But he needs to get a firmer handle on all of his pitches, not to mention their location. It's a timeline the Tigers are perfectly willing to wait upon when a pitcher this talented has so much lightning in his arm.
14. Christin Stewart, 24, OF, 6-foot, 205: Here's another prospect who carries with him a handful of question marks. Stewart has the power, no question. The man has hit 68 home runs in 335 games since the Tigers got him with an early 2015 draft pick gained when they lost Max Scherzer to free agency. He also can take a walk, as that .363 on-base percentage attests. But Stewart otherwise has been so-so in any pure hitting analysis, beginning with a .262 batting average. His road/home OPS in 2017 was astoundingly divided: .697 when traveling, .989 at Jerry Uht Park. Meanwhile, work remains on his defense, which figures, at best, to be adequate. The nurturing will continue this season at Triple A Toledo. How his respective strengths and challenges shake out is a subject for deep discussion.
15. Sam McMillan, 19, C, 6-1, 195: You know all those outfielders, and first basemen, and third basemen, and infielders, the Tigers have missed on in the earlier rounds of some past drafts? Interesting that they score on an unusually high number of prospect catchers. They probably struck again with McMillan, who was headed for the University of Florida until the Tigers last summer paid him $1 million, which was more than three times the slot-size money a fifth-round pick was supposed to have gotten according to big-league baseball's payscale guidelines. He started briskly, batting .288, with an .873 OPS in 37 games at the Gulf Coast League hatchery. Note that in 111 at-bats, he struck out 17 times and drew 19 walks. This is a young man to follow.
16. Anthony Pereira, 21, 2B, 6-foot, 170: He's a young one, which is why you cut Pereira slack for having been anything but sensational during last season's labors at Single A West Michigan. He is batting only .251, and, not surprisingly, had a tough August in the manner of so many young players who wear down during the season's final weeks. But he is a right-handed hitting prospect who should move nicely along the Tigers' farm chain. He was signed as a high-bore talent out of Venezuela and remains one of those guys to chronicle closely, all because there is heavy upside here.
17. Derek Hill, 21, OF, 6-2, 195: If, eventually, he gets to Detroit, Hill will make some of Comerica Park's all-time highlight plays. He will run, and dive, and tumble acrobatically, and cover amazing tracts of acreage, and put even more luster on a Gold Glove he probably stands to someday win. If, of course, the other half of an outfielder's skill set shows up: the bat. That's the only way he'll play regularly, and the only question about Hill, a first-round project the Tigers corralled with their top pick in 2014. He has had issues since then, not only with his bat, but with Tommy John surgery that cost a center fielder much of the 2016 and 2017 seasons. He needs to play above Single A. And, to repeat, he needs to hit. This is the year to bust out, if that's within this prospect's offensive capacity.
18. Mark Ecker, 22, RH reliever, 6-foot, 180: There was a debate among certain Tigers followers earlier this year as to who should be rated more highly: Ecker, or right-handed whiz Bryan Garcia. The discussion is temporarily tabled. Garcia will miss 2018 because of Tommy John surgery. That leaves a pitcher who two years ago was drafted a slot above Garcia to show he in fact is a reliever the Tigers might soon introduce to Detroit. Ecker was a fifth-round pick in 2016, from Texas A&M, and is a certified, back-end, strikeout pitcher: 81 in 61.2 innings last season, with acceptable walk rates, and with that all-important ability to allow fewer hits than innings (52 last season). He could, should, will — take your pick — be pitching in Detroit this season. He'll begin the year at Erie and the Tigers will see how things go. But given their typical bullpen needs, and the fact Ecker turns 23 in May, there is no reason to hold him back if he hints that a big-time reliever from a big-time program is ready for serious business.
19. Alvaro Gonzalez, 17, SS, 6-foot, 170: Here is one of the Tigers constellation's distant stars. But keep the telescope on him. He was signed out of Venezuela last year for $1 million, which is the kind of money advanced to players who have particularly compelling upside. Gonzalez is a switch-hitter and will likely settle in somewhere on an infield's left side. Because of his age he won't appear in any United States games until June, so Gonzalez isn't exactly threatening the 40-man roster. But he has enough talent to bloom into something quite unique in years ahead. He has more than the typical satchel of gifts. It would be wise to keep at least one eye on him.
20. Spencer Turnbull, 25, RH starter, 6-3, 215: You can look at Turnbull in any manner you choose. Doubters will say that he has not been durable since the Tigers took him in the second round of the 2014 draft, and when he has been healthy he has not been overly dazzling. And they are right. Defenders will say he remains a power-pitching prodigy who needs only a full season of work at which time he will demonstrate why the Tigers took him so very early from the University of Alabama. We'll see. In terms of talent, he profiles — barely — as a Top 20 prodigy and pitcher who still carries significant cachet. But these are his numbers: 67 minor-league games, 3.46 ERA, 1.27 WHIP, 304.1 innings, 268 hits, 270 strikeouts, 118 walks. In a system as star-starved as the Tigers tiers have been, he still qualifies. But he needs a command effort in 2018. Emphasis on command, emphasis on meaningful innings pitched.
21. Sandy Baez, 24, RH starter, 6-2, 180: Too much time on the disabled list in 2017, too little progress when he did pitch, all dented Baez's profile and makes him something of a question mark in 2018. Might need a bullpen move. Fine fastball. Secondary pitches lag.
22. Zac Houston, 23, RH reliever, 6-5, 250: One of the better, later-round grabs the Tigers have made. Houston was an 11th-rounder from Mississippi State in 2016 and was sterling last year: 32 games, 58 innings, a measly 27 hits, with 91 strikeouts and 27 unintentional walks. His WHIP was 0.98. Opposing batters hit .130. Needs to throw more strikes, but looks as if he could hit Double A in 2018.
23. Grayson Greiner, 25, C, 6-6, 220: Big season ahead for Greiner. He needs to show he can hit. Consistently. If his bat grows up, he's on his way to the big leagues. If not, he'll end up as a missed third-round pick and the latest example of an ultra-tall catcher who didn't make it.
24. Kody Eaves, 24, 3B/2B, 6-foot, 175: The more you suspect Eaves might be a career minor-leaguer, the more he resents it. He had an .804 OPS in 2017, playing 88 games at Double A Erie and eight at Triple A Toledo. Eaves, a left-handed hitter, had 13 home runs and batted .271. Then he tore up the Arizona Fall League (.337 batting average, .943 OPS, three home runs in 22 games). The Tigers got him in a trade with the Angels for Jefry Marte. So far, so good.
25. Joey Morgan, 21, C, 6-0, 185: Morgan resembles Greiner in that he was a third-round pick (last June) and former college catcher (University of Washington) who might or might not hit enough to qualify for serious big-league time. He had a .650 OPS in 38 games last summer at Single A Connecticut. So, it's early. Tigers will get a better read on Morgan in 2018.
26. Artie Lewicki, 25, RH starter, 6-3, 195: Had a taste of Detroit last season and it didn't go particularly well: 6.10 ERA in four games with the Tigers. Lewicki will begin the year at Triple A. The Tigers could use help in long relief or on the rotation's back end. Lewicki isn't a fire-thrower. He'll need to show significantly more put-away ability than was on display in 2017.
27. Zac Reininger, 25, RH reliever, 6-3, 170: Considering he was a year from Tommy John surgery, Reininger had quite a 2017. He jumped three levels in the Tigers chain and eventually earned a 10-game stint in Detroit. Has the requisite back-end bullpen fastball. Needs his slider to be a swing-and-miss pitch.
28. Tom de Blok, 21, RH reliever, 6-4, 195: Here was one of the Tigers farm's more interesting tales from 2017. A one-time Mariners teenage prospect from the Netherlands, who had retired and returned home, signed a new deal with the Tigers in 2014 and then had a standout summer last year at Single A West Michigan. He needs higher-level work, and proficiency, but has the size and arm to move. Rapidly.
29. Alfred Gutierrez: 22, RH starter, 6-foot, 143: Gutierrez could shine in 2018, especially if he puts a bit more meat on that frame. He had an 0.98 WHIP in 126.1 innings last season at West Michigan where he struck out 127 and walked 23.
30. Wenceel Perez, 18, SS, 5-11, 170: The Tigers spent $550,000 in 2016 on a Dominican Republic teenage switch-hitter and aren't sorry. Perez batted .314, with a .387 on-base percentage, last year in the Dominican Summer League. He'll play in Florida this year. One worth monitoring.
31. Paul Voelker, 25, RH reliever, 5-10, 185. All this guy does is pitch well. In four minor-league seasons, Voelker has a 1.18 WHIP and .226 opposing batting average. He's a 10th-round draft pick (2014, Dallas Baptist) with 217 strikeouts in 172.1 innings. A bit more of that at Triple A and he'll be in Detroit.
32. Dane Myers, 21, RH starter, 6-2, 205: Not a bad bet that Myers could be the farm's surprise guy in 2018. He was a sixth-round grab out of Rice last June and was sharp at Single A Connecticut: 31 hits in 46 innings.
33. Jose Quero, 19, 1B, 6-0, 190: The Tigers got over-aggressive with Quero in 2017 after he tore it up in the Dominican Summer League in 2016. He wasn't ready for West Michigan and was return-mailed to the Gulf Coast rookie hatchery where he had a fairly forgettable summer. He's a left-handed batter with punch who needs to get back on track.
34. Jose King, 19, SS, 6-foot, 160: Note that King wasn't exactly a throw-in when the Tigers peddled J.D. Martinez to the Diamondbacks for three prospects. Tigers scout Mike Russell knew all about King's speed, which is ridiculous, and his bat, which looked as if it could develop. King went on to hit .321 with a .356 on-base average in 28 games for the Tigers rookies. Do pay attention to King in 2018.
35. Troy Montgomery, 23, OF, 5-10, 185: Tigers got him in the Ian Kinsler trade and might have snared some outfield depth. Montgomery was an eighth-round pick from Ohio State in 2016. He's a left-handed stick who can work anywhere in the outfield. Batted .271, with a .358 on-base percentage and .771 OPS in his first full season of pro ball, spanning three stops.
36. Danny Pinero, 23, SS, 6-5, 210: He might be listed as a shortstop, but Pinero is more of a corner infielder, or second baseman. Of course, he's required to hit if he intends to work regularly at any of those spots. There lies the question for this ninth-rounder (2016) from the University of Virginia.
37. Gresuan Silverio, 19, C, 6-foot, 175: Switch-hitter whom the Tigers considered to be worth a stiff price by Latin American signing standards, $300,000, when they nabbed him out of the Dominican Republic in 2015. Hit well in the rookie nursery last year (.317, .837 OPS) and will play either at Single A Connecticut or at West Michigan in 2018. At least for now, part of the Tigers' upbeat catching inventory. 38
38. Eduardo Jimenez, 22, RH reliever, 6-foot, 183: A strikeout pitcher who lost a year to Tommy John surgery. His fastball could be a ticket from Single A Lakeland to Double A in 2018. Another of those prospects who this season has a chance to distinguish himself from the greater farm crowd.
39. Grayson Long, 23, RH starter, 6-3, 230: He was part of the less-than-dramatic trade package the Tigers pulled from the Angels in last August's deal for Justin Upton. Long was a third-round pick in 2015 (Texas A&M) and ranks as either a back-end starter or a potential long reliever. Every team needs a bunch of those guys.
40. Ryan Karstetter, 21, 3B, 6-4, 200: One of those all-around stars at a variety of sports who earlier played at the University of Virginia before he landed at a Florida junior college. Has corner-infield power and will display soon enough if he can swing a bat with enough aplomb to sniff the big leagues.
41. Matt Hall, 24, LH starter, 6-foot, 200: Anyone arguing that Hall should be more highly ranked has a case. In fact, he could be a Top 20 pitcher — if he can show that curveball-heavy repertoire of his plays against hitters at Double A and above. He gets his strikeouts (309 in 299 minor-league innings). Needs to cut down on his walks and prove he can buffalo the big boys.
42. Jairo Labourt, 23, RH reliever, 6-4, 205: He seemed on his way, at last, to having figured out home plate. How to throw that bullet of a fastball for strikes. Then, he lost it: 33 walks in 66 innings at three minor-league stops. Labourt made it to Detroit last year for four games. He'll need to reacquaint himself with the strike zone if he's ever to return.
43. Sergio Alcantara, 21, SS, 5-9, 168: Has a glove good enough now to cut it as a back-up infielder in the bigs. The bat's more of a .600-plus OPS popgun. Not the first guy of this type who has had a decent run on the big stage.
44. Cam Gibson, 24, OF, 6-1, 195: Stop us if you've heard this one before: Needs to prove he can hit to make it to the big leagues. That's an outfielder's plight. You can have great wheels (Gibson) and a fine glove (he has it) and solid baseball skills. But it's always about the bat. Gibson's minor-league career average is .243. Needs an upgrade in 2018.
45. Dominic Ficociello, 25, 1B, 6-4, 200: Hit well at Double A last year, but didn't at Triple A. And not until he shows he can swing a bat there will Ficociello get within spitting distance of Comerica Park. He probably has the tools and athleticism to grow in 2018. He also switch-hits. But it needs to come together. This year.
46. A.J. Simcox, 23, SS, 6-3, 185: Alan Trammell watched him during spring camp a year ago and pronounced him one of the most impressive newcomers he had seen. Defensively, he remains big-league. Offensively, he looks as if the minors could be a long-term home.
47. Austin Sodders, 22, LH starter, 6-3, 180: Much like Hall, you could argue that Sodders is farther up the chart in talent and potential. He had lovely numbers last season at West Michigan and Lakeland (combined 1.81 ERA and 0.96 WHIP) and could wend his way into the Top 20 realm with similar growth in 2018. He was a seventh-rounder in 2016 out of Cal-Riverside.
48. Reynaldo Rivera, 20, OF, 6-6, 250: No prospect more desperately needs a big year in 2018 than Rivera. The Tigers spent a second-round pick on him last June and might have soon wondered if that was a major miscalculation. He batted .187 with a .541 OPS in 52 games at Single A Connecticut. That was either an aberration owing to a man's youth, or signs of a colossal mistake by the Tigers.
49. Eudis Idrogo, 22, LH starter, 6-1, 198: We'll see. He's a left-hander and, as they say, you give up on a lefty at one's peril. Doesn't overwhelm batters. Will need to defeat bats this season at Lakeland.
50. John Schreiber, 23, RH reliever, 6-3, 215: He turns 24 next month and will need to unpack his magic at higher levels, immediately. But you don't sneeze at those numbers from 2017: 27 games, 50.1 innings, 25 hits, 70 strikeouts, eight walks. You want your biggest-leaping reliever candidate for 2018? You might have him in this Wyandotte native.
■ Best of the rest, any of whom might easily have made the Top 50 and who might find themselves far up the ladder in 2019:
Gio Arriera, Brad Bass, Colby Bortles, Luke Burch, Dylan Burdeaux, Oswaldo Castillo, Rodolfo Fajarda, Ken Figueroa, Dustin Frailey, Max Green, Carlos Guzman, Wilkel Hernandez, Garrett King, Junnell Ledezma, Julio Martinez, Garrett McCain, Jordan Pearce, Wladimir Pinto, Jake Robson, Elvin Rodriguez, Jhon Sandoval, Ricardo Silva.