Tigers' Christin Stewart continues to open eyes
Lynn Henning
The Detroit News
Tampa, Fla. — This is one way to prove you belong.
Work your way into a couple of early Grapefruit League games. Lash a pair of singles. Draw a walk. Toss in a deep, opposite-field sacrifice fly to the warning track in left.
Should he keep this up once he arrives at Triple-A Toledo in a month, Christin Stewart will imply that maybe he should see Comerica Park in 2018, perhaps earlier than September, which is when the Tigers ideally want him in Detroit.
Stewart is the left-handed slugger and Tigers first-round pick from 2015 who has two trademark talents. He hits home runs, and he takes walks.
He is not a deft outfield defender, which is one reason why the Tigers would prefer to groom him further at Triple A. There also are some peculiar numbers from 2017 when Stewart, then playing at Double A Erie, had a .941 OPS at home and did no better than .697 on the road.
More:Sanchez blast only miscue for Tigers' Norris in debut
Small stuff, the Tigers believe. The kinds of warts that can be smoothed as a 24-year-old hitter, who is 6-foot, 205 pounds, and a University of Tennessee product, packs in more playing time.
"He's got some ability, you can see that," said Tigers manager Ron Gardenhire, who watched Wednesday as Stewart drew a walk on a 3-2 pitch, smoked a single off the glove of a shifted second baseman, all before adding his long RBI fly to left, during a 9-6 victory against the New York Yankees at Steinbrenner Field.
Stewart wasn't a big-league camp invitee this spring. But no slight intended. The Tigers simply want him to grow, as an all-around hitter, and as a defender who can be trusted in left field, which is where he figures to be camped at Comerica Park.
It's possible Stewart could someday work strictly as a designated hitter. But the Tigers for now want left field to be an option and see a few more months of seasoning at Triple A as nothing but beneficial when Stewart's power and batting-eye already are advanced.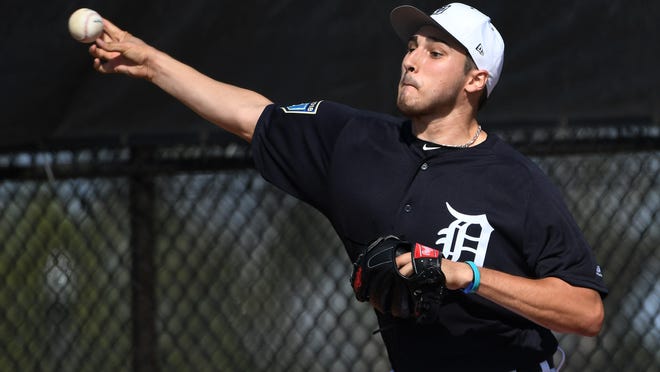 MISSED IT
JaCoby Jones hit a home run against the Yankees. But it's nowhere to be seen in the box score.
That's because there was no replay available to umpires when Jones, batting in the third, drove a pitch inches above the center-field fence and against the black batting-eye at Steinbrenner Field.
Umpires, rather understandably, didn't see the ball slip above the top of the equally dark wall and strike the background. Jones was left with a double.
CANDY MAN
Jeimer Candelario had another string of good at-bats, including a deep drive to left-center, and a shot off the second baseman's glove in short right field that was turned into a put-out.
He had nothing to show in the hits column, but he's still batting .400 in five games, with a .900 OPS.
"I like him," Gardenhire said of a third baseman who came to the Tigers last July, in a big trade with the Cubs, and has all but settled in as a Tigers regular. "He's gonna be just fine. He can hit. I really believe this guy can hit."
FUN FOR NOW
Gardenhire will concede these are only Grapefruit League games. Final scores can be weird. Performances can be as stable as a pogo-stick. But it's not bad being 5-1-1 seven games into the preseason.
"Shaking hands never gets old," Gardenhire said after Wednesday's sometimes-zany triumph.
"The guys are working very hard. I think they're kind of enjoying it."
lynn.henning@detroitnews.com
twitter.com/Lynn_Henning