Gardenhire: Tigers prospect Rogers impressive, must cut back on flash
Chris McCosky
The Detroit News
Tampa, Fla. — Catcher Jake Rogers, who is rated the No. 8 prospect in the Tigers system by The News and No. 5 by MLB.com, made quite an impression in his first big-league camp.
"He's a really good-looking kid," manager Ron Gardenhire said, after sending Rogers back to minor-league camp Tuesday. "He's very athletic. He has all the attributes of a good catcher in the making. This kid has tools. … We always say, 'I'd like to be his agent,' because he's got a pretty bright future."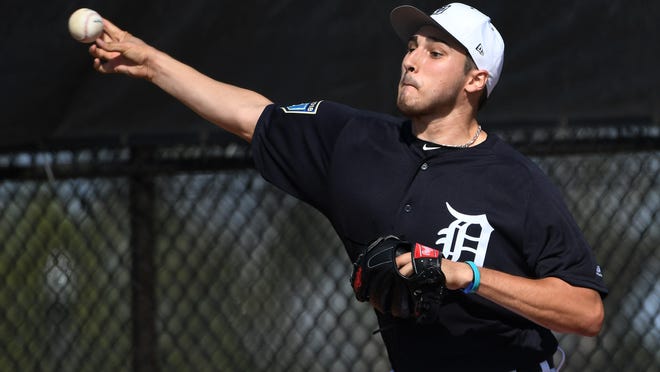 Gardenhire, though, said he had to yank the reins on him a little bit, scrape some of the mustard off of him.
"He is very intelligent behind the plate, but he gets a little flashy at times," Gardenhire said. "I don't ever want to take too much of that away, but the basic parts, we have to clean them up."
He pulled Rogers aside in the dugout after one play in particular.
"It was not pretty, I'll just put it that way," he said. "I told him, 'I know you are a big shooter, but be a better shooter.' Not mean, just letting him know the basics of what we want to teach here."
More: Tigers face tough decision with Rule 5 pick Victor Reyes
There was a runner on base and the batter struck out. Rogers nonchalantly flipped the throw back over the hitter's shoulder.
"From his knees, with a runner on, over the guy's shoulder," Gardenhire said. "That's not going to fly with me. You could hit the bat. You could hit the guy in the head. Don't embarrass yourself.
"Just a little thing. Stuff you get in the habit of doing when you come up in another place. We will clean that up."
Clean it up, he said, without dampening Rogers' confidence.
"He's got that flair, he knows he can play," Gardenhire said. "You don't want to take that away from him. We also want him to understand the basics of the game. Some of that stuff can irritate the other team.
"Until you've proven yourself at the major-league level, you probably should stay on the straight and narrow."
Where Rogers starts the season will be determined by where some of the veterans in camp shake out. After starter James McCann and backup John Hicks, the Tigers still have three veteran catchers in camp — Jarrod Saltalamacchia, Derek Norris and Brayan Pena.
Grayson Greiner is expected to get a lot of playing time at Toledo.
Rogers, who was acquired from the Astros in the Justin Verlander trade, finished last season at High-A Lakeland.
chris.mccosky@detroitnews.com
twitter.com/cmccosky