Tigers prospect Lugo quickly gets in swing of things in Toledo
Lynn Henning
The Detroit News
The ugly weather, he has been handling. As for Triple A pitching — no issues yet.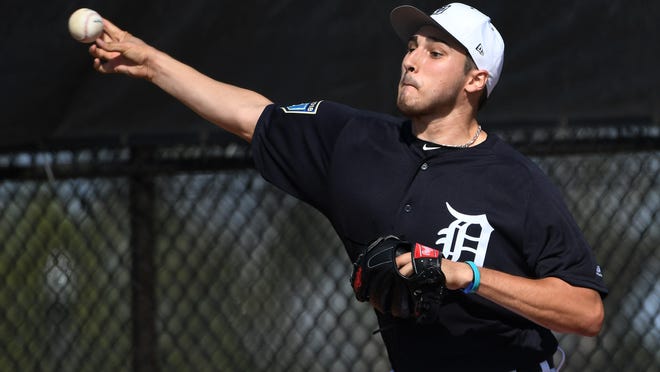 That shift from the infield's left side to the right side? There might be Dawel Lugo's tougher task in a new season's early days, which the Tigers can accept as a potential long-term second baseman matures at Toledo.
Lugo came to the Tigers last July as the heaviest of three parcels Detroit got when it sent big-hitting J.D. Martinez to the Arizona Diamondbacks.
The thought from Scott Bream, the Tigers' vice president of player personnel, and his bird dogs was that Lugo's right-handed bat would hold up at either third base, where he then was playing at the D'backs' Double-A outpost, or, perhaps, as a second baseman.
No disappointments so far, especially after Lugo has ignored the chill and winter hangover to bat .366, with an .820 OPS in the Mud Hens' first nine games.
More: Tigers' minor-league report: Toledo's Espinal rakes
"When we got him in that trade, Scott Bream and the pro scouts really liked the potential in his bat," said Dave Littlefield, the Tigers' vice president of player development. "He's got bat speed, the ball comes off the barrel well, and he's got some strength. Offensively, some good things there."
Lugo, 23, is 6-foot, 190 pounds and was signed by the Blue Jays in 2011 out of Bani, Dominican Republic. He was shipped in 2015 to Arizona in a deal that brought Cliff Pennington to Toronto, and 23 months later joined the Tigers alongside D'backs infield prospects Sergio Alcantara and Jose King as Martinez headed west.
Alan Trammell was among Tigers coaches and hitting gurus, including Bruce Fields and Phil Clark, who got an early peek at Lugo and suggested a quick fix. It was his hands. They were too low.
"When we got him to Double A (Erie), Phil and I agreed his hands needed to be raised a little higher for a better launch position," said Fields, the Tigers' roving minor-league instructor, who went to work with Clark, the Tigers' assistant batting coach who then was at Erie. "There was some late movement, up, when he started to swing, 'cause his hands were really low, which caused an inconsistent path and angle to the contact point. He's made the transition really easily, and he's moved on. He's doing a nice job."
Lugo's first four professional seasons were as a shortstop. The D'backs began to think of him as a third baseman, where he played, for the most part, until the Tigers grabbed him. In a farm system basically empty of second-base options, his new bosses decided Lugo was headed for the right side, especially when the grand plan is for current second-base tenant, Dixon Machado, to eventually swing to shortstop.
"We worked him some at second at Instructional League (Lakeland, Fla., last autumn), and he's still a work in progress," Littlefield said. "Offensively, it made sense when he's such a talented athlete. And he can really throw.
"As we looked at Candelario (Jeimer, Tigers starting third baseman), it made more sense with the skills Lugo had to give him a crack at second."
Lugo played third base for Licey in the Dominican Winter League and was at home, in all respects, batting .324 in 19 games. It's the bat the Tigers believe make him an option on either of the infield's sides.
"He's got a really good path to the ball," Fields said. "He doesn't swing and miss a lot. He hits the ball all over the field, which allows him to stay on breaking pitches better and handle off-speed stuff better.
"He's got power, and he's learning how to use it. I think he's still a young guy who will learn what pitches he can get to and really get after and hit with authority. Right now, his approach to the other field has been outstanding, and he's getting some early hits.
"This is a good sign. Early in the season, with the weather being what it is, accumulating as many hits as possible is very, very good."
lynn.henning@detroitnews.com
twitter.com/Lynn_Henning