Tigers' minor-league report: Toledo's Espinal rakes out of gate
Lynn Henning
The Detroit News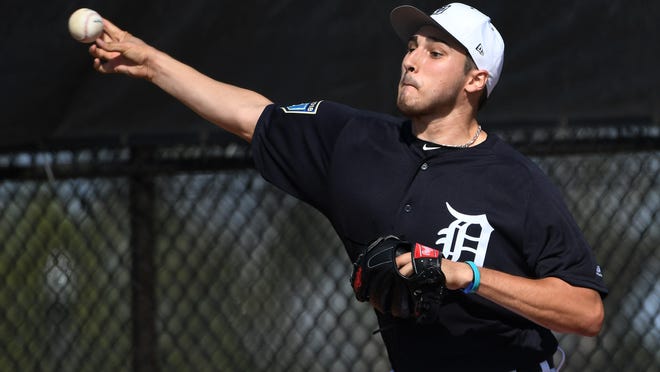 TRIPLE-A TOLEDO
Who's hot …
Edwin Espinal, 1B: The Tigers signed him in December as a minor-league free agent straight from the Pirates system. Espinal had a nice spring camp and has started crisply for the Mud Hens: .321, with a home run, and an .835 OPS, in eight games. Espinal bats right-handed, is 6-foot-2, 250 pounds, and was originally signed out of Mao Valverde, Dominican Republic.
Mike Gerber, RF: He's doing everything right on the power (two home runs) and OPS (.830) sides. It's the 13 strikeouts in eight games and the .257 batting average Gerber needs to work on before the Tigers summon him to Comerica Park for a big-league baptism. Gerber, 25, is one of the Tigers' more prized prospects and was a 15th-round pick (Creighton) in 2014. He bats left-handed.
More: Tigers prospect Lugo quickly gets in swing of things in Toledo
Johnny Barbato, RH reliever: The Tigers like that waiver-wire gift they might have gotten in January from Pittsburgh. Barbato, 25, was another spring-camp surprise and has carried on with the Mud Hens: 0.00 ERA in four games, and only two hits allowed in 4.1 innings, with six strikeouts and one walk. Barbato was a sixth-round Pirates pick in 2010 out of Miami, Florida.
A.J. Ladwig, RH starter: Solid stuff from Ladwig in his first two starts: 2-0, with an 0.77 ERA and 0.69 WHIP. His numbers through 11.2 innings: five hits, nine strikeouts, three walks. Ladwig played college ball at Wichita State and was an 11th-round pick in 2014. He's 6-foot-5, 180 pounds.
And who's not …
Grayson Greiner, C: It's early, of course. And it's cold, absolutely. Greiner has five-plus months to work on that .120 batting average.
DOUBLE-A ERIE
Who's hot …
Jacob Robson, OF: Only one extra-base hit, a double, but Robson's done a nice job beating the chill with an instant .306 batting average. Robson's a native of London, Ontario, and otherwise a Windsor denizen who is 23, bats left-handed, and came to the Tigers by way of Mississippi State after Detroit made him an eighth-round pick in 2016.
Sergio Alcantara, SS: The Tigers like Alcantara, and expect to like him even more if he can pack some muscle onto that 5-9, 168-pound chassis. He's a switch-hitter, only 21, who arrived last July along with Dawel Lugo and Jose King after the Tigers sent J.D. Martinez to Arizona.
Sandy Baez, RH starter: Good work by Baez, the heavy thrower whose first two starts have been sharp: 2.79 ERA, 1.14 WHIP, with 13 strikeouts and two walks in 9.2 innings. Baez, 24, is 6-2, 180.
More: The Detroit News top 50 Detroit Tigers prospects
Kyle Dowdy, RH starter: He was a 12th-round pick by the Tigers in 2015 (University of Houston) and has given new SeaWolves manager Andrew Graham an April lift with three starts, a 2.35 ERA, 1.04 WHIP, and .192 opposing batting average.
John Schreiber, RH reliever: He's the Wyandotte-born, Rockwood native who caught fire last season and now is spinning more of his silk at Erie: four games, 4.1 innings, two hits, no earned runs, three strikeouts, and two walks — both intentional. Schreiber last month turned 24, and is 6-3, 215. He was a 15th-round pick in 2015 out of Northwestern Ohio.
And who's not …
Troy Montgomery, OF: Considering the climate, and the small sampling, .172 in eight games isn't the worst of news for Montgomery, 23, a left-handed hitter who came to the Tigers along with pitcher Wilkin Hernandez in a trade that sent Ian Kinsler to the Angels.
SINGLE-A LAKELAND
Who's hot …
Blaise Salter, 1B: One of the Tigers' front office's favorites because of his team ethic and comportment, Salter also is hitting: .350, with a .941 OPS, and seven RBIs in the Flying Tigers' first 10 games. Salter played at Michigan State and was a 35th-round pick by the Tigers in 2015. He prepped at Orchard Lake St. Mary's, and is a right-handed hitter, 6-5, 245.
Austin Athmann, C: Nice first act by Athmann: .333 in seven games, with an .893 OPS. Athmann is a University of Minnesota man who was a 14th-round pick in 2016. He bats right-handed and has a catcher's frame: 6-2, 210.
Alex Faedo, RH starter: No surprise that Faedo has looked like, well, a first-round draft pick in his initial two starts: 0.39 WHIP, nine strikeouts, zero walks, in 9.1 innings. He was taken 18th overall last June from the University of Florida.
And who's not …
Derek Hill, OF: Nothing alarming, but at .196, Hill through Lakeland's early games is the only Flying Tigers batter beneath .200. He was a first-round pick in 2014.
SINGLE-A WEST MICHIGAN
Who's hot …
Cole Peterson, SS: He's 22, and graybeards are expected to do well at low Single A, but credit to Peterson for a hot start (.353), especially when he's only 10 months out of school. The Tigers got him in the 13th round last June out of St. Bonaventure. He bats left-handed, and is 5-11, 160.
Colby Bortles, 3B:  He's slashing .320, with a .913 OPS, through seven games. A right-handed hitter who resembles a Sequoia, Bortles is 6-5, 225, and last June was a 22nd-round pick out of the University of Mississippi.
Eudis Idrogo, LH starter:  One of the rotation studs who should make Lance Parrish's first season with the Whitecaps pleasing, Idrogo, 22, has an 0.82 ERA in two starts, with an 0.81 WHIP. He has whiffed 10 and walked two in 11 innings.
Oswaldo Castillo, RH reliever:  An important, multi-innings reliever for the Whitecaps during these frosty April days, Castillo has struck out seven in 5.2 innings. He has yet to allow a run. Castillo is 21 and was signed out of Maracay, Venezuela.
Garett King, RH starter: Eight strikeouts and no walks in his lone start, which lasted 41/3 innings. King is fresh from last June's draft, when the Tigers grabbed him in the 11th-round out of California Baptist. He's 6-4, 189.
And who's not …
Jose Quero, 1B:  Quero is only 19 and has a ton of hitting skill, although neither of his two stints at West Michigan has gone smoothly. But, ah, he is entitled to a few more games, and some warmer temps, before anyone overly frets about this 6-foot, 190-pound, left-handed hitter who could someday be a slugger. He's been feeling the chill at Comstock Park, batting .056.