Dazzling debut: Tigers prospect Matt Manning racks up 10 quick strikeouts
Lynn Henning
The Detroit News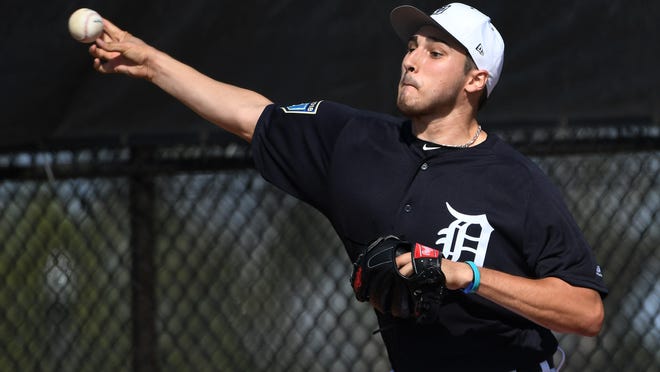 Considering he had withstood a long day in airports, followed by the climatic shock of moving from Florida to Michigan, that stream of strikeouts Friday night was even more stunning.
The first nine outs Matt Manning racked up against the Great Lakes Loons at Dow Diamond in Midland came on either a swing and a miss or a called third strike.
He added a 10th strikeout in the fourth inning, all before his Travelocity schedule caught up with him and he wore down, which was understood by West Michigan manager Lance Parrish, who watched as a Tigers first-round pick in 2016 threw pitches that buried Single A hitters.
"I've watched a million guys throw from the mid-80s to over 100," said Parrish, the Whitecaps skipper and Tigers catching great from the 1980s, speaking of that wondrous baseball word "velocity."
"Obviously, I'm impressed with guys who throw hard. But I'm more impressed with guys who locate it. I think the first guy, he threw three fastballs right by him. He did that throughout the course of time he was out there.
More: Tigers minor-league report: Greiner heats up at plate
More: The Detroit News top 50 Detroit Tigers prospects
"I just thought he had a really good fastball, which he located well, and his curveball was a lights-out curveball. He definitely overmatched hitters at this level. Toward the end, he just got a little tired and started losing his command."
Manning, 20, is a 6-foot-6, 190-pound, right-handed prodigy who Friday pitched in his first official professional game of 2018. He had been stuck in Florida for the past three weeks as a strained oblique muscle healed.
He felt fine Friday, despite the 58-degree game-time temperature, not to mention Thursday's disruptions, which included flights from Orlando to Detroit to Grand Rapids, followed by the usual commotion that comes with relocation.
"No fatigue in the beginning, but a little in that fourth inning, I think probably from the travel and whatnot," Manning said Sunday. "I think I was a little anxious to get out there. It had been a while since I pitched against some real guys."
Manning is a serious man of spare words. He also is, in the manner of athletes whose performances are viewed more as vocation, focused in the extreme.
"I didn't realize I struck out the first nine till afterward," said Manning, who two years ago was set to take a basketball scholarship at Loyola Marymount had he not opted for the Tigers' first-round offer.
Manning's fastball Friday night was at early-season speed. It ran 92-94 and topped at 95.
He threw strict four-seamers and he worked mostly Friday night with a single secondary pitch: his powerhouse curve.
He has a change-up, but befitting a guy who is beginning the season at low Single A, the change is an essential pitch he will work on making a more regular part of his menu. Friday night was about commanding his top two dishes.
"He mixed in a few changes – not a whole lot," Parrish said. "He was more concerned just getting the feel back after not pitching in a while, and he was only out there for a little more than three innings. I think they (the Loons) had only two left-hand hitters, and most right-handers are going to throw that change more often to a left-hand hitter.
"I don't think he let anyone down."
After getting his 10th strikeout, Manning was gassed. The Loons got him for a couple of hits and a pair of walks, and he was finished.
Manning said the key Friday was an adjustment he made with his curveball grip. It had been too tight in the first inning. He loosened up, the spin kicked in, and the Loons now were dealing with a double whammy: a fastball that was staying down and hitting both sides of the plate, as well as that breaking pitch, which Manning considers to be more of a "1-to-7" curveball, which breaks at an angle as opposed to a more conventional, straight-dipping 12-to-6 hammer.
It is still early on the Manning developmental timeline, which the Tigers love. One of the reasons they paid him $3.5 million in 2016 was because a man out of Sheldon High in Sacramento, Calif., was such a basketball prospect he hadn't abused his pitching arm in the manner of some hotshot prep stars.
The Tigers broke him in gently two summers ago, then kept him at extended spring training last year, all before shipping him to Single A Connecticut, and then to West Michigan for a late-season cameo. His numbers were generally sharp, but also showed how much work was ahead.
He had a 1.89 ERA in nine starts at Connecticut. His stint with the Whitecaps was rougher: 5.60 in five games.
He will get all the time he needs this spring and summer with the Whitecaps. Then again, if any more of these 10-strikeout stints lay ahead, Manning can expect another day traipsing airports, this time on a return trip to Lakeland and the next Single A stop in Detroit's farm program.
lynn.henning@detroitnews.com
Twitter @Lynn_Henning