Tigers minor-league report: Greiner heats up at plate
Lynn Henning
The Detroit News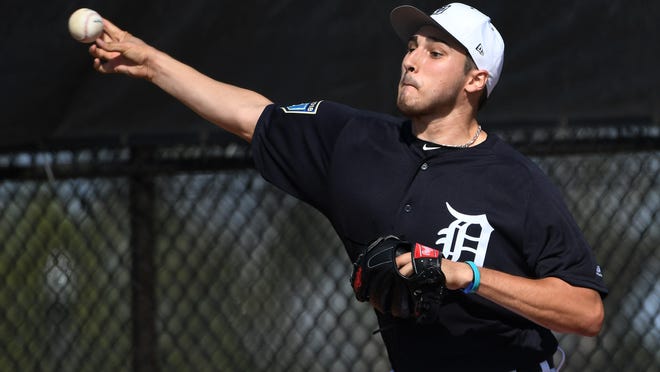 TRIPLE-A TOLEDO
Who's hot …
Edwin Espinal, 1B: Flourishing in the Tigers galaxy following a long stint on the Pirates' farm. He's batting .324, with a .408 on-base percentage and an .804 OPS. Espinal, who also is a graceful defender, is 24, bats right-handed, and is 6-foot-1, 245 pounds.
Dawel Lugo, 2B: One of those guys who at any point this year could get a late-night phone call from Mud Hens manager Doug Mientkiewicz telling him he's on his way to Detroit. Lugo, 23, and the feature attraction in Arizona's trade package that last July landed J.D. Martinez, is hitting .299. He bats right-handed and should show more sock (to date: no homers, four doubles) as the weather warms.
Grayson Greiner, C: He was as cold as an overnight low in the early days of Toledo's schedule, but has since heated up with a 9-for-19 streak. Greiner is 25, is 6-6, 220, swings right-handed, and was a third-round pick in 2014 (South Carolina).
More: Dazzling debut: Tigers prospect Matt Manning racks up 10 quick strikeouts
A.J. Ladwig, RH starter: Nice string of starts for Ladwig, who in 2014 was an 11th-rounder from Wichita State. He is 3-0, with a 2.16 ERA and 0.90 WHIP, graced by an opposing batting average of .186.
Johnny Barbato, RH reliever: Probably not far from a Tigers appearance thanks to these six-game numbers: 72/3 innings, six hits, one earned run, nine strikeouts, three walks. The Tigers got him from the Pirates via the waiver wire after he had a couple of big-league cameos with the Yankees and the Pirates.
Blaine Hardy, LH reliever: By no means a prospect, but be prepared for another Hardy sighting at Comerica Park. He has an 0.79 ERA and 0.71 WHIP in five shifts with the Mud Hens.
Paul Voelker, RH reliever: Another guy who could be summoned in a jiffy as the Tigers reacquaint themselves with some old bullpen issues. Voelker, in three games for the Mud Hens (3⅓ innings) has five strikeouts, no walks, and has been nicked for two hits.
... and who's not
Mikie Mahtook, OF: He'll get it going, probably in step with spring's thermometer readings. This man from the South and one-time first-round pick out of LSU (Rays) is for now thawing-out his bat: .179 since he returned to the Mud Hens.
DOUBLE-A ERIE
Who's hot …
Sergio Alcantara, SS: The Tigers ordered Alcantara be part of last summer's J.D. Martinez trade package. He's a switch-hitter batting .319 deep into April. The Tigers would like him to add some muscle, which should in time evolve for a man only 21 who is 5-9, 168.
Jacob Robson,OF: Good baseball player, this London, Ontario, product who otherwise resides in Windsor. Robson, 23, is a fleet guy who bats left-handed and who's hitting .309 only two years after the Tigers snagged him in the eighth round out of Mississippi State.
Beau Burrows, RH starter: In the front office's view, Burrows is what might be termed an old, refreshing story. Nothing changes. He simply pitches well. Week to week. Season to season. He's brandishing a 1.93 ERA and 0.96 WHIP through two starts, with 11 strikeouts in 9⅓ innings. He was the Tigers' first-round pick in 2015 as a prep star out of Weatherford, Texas.
Kyle Dowdy, RH reliever: Not a billboard guy at the start of the season, but Dowdy, a 12th-rounder out of the University of Houston in 2015, has had four solid games, including one start. The digits: 12⅔ innings, seven hits, two runs, 18 strikeouts, three walks. His ERA (1.42), WHIP (0.79), and opposing batting average (.163) have made him one of the early season's farm-team pluses.
... and who's not
Jake Rogers, C: He figures to take a quantum leap or two in coming weeks and months. But so far, April has been a .171 struggle for this catcher who was part of last August's return in the Justin Verlander deal.
SINGLE-A LAKELAND
Who's hot …
Austin Athmann, C: Another prospect who hasn't gotten prime-time attention but who could bat his way into the picture, especially when he's begun the year with a .359 average and .880 OPS. Athmann was a starting catcher at the University of Minnesota before the Tigers made him a 14th-round pick in 2014.
Blaise Salter, 1B: Simply bashing the ball, this one-time Michigan State star and right-handed stick who is batting .355, with an .885 OPS, thanks in part to a homer, triple, and five doubles. Salter is 24, is 6-5, 245, and was a prep star at Orchard Lake St. Mary's.
Anthony Castro, RH starter: One of the best-looking young pitchers at any of the Tigers' farm outposts, Castro has started three games, is 2-0, has an 0.54 ERA and an 0.90 WHIP. In his 16⅔ innings, Castro, who earlier this month turned 23, has struck out 16 and walked four. He is 6-2, 180, and was signed by the Tigers out of Caracas, Venezuela.
Alex Faedo, RH starter: Has little to show for his work (0-2), but Faedo has done his job: 16⅓ innings, 11 hits, 15 strikeouts, one walk. He has an 0.73 WHIP, while enemy hitters are batting .190. He was last year's first-round draft pick from the University of Florida.
Joe Navilhon, RH reliever: Nice work, again this season, by Navilhon, a one-time Southern Cal star nabbed by the Tigers in the 16th round of the 2016 draft. He has struck out nine and walked one in 7⅔ innings. His WHIP is a dazzling 0.65.
... and who's not
Derek Hill,OF: Tigers look as if they're going to long regret this first-round pick from 2014, who is batting .175, with a .458 OPS. Simply has never come close to happening for Hill.
SINGLE-A WEST MICHIGAN
Who's hot …
Cole Peterson, SS: One of the hot spots in manager Lance Parrish's batting order, Peterson's batting .315 only 10 months after the Tigers got him in the 13th round out of St. Bonaventure. He's 5-11, 160, and swings left-handed.
Garett King, RH starter: He was an 11th-round grab by the Tigers last June (California Baptist) and has had a lovely April: 16 strikeouts and a lone walk in 11.1 innings. King's WHIP is 0.71. He's 6-4, 189.
Eudris Idrogo, LH starter: 0.82, 0.91 WHIP, with 10 strikeouts and two walks in 11 innings. Idrogo, 22, was signed out of Anzoategui, Venezuela.
Oswaldo Castillo, RH reliever: Steady work for the Whitecaps, spanning four games and nine innings: seven hits, no runs, 10 strikeouts. Castillo is 21 and was signed by the Tigers as a teenager when he lived in Maracay, Venezuela.
... and who's not
Jose Quero, 1B: He's one hit from an 0-for-April, which isn't making life pleasant for this 19-year-old, left-handed batter out of Barquisimeto, Venezuela.
lynn.henning@detroitnews.com
twitter.com/Lynn_Henning