'Gaining strength' next step for Tigers prospect Alcantara
Lynn Henning
The Detroit News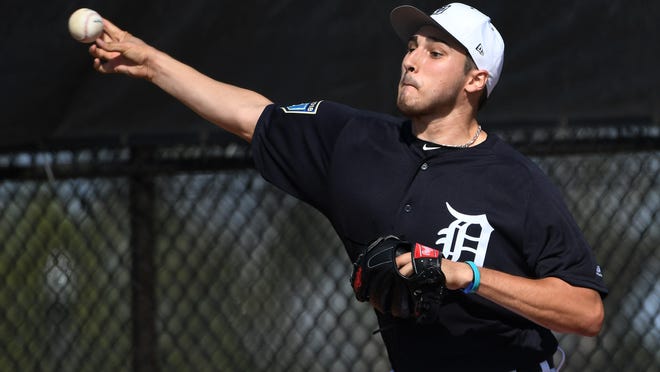 Put a microscope on minor-league talent and their big-league potential can be reduced to issues as simple as diet.
Sergio Alcantara is, for the Tigers, a question of body makeup.
If he hits the weight room and gulps protein that boosts muscle, he has a chance to turn his otherwise promising bat, and exceptional defense, into a package that can play regularly in the big leagues.
If he doesn't add brawn a team believes he can and must carry, a 5-foot-9, 168-pound, switch-hitting shortstop probably locks himself into, at best, a backup job. The power simply won't be there to justify regular work at short.
But consider his .315 batting average through 19 games at Double-A Erie. Now add a triple and three doubles Alcantara so far has tucked into his 2018 personal file.
"He has a short compact line-drive swing," said Andrew Graham, who in the past two seasons has moved from the Tigers' two Single-A stops, at West Michigan and Lakeland, to Double-A Erie, where Alcantara now is stationed. "He's got an above-average arm, with good actions at shortstop. Lean, wiry frame. And he will develop, physically, with time."
More: Tigers minor-league report: Faedo off to sharp start
With time — a key phrase there.
Alcantara is 21 years old. He is playing Double-A baseball, a short hop from the big leagues. It is why the Tigers, from the day they dealt for him, have viewed Alcantara as a decent bet to at least make the big stage as a utility man.
"He's a shortstop with a bat, and a real plus-defender with a plus arm, and those are hard to find," said Dave Littlefield, the Tigers' vice president for player development.
"The thing he's got to work on more than anything is gaining some strength and some good body weight. But he's got a good frame to work with. And his physical skills translate to having average or above-average potential."
Alcantara was one of three players the Tigers lured from the Diamondbacks in last July's trade that sent slugging J.D. Martinez to Arizona.
The return from Detroit's viewpoint was more about potential than about firm projections. The Tigers were all but bankrupt in terms of infield prospects and were thrilled to add three red-blooded recruits: Dawel Lugo, who now is playing third base at Triple-A Toledo; Jose King, then an 18-year-old left-handed hitter who has rockets for feet; and Alcantara, who, at 20, was playing at high Single A.
Alcantara was signed as a teenager by the Diamondbacks out of Santo Domingo Este, Dominican Republic. He regularly found himself at the end of his early seasons with Arizona's farm cited by Baseball America as having the best infield arm in the Diamondbacks system, or best strike-zone discipline.
His on-base percentages offer insight there: .344 in 86 games at Single-A Visalia ahead of his trade to Detroit, and .340 overall in five minor-league seasons.
But his slugging percentage is .322. And unless that gets more into the .400 vicinity, the Tigers will see him almost exclusively as a bench option.
"He's still young enough, with loads of talent," Littlefield said, mentioning a conversation he had the previous night with West Michigan Whitecaps hitting coach Mariano Duncan, who had seen Alcantara play a couple of winters earlier for Licey in the Dominican Winter League.
Duncan talked about the maturity he saw in a ballplayer who was still in his teens.
"He's got that ballplayer sheen to him," Littlefield said of Alcantara. "He's so good defensively, and I know Tram (Tigers front-office assistant Alan Trammell) has had real positive things to say about him."
The Tigers will wait and see how the offense progresses. Or, rather, if it progresses. Alcantara's glove and arm already have spoken. It's the bat that will decide how soon, or how regularly, he fits into a team's murky infield future.
lynn.henning@detroitnews.com
twitter.com/Lynn_Henning