Tigers minor-league report: Faedo off to sharp start
Lynn Henning
The Detroit News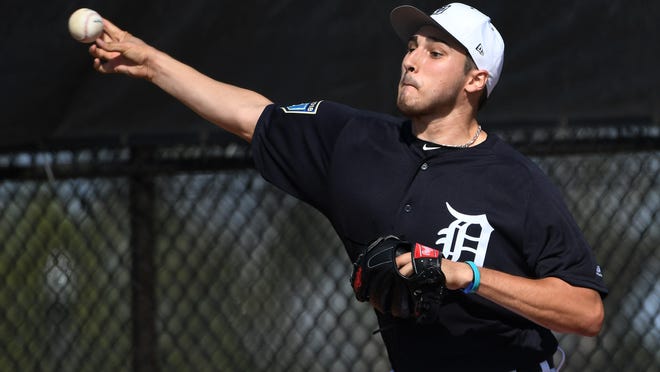 TRIPLE-A TOLEDO
Who's hot …
Grayson Greiner, C: The man who lives by streaks — weeks, months, seasons — is on another at the outset of his first Triple A season. Greiner's batting .419 in his last 10 games. He's bidding to become one of those rare tall-timber catchers (6-foot-6, 220 pounds) who makes it to the big leagues. Greiner, 25, is a right-hand batter and was a third-round pick in 2014 out of the University of South Carolina.
Victor Alcantara, RH reliever: He's 3-0 for the Mud Hens, with a 2.70 ERA and 1.13 WHIP spanning seven games. Alcantara, 25, was the Tigers' thank-you from the Angels when Detroit dealt Cameron Maybin in Nov. 2016.
Louis Coleman, RH reliever: He's no pink-cheeked prospect. Coleman is 32 and has 213 games of big-league experience. The Tigers signed him to a minor-league deal and he has thrown niftily since spring camp, particularly this month at Toledo, where he has a 1.93 ERA in eight games and 9.1 innings. Coleman has struck out 11, walked three, and allowed four hits. He was a fifth-round draft pick by the Royals out of Louisiana State.
And who's not …
Mikie Mahtook, OF: Strange spring for Mahtook, who typically is a slow-starter. His slow-poke bat has followed him from Detroit to Toledo, where he's batting .204.
DOUBLE-A ERIE
Who's hot …
Tyler Alexander, LH starter: Alexander has been one of those steady souls delighting Erie manager Andrew Graham, thanks to a 2-0 record, a 2.91 ERA in four starts, and a 1.11 WHIP. Alexander has struck out 18 and walked only three in 21.2 innings. He was a second-round pick in 2015 from Texas Christian.
John Schreiber, RH reliever: He had the audacity to allow his first earned run since last midseason when Trenton scored against him, once, in a game April 18. Otherwise, he has all the earmarks of a prospect headed for Detroit. Schreiber, 24, is a Rockwood native and product of Northwestern Ohio University who in eight games this month, spanning 9.2 innings, has struck out nine, while walking two batters — intentionally. He has allowed 10 hits. His ERA is 2.79, his WHIP is 1.24, and opponents are batting .250 against him. He's 6-3, 215.
And who's not …
Troy Montgomery, OF: Cold month for this Ohio State alum whom the Tigers got as part of last autumn's deal that sent Ian Kinsler to the Angels. Montgomery's batting .229 in his last 11 games.
More: 'Gaining strength' next step for Tigers prospect Alcantara
SINGLE-A LAKELAND
Who's hot …
Daz Cameron, OF: Warming up of late, batting .317 in his last 10 games. Cameron, of course, was one of the blue-chippers the Tigers got from the Astros last August in the Justin Verlander blockbuster.
Isaac Paredes, SS: He always hits, it seems. Paredes, who in February turned 19, is bashing the ball at a .281 clip in his last 10 games. He's 5-11, and, yes, playing shortstop at 225.
Austin Athmann, C: He won't chill down. Authmann, who played at the University of Minnesota before the Tigers snagged him in the 14th round of the 2016 draft, is swinging to the tune of .371 in his last 10 games, and .345 on the season. He's 6-2, 210, and bats right-handed.
Alex Faedo, RH starter: He is probably under-matched at high Single A. But keep in mind Faedo is only 10 months out of college and was given the summer to rest after last season's virtuoso at the University of Florida. In five starts for the Flying Tigers, Faedo, who was the Tigers' top pick in last June's draft, has a 2.48 ERA and a 0.76 WHIP.
And who's not …
The Flying Tigers get good-behavior citations for their past week of generally satisfactory labor.
SINGLE-A WEST MICHIGAN
Who's hot …
Reynaldo Rivera, 1B: He's hammering the ball after a lower-back strain, and in the aftermath of a tough first professional summer at Single-A Connecticut. The Tigers bet big on Rivera last June, grabbing him in the second round, and might be seeing signs of the slugger they envisioned. Rivera, 20, had a home run and three doubles in his first three games, and was batting .364, with a 1.371 OPS. He is 6-6, 250 pounds, and a native of Toa Alta, Puerto Rico. He was signed out of Florida's Chipola Junior College.
Matt Manning, RH starter: What matters are the 16 strikeouts in 7.2 innings. They testify to what the Tigers have in Manning, their first-round draft pick in 2016. He's 6-6, 190, and in January turned 20.
Oswaldo Castillo, RH reliever: Six games, a 3-0 record, and a 0.00 ERA, thanks to 14 innings, eight hits, 15 strikeouts, and an unsettling six walks. Castillo, 21, is 6-foot, 193 pounds, and was signed out of Maracay, Venezuela.
And who's not …
Ignacio Valdez, OF: He's having a harsh month, batting .169 in 17 games. Perhaps the weather warms up, perhaps it doesn't until July. Valdez can only hope he does, in any event. He is 22, is 6-3, 195, and was signed out of Peravia, Dominican Republic.
lynn.henning@detroitnews.com
twitter.com/Lynn_Henning