Henning: Beau Burrows 'better and better' but not ready for big-time
Lynn Henning
The Detroit News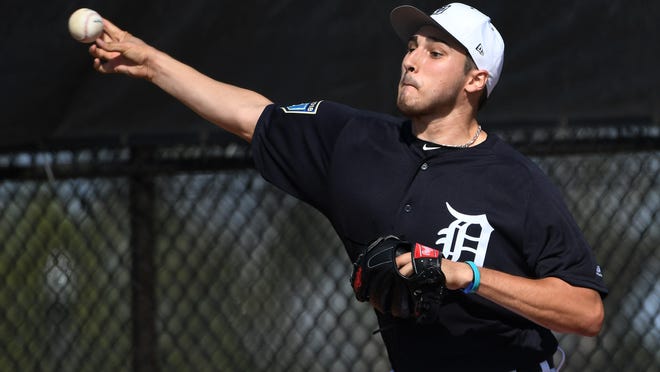 Consider it one more game, and one more week, in the progression of a 21-year-old pitcher who will arrive in Detroit when he is ready. And only when he is ready.
Beau Burrows was the starter Friday night for Double A Erie at Akron. He pitched six innings. He allowed one hit and no earned runs. He walked three, struck out three.
This followed his previous start May 5 at Altoona when he went five innings and rationed two hits, again with no earned runs. He struck out five, walked two.
For the season, Burrows, who was the Tigers' first-round pick in 2015, has these numbers spanning six starts: 2.35 ERA, 1.11 WHIP. Batters are hitting .200 against him.
He does all of this by way of a fastball that runs in the lower 90s but can cruise at 94, 95, or even a tick higher, although anything north of 95 is rare. He has a sharp curveball, as well as a slider. And he has nice feel for his change-up, which isn't always the case with 21-year-olds.
He will also remain at Double A. Perhaps for the rest of 2018.
More: Tigers minor-league report: Christin Stewart mashing
More: Short-handed Tigers win anyway, on Jose Iglesias' walk-off
"He's doing a real nice job, and seems to be getting better and better in general," said Dave Littlefield, the Tigers' vice president of player development. "He's a classic first-round pick where scouts saw the talent and identified the makeup as well. He's a hard-working guy who's smart and competitive.
"And there's still progress to be made. In the world we live in, whether anyone performs well for a few starts or for a few weeks, there's Twitter and social media. And it's great to have fan interest and media interest, but building a good foundation means having success over time, which helps guys as they move up.
"You don't want to look at it as a flash in the pan — a couple of good starts. Because he's been pitching well. But you want guys to really feel good about their work at a particular level, unless they're just overwhelming batters. Prospects generally tell you when they're ready."
Burrows absolutely has a to-do list at Erie. Numbers confirm it.
He has thrown 30.2 innings for the SeaWolves and has allowed too many walks: 13. He has struck out 26, which is fine, and has allowed only 21 hits, which is a testament to the quality of his pitches.
When walks decrease and strikeouts mount, which should be the trend, Burrows will move closer to either Triple A Toledo or to Detroit. It depends upon the printout on those pitches, not only in terms of their ability to defeat hitters, but the number he requires to get through five or six innings.
"He's young for this league, so that presents a nice challenge for him," said A.J. Sager, the Tigers' roving minor-league pitching coach, who was with the SeaWolves this weekend during their series at Akron. "I hate to paint in such broad strokes, but he's still working on everything.
"He's good at a lot of things: He holds runners well, he fields well — all the intangibles he does well. He's trying to improve his fastball command and consistency, trying to keep the command that you need outing after outing. Then come the reps with curveballs and sliders, which both have showed improvement."
In other words, Burrows won't be spinning wheels working at Erie.
"Fastball command is always the building block," Littlefield said, "and even though he generally has good command, the strike zone is tighter at Double A and the hitters are better — they're a lot less forgiving."
Burrows might have been joined this spring by another potential Tigers rotation horse in Franklin Perez, 20, who was the top prize in last summer's trade haul from the Astros that sent Justin Verlander to Houston.
Perez, though, stressed a lat muscle in March during a minor-league game at Lakeland, Fla., and will be gone probably until July.
He has been rehabbing at the Tigertown complex and is on schedule. The Tigers plan on getting Perez a full year of work by way of the remaining 2018 schedule, perhaps helped by a stint in the Arizona Fall League, or even in winter ball.
Two more starters who could become as essential to a down-the-road Tigers stable as Burrows and Perez have been getting mostly thumbs-up at Single A.
Alex Faedo had been purring along niftily in his first season of professional baseball — until he had one of those evenings Friday. He threw only two innings, got pounded for 10 hits and eight runs, and departed after throwing 53 pitches. This, from last June's first-round pick who before Friday's accident had a 2.34 ERA.
"He did get hit around, his pitch-count got way up, and that's kind of what happens on an off-night," Littlefield said. "You're not rooting for it to happen, but in some ways it can be helpful to remind players that you're going to face adversity in this game, and when you get knocked down you've got to punch back.
"He's had it happen before in his career," Littlefield said. "He'll learn from it."
Matt Manning, 20, knows all about those nights. He's had one, and only one of them, this season – on May 3 at Peoria, when he likewise lasted two innings, gave up seven hits and five runs, while walking four.
He followed up Wednesday with a six-inning, four-hit shutout of Clinton during which he struck out eight and walked one. His fastball Wednesday topped out at 97.
"He's a young guy with a heck of a fastball and a real good breaking ball," Littlefield said. "He throws at a high angle, and he's making progress. It's just not always a linear line with prospects."
And it's not always a smooth, steady ascent once players reach the big leagues. That's because it's a skill known as pitching, within a game known as baseball, where mercy is a virtue regularly ignored.
lynn.henning@detroitnews.com
twitter.com/Lynn_Henning