Tigers prospect Christin Stewart slugs his way closer to Comerica Park
Lynn Henning
The Detroit News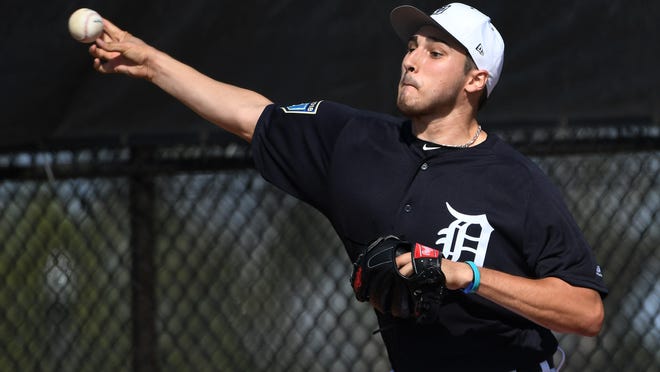 Toledo — Two blue awnings sit on a rooftop patio 70 feet above the warning track below, just beyond the right-field pole, and behind an upper deck of seats at Fifth Third Field.
This is the place Christin Stewart hit a baseball on a cold Toledo night last month in a game against Durham.
"Pitcher tried to go neck-high with a heater at 100," Doug Mientkiewicz, the Toledo Mud Hens manager, was saying Tuesday afternoon as he and his team prepped for an evening game against Charlotte.
"And he absolutely incinerated it. The ball looked like a Tic-Tac when it went over the fence."
What matters to the Tigers as Stewart, 24, digests his first six weeks of Triple-A baseball isn't that a single homer might have set a Fifth Third record for distance and altitude.
More relevant to the team that drafted him three years ago, between the first and second rounds as the 34th overall pick, is that the left-handed masher is pushing closer to Comerica Park for reasons that begin with his bat.
He was leading the International League in homers with 11 and was batting .304 ahead of Tuesday's game. A man who ignores pitches that aren't certified strikes had a .378 on-base percentage. He was slugging .648. Math wizards will deduce this is an OPS of 1.026, which is gold by the standards of baseball's best offensive stat.
"He's got all the check-marks," said Mientkiewicz, the longtime big-league first baseman who managed four seasons in the Twins system before the Tigers hired him last autumn to run Toledo.
"One thing that sticks out for me is he rarely chases, and he rarely misses inside the strike zone. He doesn't give bats away. He chases up (high pitch) occasionally, and I'd rather have him chase high than low, because if it misses up by a millimeter, that ball is going to end in a vapor trail.
"His numbers pop out — but they don't pop out as much because he's lined out so much."
Stewart plays left field for the Mud Hens and there is the hang-up — for reasons that, critics will be surprised to know, haven't much to do with a supposed weak link, his defense.
The Tigers are flush with outfielders, at least when they're not on the disabled list: Leonys Martin, Nick Castellanos, JaCoby Jones, Mikie Mahtook. There is no room, and no need, for a hurry-up call to Stewart. The Tigers ideally want him in Detroit in September when roster handcuffs are shed. He'll get a taste of big-league life and probably head to spring camp next February with a shot at getting regular work in left.
More:Daily recap of Tigers' minor leagues (updated: May 15)
Glove story
As for his glove, which has taken on a ghastly reputation, it's tied in part to exaggeration, say Mientkiewicz and the Tigers developmental staff.
"I think when you have a player, whether it's Christin or another prospect, when one side of the ball is extraordinary, there's a tendency to pick on the other side," Mientkiewicz said. "The industry tends to pick on things that aren't on the same level as the greater skill.
"His throws are accurate, his routes are good. In left field he is adequate. I understand what Comerica Park is," he said, a reference to the Tigers' home field and its outfield acreage. "But I think too many people make a bigger deal than it is."
Mientkiewicz can't help but mention two Twins outfield stars, past and present.
"If you were to say his (Stewart's) defense is a match for his offense, he'd be Torii Hunter or Byron Buxton," Mientkiewicz said.
"I've seen a lot worse (in left). I can tell you, I have no worries late in a game when the ball is hit to him."
Tigers brass has been of the same opinion in recent weeks and months. Gene Roof, the Tigers' roving minor-league outfield instructor, said Tuesday that Stewart's turnaround began, most dramatically, last season when he was playing at Double-A Erie.
"He's getting better jumps in the outfield — his burst of quickness is getting better," Roof said. "Before, when he was at (Single A) Connecticut and West Michigan, the ball would get to the outfield before he'd react to it."
Roof went to work with Stewart watching video. They compared first steps taken by big-league speedsters Billy Hamilton and Kevin Pillar. Their reaction time was .058 seconds.
"He's never going to be JaCoby Jones — he doesn't have that kind of speed," Roof said. "Is he going to be a great defensive player? Probably not. He has heavy legs, which is no disrespect, but he's getting better, and he's going to be solid in left field because he works his tail off every day."
Roof knows also that Comerica's left field might as well be measured in square miles.
"There's a lot of space there, which makes it tough, unless you've got a lot of speed," Roof said. "He's going to be borderline-average in left, maybe a tick below, but only because he doesn't have the great speed that Martin and Jones have.
"But his arm's gotten a lot better. When we first got him, he could barely throw to the cut-off man. Now his arm-slot is lower. He's thrown out a couple of guys (this spring) from left field on a go-ahead run."
He was just fine, defensively, in Tuesday night's 3-2 victory over Charlotte.
He handled three plays, all in mainstream fashion: a single to left-center on which he flipped a routine cutoff throw; a longer fly-out to left-center he caught in graceful fashion; and a fly-out to the back of the warning track in left. All plays were professional-grade, minus a glitch.
Offensively, a tougher night: 0-for-4, although his drive in the fifth nearly cleared the right-center field fence.
"Cool air kind of got him, and that big gap," Mientkiewicz said of Stewart's blast, which pushed 400 feet. "Think of all the other ballparks we've been at — that's a home run."
More:Resilient Tigers rally, bullpen holds on in thriller vs. Indians
No hurries, no worries
Stewart knows of the critics' applause and panning. He is not overly bothered, or concerned, he said Tuesday, moments after he had shed headphones for a conversation in front of his locker within the Mud Hens clubhouse.
He realizes why he is in Toledo and why he could be here for most of the summer. There is a jam-up in Detroit and he has much to learn at Triple A.
"You never figure baseball out," said Stewart, a player the Tigers had followed during his prep days in Georgia, all before he turned into a slugger at the University of Tennessee. "The best players in the world never peak."
He envisioned a spring as fruitful as these first 40 days have been in Toledo. One of the standard challenges for hitters is adjusting to junk pitches — the off-speed inventory more on display at Triple A from older pitchers who perhaps are fighting their way back to the big leagues.
"The old adage about Triple A," Mientkiewicz said with a nod, but disagreeing with ideas pitchers on this level throw slow-poke stuff. "Starters, maybe. Relievers, no."
Stewart half-laughed at notions about Triple-A arms. He's with Mientkiewicz.
"The starters up here all have three, four pitches they throw for strikes," he said. "The 'pen guys have a lot of (velocity) — and they usually have an out-pitch."
As for left field, yes, he has heard the snorting. And he thinks the critiques are basically baloney, especially when the prep first baseman and catcher never played outfield until he got to Tennessee.
"Night and day," Stewart said, speaking of the past year's progress. "I'm comfortable out there."
So are his bosses. They see a hitter, only 24, who has two of the drive-train essentials big-league teams love: left-handed power, and strike-zone savvy.
That his glove isn't a sales feature will be someone else's fixation, Stewart said.
He will make this Toledo tune-up count in all ways a Triple-A assignment can pay off, he said — for himself, and for a team an hour to the north that is both excited, and in no hurry, to bring him aboard.
lynn.henning@detroitnews.com
twitter.com/Lynn_Henning