Prospect Daz Cameron emerging as 'beauty' for Tigers
Lynn Henning
The Detroit News
Listen for a few moments to Mike Rabelo rhapsodize about his center fielder, Daz Cameron, and you wonder if he's talking about a baseball player or about a guy he's promoting for Citizen of the Year.
"This kid is just a beauty," said Rabelo, the one-time Tigers catcher who, of course, 11 years ago was part of Detroit's trade offer that brought Miguel Cabrera to Detroit. "No manager would not want to manage Daz Cameron. Put it this way: You'd want 25 Daz Camerons on your team."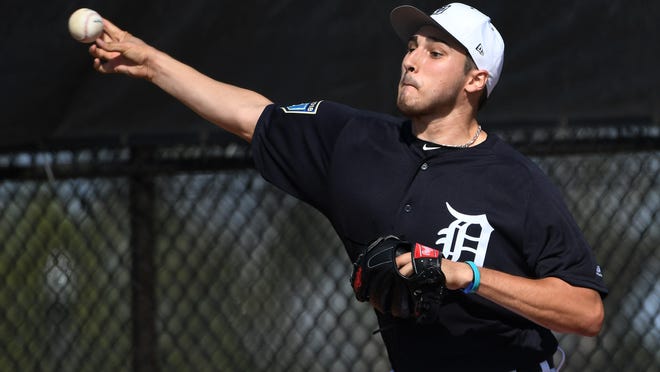 Rabelo now skipper at Single-A Lakeland and on Saturday was sizing up a 21-year-old, right-handed batter who was hitting .432 in his last 10 games and .303 on the year — with a .391 on-base average.
This is vital news within a Tigers farm system where front-office stewards are constantly pawing the ground for anything remotely resembling a big-league hitter.
It qualifies also as upbeat info nine months after the Tigers landed Cameron as part of a three-player return from the Astros when Houston brought on Justin Verlander.
"I joke with him all the time," Rabelo said. "I tell him, hey, we traded a Hall of Famer for you."
Cameron was handed over late last summer, along with pitcher Franklin Perez and catcher Jake Rogers, just as the minor-league season was ending. The Tigers shipped Cameron to Single-A West Michigan for a season-closeout series after he had rolled up a .271 batting average and .815 OPS in 120 games playing for Quad Cities, the Astros affiliate.
Cameron was fine during April in his first taste of high Single A ball with the Flying Tigers: .277. But it has been May where he has exploded, much as he did during a lava-hot second half last season at Quad Cities.
This month, he is batting .333, with a muscular .970 OPS.
More:Tigers minor-league report: Catchers go cold at plate
"We've got a lot of data and, basically, what's taken place — and it sounds funny — is that he's not missing the balls he should be hitting hard," Rabelo said of Cameron's spring heat wave, which has been particularly torrid the past two weeks.
"Earlier in the year, he'd foul 'em off, and it seems like he was always hitting with two strikes. Every at-bat was with two strikes.
"Now, he's driving balls he should be driving, getting the ball out in front of him just a little better, and the ball's really coming off his bat."
Rabelo mentioned Wednesday night's game against Palm Beach when Cameron blasted two of the three home runs he's whacked this month for Lakeland.
"Both were on breaking balls," Rabelo said, "and the first one was a first-pitch, get-me-over breaking ball — and he hammered it.
"He said he was sick of taking those pitches. He executed it (swing and approach) perfectly."
More:Tigers OF coach on Christin Stewart: 'He's come a long way'
Cameron has a past. A happy one. It consists of his father Mike's former job, which involved 17 big-league seasons playing for eight clubs, mostly as a center fielder, during which he mashed 278 home runs and won three Gold Gloves.
"He looks just like his dad the way he runs laterally left and right," Rabelo said. "You watch him, on ball after ball, and he doesn't always have to use his speed (at full-throttle). He knows when he needs to use it.
"Mike was here the other day and I said to him: Thank you, thank you — your son is a manager's dream."
Mostly, the raves have to do with a youngster's passion for the game and for his rigors at getting better. Cameron always wants to work on more throws from the outfield, always wants to take more swings during batting practice.
"If the guys are supposed to be here at 4 o'clock to run, he's already here," Rabelo said. "He simply gets it. He's using the minor leagues as a tool that will allow him, hopefully one day, to be at Comerica Park."
There are matters other than hitting and defense Cameron is studying. Baserunning, for example. He has the speed to steal bases (seven thus far), but is working with Rabelo and the Tigers' instructional crew to learn when that's advisable and when a bad risk is more likely to kill a scoring chance.
There have been teaching moments, some more pleasing than others, such as Friday night, when he was running from first on a two-strike pitch and scored what proved to be the winning run on a double from Austin Athmann.
He also had a triple and a stolen base Friday — then added a double and single in Saturday's game — which is how it's been going for Cameron during his merry May.
"He's a quiet kid, so I'm always busting him trying to rile him up," Rabelo said. "We have games — I'll get in there and pitch batting practice, and he loves BP, man. But he loves taking balls off the bat, taking balls off fungos — he loves doing that. He's never killing time getting a drink or sitting in the dugout. This kid gets it.
"He's a professional ballplayer."
lynn.henning@detroitnews.com
twitter.com/Lynn_Henning