Power pitcher Matt Manning growing up fast on Tigers farm
By Lynn Henning
The Detroit News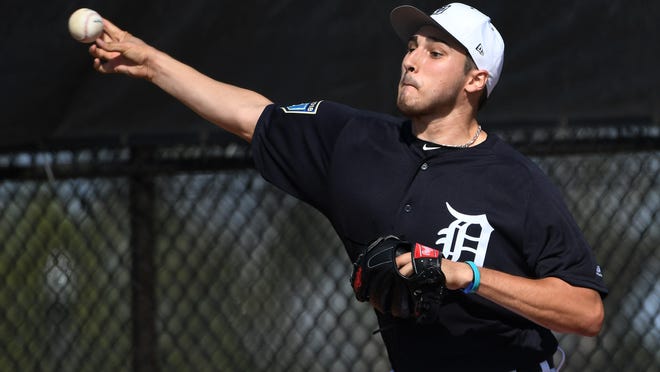 Comstock Park, Mich. — In his throwing hand was a plastic water bottle he twirled and spun at a speed that might have matched the thoughts surging through a young pitcher's head.
Matt Manning was busy thinking, and explaining, as he stood outside the Whitecaps clubhouse at Fifth Third Ballpark, where Single-A West Michigan plays its games as a Tigers farm affiliate.
The day before had been rough — early, anyway. Two walks, a couple of hits, two runs, 32 pitches in the first inning of a game against South Bend. He slowed down, found some rhythm, and finished the next five innings with 67 pitches and no runs.
"I think it was a test of my development," said Manning, who, at 6-foot-6, looks like the basketball player he was before baseball became his sole focus. "Last year, or the year before, I might not have made it through the first inning."
Manning is 20 years old and it has now been two years since the Tigers snagged him in the first round of the 2016 draft. Everything they liked then about a right-handed pitcher from Elk Grove, Calif., they now love: his athleticism, his size, his potential to be part of a future rotation that might also be home to prospect trophies Casey Mize, Franklin Perez, Beau Burrows, Alex Faedo, and Kyle Funkhouser.
More: Franklin Perez close to return; timeline varies for other Tigers prospects
But this will be a methodical, likely slow, march to Comerica Park for Manning, if it happens.
The Tigers last spring decided Manning was so new to pitching they kept him back a grade, as it were, rather than ship him immediately to West Michigan. They wanted him to hang with the youngsters at extended spring training in Lakeland, Fla., where he could work on basics that weren't yet ready for a long competitive season.
Manning eventually was sent to a training-wheels Single A stop, Connecticut, for some bump-work ahead of a late-summer promotion to the Whitecaps. Back with the Whitecaps this season, he has a 3.70 ERA in 10 starts, along with a WHIP of 1.38, numbers that would be reduced mightily if he hadn't walked 28 batters in 48.2 innings.
Manning also has 68 strikeouts. He has allowed 39 hits. In his latest start, Sunday against Dayton, Manning was brilliant: seven innings, three hits, no runs, six strikeouts, a lone walk.
The numbers speak of potential pluses, as well as to the job he and his Tigers tutors face in turning more of a basketball player into a big-league pitcher.
It isn't that Manning didn't pitch during his years at Sheldon High in Sacramento, Calif. He did. And he was exceptional, as a steady stream of scouts confirmed.
But when basketball was his deeper love and pursuit, and won him a scholarship to Loyola Marymount, baseball took on a place and perspective that, ironically, made the Tigers want Manning even more with 2016's ninth overall pick.
It was a matter of wear and tear. Manning had not been a typical, teenage pitching virtuoso who moves straight from a high school season to a summer travel team. Baseball was more of a side sport, minus the year-round rigors that teams know can grind down an arm even before a pitcher has reached his 20s.
Manning was like a showcase-fresh new car.
The counterpoint came two summers ago when Manning pulled into Lakeland for his Tigers orientation. Here was one raw dude. Nice arm, but the pitching gurus were about to earn their not-so-lavish pay refining a teenager.
This metamorphosis is now on display at West Michigan.
More: Tigers minor-league report: Bump to Toledo no problem for Zac Houston
The basics are there, beginning with a fastball that can run in the low-to-mid 90s. His basketball frame and arms probably most show up in the spin he puts on his curveball, which on an 80-point scouting scale the Tigers consider to be a lofty 70. He has a change-up that has begun to show polish and is also adding a sinking two-seam fastball.
"He's doing good, he's where he should be," West Michigan manager Lance Parrish said last week, being sure not to overstate, or understate, what he and the Tigers have been seeing. "To put it in a nutshell, he's improving.
"His stuff's there, he just has to command it," Parrish said, using a word — command — that is forever religion with pitching appraisers. "There are streaks where he might wobble before he gets it going.
"It's just tweaking mechanics."
The chief tweaker is West Michigan pitching coach Jorge Cordova, who knows how these projects begin and, when you have Manning's pluses, how they often end: in the big leagues.
"If we remember where he was last year, now he looks like a true first-rounder," Cordova said. "Fastball in the mid-90s with a good angle. Curveball is a 70. He's way more mature this year with his actions on the mound."
What can be seen in Manning's frame and perhaps in his competitive psyche is some family DNA. His dad, Rich, played two seasons in the NBA. Exceptionalism in athletics means, at an early age, you tend not to be satisfied with achievements or plateaus.  
That's what the Tigers came to understand about Manning. There would be no complacency.
"He's so tough with himself," Cordova said. "He wants to be perfect. He wants to be in Detroit the next day."
A start as strong as Sunday's will help get him there, or at least to the next farm stop, which figures to be Single-A Lakeland, perhaps soon.
"His stuff is big-league stuff," Cordova said. "Fastball — four-seamers and two-seamers, which can be very good, or sometimes average. As he gets stronger, he'll throw regularly in the mid-90s, in my estimation."
Manning's curveball is his elite pitch.
"Hitters can have no chance," Cordova said. "It's a two-fingered curve — no thumb. He instead uses the palm of his hand. First time in my coaching career I've seen that."
That leaves a change-up Manning steadily is trusting and throwing in just about any count.
Three pitches. And no immediate plans to add a fourth, which is fine by the Tigers. For now.
 "You know he's going to be a big-leaguer and one of the best," Cordova said. "He's such a great kid. He knows what he wants, and he'll stick with the game plan.
"That's pretty good development, considering he's been pitching only two years."
Professionally, anyway.
He's been playing baseball and competing in sports for a good deal longer. They are facts the Tigers were aware of, and relished, as they sized up a prospect who in their minds is very much on track.
lynn.henning@detroitnews.com
twitter.com/Lynn_Henning