Tigers sign No. 1 draft pick Casey Mize after 'very smooth' talks
By Lynn Henning
The Detroit News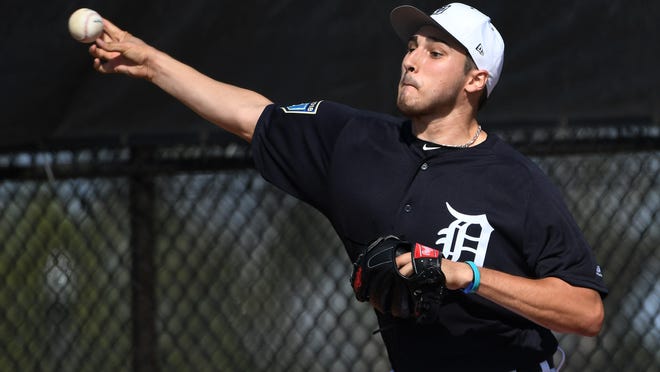 Detroit —  After the customary few days of ironing contract wrinkles, most of which boiled down to dollar signs, the Tigers on Monday unveiled their top draft treasure, Casey Mize. 
Mize signed for $7.5 million, according to a source close to the negotiations.
"Not very complicated," said Mize, a 6-foot-3, right-handed pitcher who days ago wrapped up a dazzling college career at Auburn. "Very smooth."
Mize, 21, is expected to pitch minimally this summer after he reports to the Tigers' minor-league headquarters at Lakeland, Fla. It is possible he will work against teenage minor-leaguers, or perhaps get a short-term ticket to one of the Tigers' Single-A farm stops.
More: Mensching: 3 Tigers to trade, 3 to keep, and 3 still TBD
 "We're gonna put down a plan," said Scott Pleis, the Tigers' director of amateur scouting, who headed Mize's scouting, and signing. "All that stuff will be mapped out.
"One thing about these guys — everyone wants to see them right now."
The Tigers last season allowed their first-round pick, Alex Faedo, to take a summer vacation after he had thrown a combined 227 innings during his final two seasons at the University of Florida. Mize has thrown 198 1/3 innings, cumulatively, the past two seasons for Auburn. It is a light enough load in the Tigers' view to allow him at least a brief taste of professional baseball.
The Tigers came under the $8 million ceiling Commissioner Rob Manfred's office allowed for this year's first overall selection. Teams typically sign first-overall picks for less than their optimum allocation as they dispense dollars carefully in a bid to sign as much young talent as can be accrued.
The Tigers are "getting close," Pleis said, to signing third-round pick Kody Clemens, a second baseman from the University of Texas.
Clemens tweeted on Monday that he's forgoing his senior season to join Tigers.
"The decision was a lot harder than most people think," Clemens tweeted, "but I have decided to move forward with my baseball career and sign with the Detroit Tigers."
The Tigers are "still talking" with second-round pick Parker Meadows, a prep outfielder from Georgia, although Pleis said there had been no serious complications in the two parties' conversations.
Mize was widely recognized as the top prize in the 2018 draft after he struck out 156 batters and walked only 16 in 114 2/3 innings for Auburn.
lynn.henning@detroittigers.com
twitter.com/Lynn_Henning