Tigers draft picks Casey Mize, Kody Clemens miss out on Golden Spikes
Detroit News staff and wires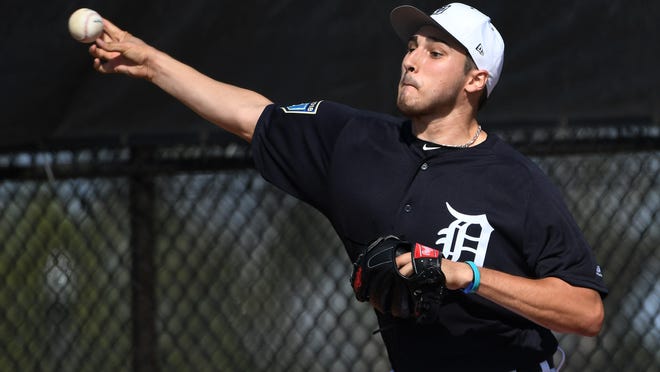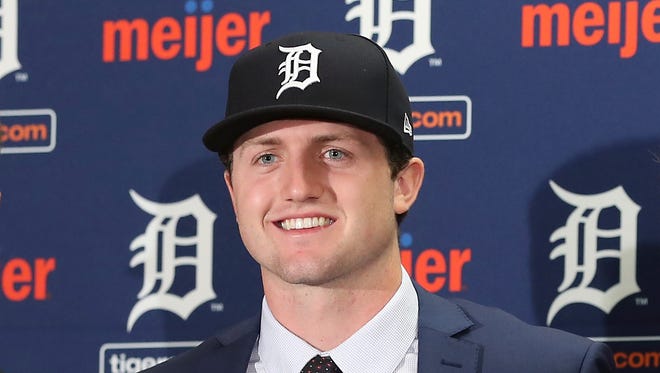 Los Angeles — Detroit Tigers draft picks Casey Mize and Kody Clemens were among four finalists for the USA Baseball's Golden Spikes Award as the top amateur baseball player.
But both fell short in the voting to University of California first baseman Andrew Vaughn, who became the first player from his program to earn the honor.
Vaughn earned the 2018 Pac-12 Player of the Year award, hitting .402 in his sophomore season with 14 doubles, a school-recording tying 23 homers and 63 RBIs.
He is the eighth player from the conference to win the award after Bob Horner (1978), Terry Francona (1980), Oddibe McDowell (1984), Mike Kelly (1991), Mark Prior (2001), Tim Lincecum (2006) and Trevor Bauer (2011).
More: Tigers ponder where to place new talent plucked from June's draft
Mize, a right-handed starting pitcher and No. 1 overall pick, anchored Auburn's rotation and posted a 10-6 record with a 3.30 ERA, 156 strikeouts and 16 walks in 114.2 innings. Clemens, a second baseman at Texas, batted .351 and led the Longhorns in hits (87), runs scored (58), home runs (24), RBIs (72) and slugging percentage (.726).
Mize and Clemens, who were Detroit's first- and third-round selections in the MLB Draft earlier this month, have both signed with the Tigers.
More: Tigers sign No. 1 draft pick Casey Mize after 'very smooth' talks
Florida right-hander Brady Singer was the other finalist.
About 200 people cast ballots among national baseball media, select professional baseball personnel, previous winners and select USA Baseball staff. Those votes counted for 95 percent of the total, with fan balloting accounting for the remainder.
Golden Spikes winners
2018 — Andrew Vaughn, 1B, California
2017 — Brendan McKay, LHP/1B, Louisville
2016 — Kyle Lewis, OF, Mercer
2015 — Andrew Benintendi, OF, Arkansas
2014 — A.J. Reed, INF-P, Kentucky
2013 — Kris Bryant, INF, San Diego
2012 — Mike Zunino, C, Florida
2011 — Trevor Bauer, P, UCLA
2010 — Bryce Harper, C, Southern Nevada
2009 — Stephen Strasburg, P, San Diego State
2008 — Buster Posey, C, Florida State
2007 — David Price, P, Vanderbilt
2006 — Tim Lincecum, P, Washington
2005 — Alex Gordon, 3B, Nebraska
2004 — Jered Weaver, P, Long Beach State
2003 — Rickie Weeks, INF, Southern U.
2002 — Khalil Greene, SS, Clemson
2001 — Mark Prior, P, Southern California
2000 — Kip Bouknight, P, South Carolina
1999 — Jason Jennings, P-DH, Baylor
1998 — Pat Burrell, 3B, Miami
1997 — J.D. Drew, OF, Florida State
1996 — Travis Lee, 1B, San Diego State
1995 — Mark Kotsay, OF, Cal State-Fullerton
1994 — Jason Varitek, C, Georgia Tech
1993 — Darren Dreifort, P, Wichita State
1992 — Phil Nevin, C, Cal State-Fullerton
1991 — Mike Kelly, OF, Arizona State
1990 — Alex Fernandez, P, Miami-Dade South
1989 — Ben McDonald, P, Louisiana State
1988 — Robin Ventura, 3B, Oklahoma State
1987 — Jim Abbott, P, Michigan
1986 — Mike Loynd, P, Florida State
1985 — Will Clark, 1B, Mississippi State
1984 — Oddibe McDowell, OF, Arizona State
1983 — Dave Magadan, INF, Alabama
1982 — Augie Schmidt, INF, New Orleans
1981 — Mike Fuentes, OF, Florida State
1980 — Terry Francona, OF, Arizona
1979 — Tim Wallach, INF, Cal State-Fullerton
1978 — Bob Horner, INF, Arizona State