What price for leadership? In letting Wilson, McCann go, Tigers say $6M too much

Chris McCosky
The Detroit News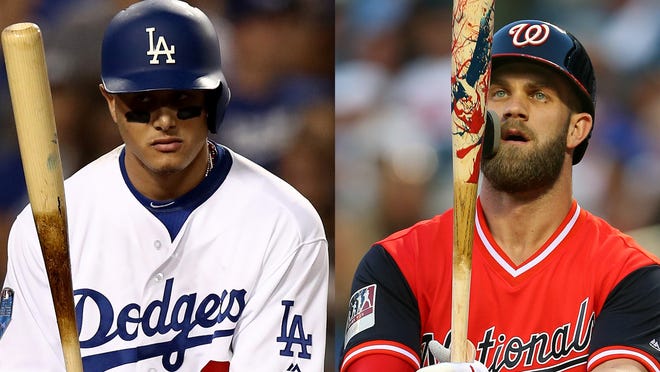 Detroit — Alex Wilson won't be out of work for long. A couple of teams have already reached out to him, less than 24 hours after news broke that the Tigers did not tender him a contract for 2019.
"I think we will find a landing spot," Wilson said Saturday in a phone conversation. "Just kind of hoping I can find a good fit. I want to win. I'm not getting any younger, so if I have an opportunity to play with a contender, that would be huge for me."
Wilson, who turned 32 in November, was still shaken by the Tigers decision to let him walk. He'd been a multi-role stalwart and leader in the bullpen for four seasons. And he was coming off a solid season. After a rocky first month, Wilson posted a 2.58 ERA, holding opponents to a .229 batting average after May 1. He allowed just one run in his final 14 appearances.
More:How George H.W. Bush got a contract offer from Detroit Tigers
More:Tigers '84 ticket package to include Trammell-Whitaker Bobblehead
Arbitration eligible, it would have taken roughly $3 million to secure his services for 2019.
"It caught me off guard, to be honest," Wilson said. "It's just one of those deals. I know how this game works. But it's unfortunate. They told me it was strictly a financial decision. That's what I was told."
By not tendering contracts to Wilson and catcher James McCann (who stood to make about $3.5 million), the Tigers saved about $6.5 million. Or, approximately what they will pay Prince Fielder next season. Fielder hasn't played for the Tigers since 2013 and has been out of the game since 2016.
Lopping two respected veteran leaders, in the second year of a rebuild, to save just $6.5 million — it's fair to ask if the Tigers are being penny wise and a pound foolish here.
"I understand where they are coming from, but I'd be lying if I said I wasn't a little bitter about it," Wilson said. "Because I feel I did a lot more than just pitch for this organization."
Wilson and McCann both were integral members of the team's leadership core. Wilson, one of manager Ron Gardenhire's comic foils, not only helped mentor and counsel the younger relief pitchers last season, he even reached out to the prospects like Beau Burrows and Matt Manning.
He talked often about wanting to stay with the Tigers and see the rebuilding process all the way through.
"The direction that baseball is going these days is a bad one," Wilson said. "Because veteran leadership, things you can't calculate on the field, no longer matters, it seems like. You should look at the teams that go to the playoffs and win World Series, those are the teams that have that leadership — those veterans out there showing the young kids how to do things and help them do it the right way.
"Now people just think, 'Well, Willie is going to cost us $3 million, but we can get five young kids that can fill that role. Just use a revolving door and we will get the same out of it.' Yeah, you can get the same numbers, maybe, on the field. But what you aren't going to get is somebody who is running the clubhouse, teaching these young kids how to be a professional."
The Tigers went this route before, if you remember. Back in the early years of this millennium, the Tigers went through a full-scale rebuild without a solid veteran base. In 2003, they didn't have a starting pitcher over 26 and no strong veteran presence in the bullpen. Same with the position players. The veterans on that team were Bobby Higginson and Shane Halter.
It was a 119-loss mess.
"I think the clubhouse took a big blow," Wilson said, meaning the Tigers current clubhouse. "Losing myself and James, your bullpen leader and your catcher on the field every day running the show. It's going to be interesting.
"That whole team is going to feel their way around and somebody is going to have to step up. That's the name of the game."
That's not Wilson's problem anymore. What he hopes is that his experience, bulldog mentality, durability and versatility — and his relatively affordable price tag — will be attractive to contending teams.
"I feel good," he said. "I felt like my second half last season was one of the better ones in baseball. I am just kind of keeping my head down, see what kind of opportunities come up and go from there."
Wilson has pitched in every situation. He's started, he's worked long relief, middle relief and late-inning set-up roles. Right-handed hitters hit just .191 off him last season. Left-handers hit just .191 off his cutter last season.
"I feel like I can do a lot of things a lot of people can't," he said. "A lot of people have worked themselves into particular roles. But I am comfortable doing whatever is asked of me. I have no problem doing that."
He would be a good choice, too, for some of the more progressive teams who are using an opener — a reliever to start games.
"I enjoy the ability to go out there every single day in a different spot," Wilson said. "Being in games that matter is something I really enjoy being a part of."
In his four seasons with the Tigers, Wilson never worked fewer than 59 games and 60 innings. He posted a 3.20 ERA and 1.16 WHIP in those four seasons. He was as tough and reliable a reliever as the Tigers had over that stretch.
"It's going to be weird walking into a new place," he said. "I really felt comfortable and at home in Detroit the last four years. It will be interesting to see what teams are thinking. I'm anxious to kind of get the ball moving. Sitting here without a job doesn't make anybody feel very comfortable.
"But I am pretty confident that I am going to find a spot. It's just a matter of when."
cmccosky@detroitnews.com
Twitter: @cmccosky