Tigers, lefty Matt Moore banking on a bounceback season in 2019

Chris McCosky
The Detroit News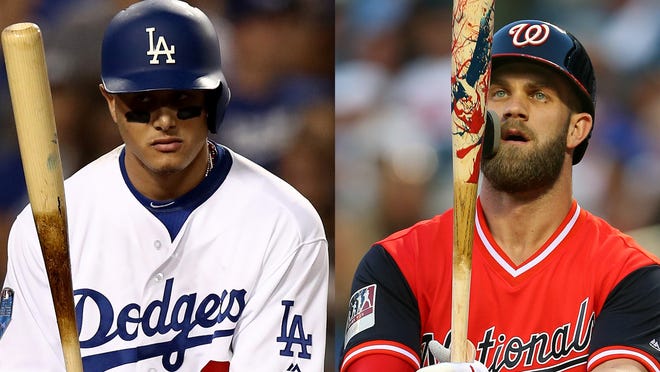 Detroit — The Tigers wanted another veteran starting pitcher, one they could get at a relative bargain price, who if things went well could be flipped for prospects in July.
Left-hander Matt Moore, a 29-year-old former All-Star who entered free-agency after two mostly dreadful seasons, wanted an opportunity to re-establish himself, especially after he was booted to the bullpen by the Texas Rangers after 12 starts last season.
Call it a marriage of mutual convenience.
"This was my first taste of free-agency and I wasn't exactly coming off the most desirable season," Moore said Wednesday in a media teleconference. "And especially, after the last two or three years when the market, even for guys coming off a great season, was extremely volatile, to say the least.
"To work out a deal this early, I feel like I was kind of lucky. I didn't have to fall into that category of having to push this thing down the road."
More: Michael Fulmer, recovering from knee surgery, anxious to re-establish himself
Despite posting a career-worst 6.79 ERA and 1.657 WHIP in 102 innings last season, Moore signed a one-year deal with the Tigers for $2.5 million. He can also earn another $1 million if he makes 32 starts. According to MLB Network's Jon Heyman, the Tigers will pay Moore a $100,000 bonus each time he clears these markers — 10 starts, 14 starts, 16 starts, 18 starts, 20 starts, 24 starts, 27 starts and 30 starts.
He will get another $200,000 if he makes 32 starts.
"I had interest from a few clubs," Moore said. "I felt fortunate to have done enough at the front end of my playing time to feel like there would opportunities for me to start. Also, I threw a couple of times against the Tigers last season and I thought they were a couple of my better outings. I appreciate the eye test.
"I think this is going to be a great thing for the organization and myself. I am looking at having a nice rebound year."
Contract aside, the Tigers haven't made any promises. General manager Al Avila has essentially offered Moore the same lifeline he offered veteran left-hander Francisco Liriano last off-season.
"He is a veteran left-handed starting pitcher with a solid three-pitch mix that we see competing for a spot in our rotation next season," Avila said.
As it stands today, Moore will be competing with Jordan Zimmermann, Michael Fulmer, Matthew Boyd, Daniel Norris, Spencer Turnbull, and possibly Ryan Carpenter and Blaine Hardy for one of five rotation spots.
"I still feel like I am not there, like I don't have the answers for the stuff that we're doing," said Moore, who had Tommy John surgery in 2014 and missed that season and most of 2015. "I still feel like I have a lot farther to go. Going through the injuries, it taught me about patience.
"I've been accused of not being the most patient person on the planet. But when you go through those things, you really have to dig deep every day and do the work."
More:Price for leadership? In letting Wilson, McCann go, Tigers say $6M too much
After a solid season in 2016 (13-12, 4.08 ERA, 198 innings), things went off the rails with the San Francisco Giants in 2017. It was his only full season in the National League, but things didn't get any better at the beginning of last season in Texas.
In 12 starts, he posted an 8.02 ERA with opponents hitting .354 (.988 OPS). He was more effective in 27 relief appearances, with opponents hitting .236, with a .798 OPS. In his last 11 innings, he allowed four runs with a 0.94 WHIP.
"One of the things I did, I simplified my delivery," he said, meaning he worked exclusively from the stretch. "Being in the bullpen taught me you don't have to be your best or your sharpest every time out, you just have to get outs. You just have to be ready to go. I think I appreciated the adrenaline you get pitching out of the bullpen.
"It taught me that you can make something good out of not having good stuff."
Moore's repertoire hasn't changed. He still relies on a four-seam fastball (93 mph), an overhead, knuckle-curve ball and a change-up. He has dabbled with a cutter, as well, but developing that pitch triggered his troubles in 2017.
"For me, the less I throw my cutter the higher the spin rate is on my four-seam fastball," Moore said. "The more I throw my cutter, the less the spin rate is on my four-seam. It's on me to back off the cutter at times because it has adversely affected my four-seam.
"And the four-seam has to be my bread and butter for the overhead breaking ball to be effective. I have to have that carry on my fastball."
More: How George H.W. Bush got a contract offer from Detroit Tigers
Opponents hit .326 and slugged .578 against his fastball last season. In 2017, when he threw more cutters than ever before in his career, opponents hit .300 and slugged .560 against his fastball.
"It's a work in progress right now, as far as getting away from the cutter," he said. "I still feel like it can be a good weapon. … If I can stay away from the cutter early on, the four-seam will play better."
Moore said priority one when he gets to Lakeland will be to get his fastball mechanics back in order, and that involves re-training his wrist position. To have the late life on the four-seam fastball, he needs his wrist to stay firm.
"Just keeping it more back and forth, no break in the wrist," he said. "When you throw a two-seamer, you sometimes cheat to the inside and with a cutter you cheat to the outside. Throwing a good four-seamer is how I define myself.
"Adding a cutter can't take away from what I do really well. I figured out, if my wrist is leaning to the right or left, the spin rate on my four-seamer starts to suffer."
Losing the life and movement on his fastball was just part of Moore's troubles the last two years. He's also fought his command.
"It usually comes down to predictability and what count was I getting hit hard in," he said. "If you are falling behind early, hitters are probably going to find the barrel a little more often."
More: Tigers outfield prospects Daz Cameron, Danny Woodrow flourish in Arizona
Opponents hit .406 with a .733 slugging percentage and 1.306 OPS when they were ahead in the count against Moore last season.
"I didn't do myself any favors by not taking care of the little things," he said. "Like getting ahead in the count. Making those conversion pitches are a big deal and they can absolutely unravel a season.
"You can make it tough on yourself if you aren't doing the small stuff."
Moore and wife are expecting their first child, a son in mid-February, which is only part of the reason he plans on getting to Lakeland earlier than the Feb. 12 report date for pitchers and catchers.
"I couldn't be happier," Moore said. "I am looking forward to getting to camp early and getting off on a good foot. I am definitely looking for a rebound season, especially coming off that tough campaign last year. I am looking forward to having a fully healthy year and helping the Tigers any way I can."
cmccosky@detroitnews.com
Twitter: @cmccosky