Winter Meetings: Tigers will shop free-agent bargain aisles to fill roster holes

Chris McCosky
The Detroit News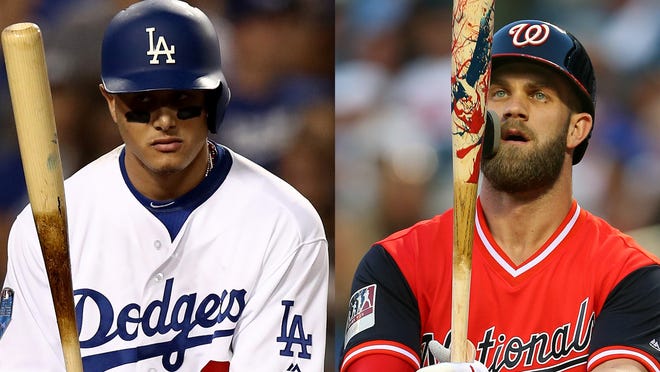 Detroit — If you are bargain hunting, the best deals typically come after the top-shelf stock is sold.
That's how the Tigers played it at last year's Winter Meetings. And, most likely, that will be their approach this week as the baseball industry conducts its massive annual trade show in Las Vegas. While contending teams bid on Bryce Harper, Manny Machado and other elite free agents, the Tigers and the rest of the rebuilders are expected to wait to see what's left and discounted on the rack.  
But there is a different dynamic in play this year. Players, particularly those not considered top-shelf worthy, are more motivated to get their deals done quicker. Seeing so many quality players sit on the shelf without jobs into and through spring training last season changed the mind-set of a lot of mid-level players.   
Newly signed Tigers left-hander Matt Moore spoke on this last week.
"This was my first taste of free agency and I wasn't exactly coming off the most desirable season," he said. "And especially, after the last two or three years when the market, even for guys coming off a great season, was extremely volatile, to say the least.
"To work out a deal this early, I feel like I was kind of lucky. I didn't have to fall into that category of having to push this thing down the road."
The Twins were able to sign second baseman Jonathan Schoop to a one-year deal for $7.5 million this week. Even though he struggled after being traded to the Brewers last season, he's 27 and was an All-Star in 2017.
He might've been able to get more money, certainly a multi-year deal, had he waited it out. But his camp decided the security of the bird in hand ($7.5 million for a year) was better than hoping there'd be two in a bush somewhere else.
More:Tickets for Jan. 26 TigerFest go on sale Friday
Understand, though, the Tigers aren't spending $7.5 million on any one player — they may not spend that much for free agents in total. They haven't spent the last two-plus paring down their payroll, finally getting under the luxury tax threshold and getting to where they should receive a revenue-sharing check instead of paying a revenue-sharing bill, to blow it out again in the second year of the rebuild.
The Tigers aren't going to be big spenders in free agency until the new foundation is built and they are ready to be legitimate contenders again — think 2021, 2022.
"Right now, I don't know what payroll is going to look like," general manager Al Avila said at the end of the season. "It could very easily come down. It could very easily stay neutral. I'm trying my best, obviously, not to make it any higher because that's not where we want to go.
"It's my goal to set up the organization and its foundation moving forward for success, and the best way to do that is to bring payroll down so we can continue to accumulate prospects."
Avila cited the Milwaukee Brewers as a creditable model. Keep acquiring prospects, keep trying to find undervalued talent (like they did with Niko Goodrum last year) and, "try to make more good decisions than bad ones."
The Tigers opted not to tender contracts to veteran leaders James McCann and Alex Wilson, mostly because it saved them about $6.5 million. That gives you an indication of the kind of deep-dive bargain hunting they will be doing the rest of this offseason.
"It's getting the payroll down and accumulating prospects," Avila said. "We're going to bring guys through here, we're going to look at them. A good thing right now is that a lot of these guys that were in Double-A are going to be in Triple-A who, in the near future, are going be in the big leagues."
That's the mission. Maybe we will see the likes of catcher Jake Rogers, shortstop Willi Castro, outfielder Daz Cameron and pitchers Beau Burrows, Kyle Funkhouser, Matt Manning or Franklin Perez at some point in 2019. But it won't be until that group — which also includes infielder Isaac Parades and pitchers Casey Mize, Matt Manning and Alex Faedo — gets established that the Tigers will resume spending real money on players. 
In the meantime, there are holes to fill. And with more agents coming to Vegas this week motivated to get contracts for their clients, perhaps the Tigers won't come home empty.
Avila and his lieutenants will arrive in Las Vegas Sunday and at the top of their priority list will be to sign a veteran shortstop. Adeiny Hechavarria, Jordy Mercer and Freddy Galvis are certainly among the candidates.
Two other intriguing possibilities. Miguel Cabrera has spent the offseason working out with Royals shortstop and free agent Alcides Escobar. He may be too expensive, but he'd be worth investigating. Also, the Orioles non-tendered Tim Beckham. The Tigers could offer him a one- or two-year shot at redemption.
Though they paid Moore $2.5 million, with another $1 million in incentives, they most likely are seeking another veteran starting pitcher. The pool of pitchers in their price range isn't overwhelming — Edwin Jackson, Brett Anderson, Tyson Ross, Jeremy Hellickson, Marco Estrada, etc.
Trenton native and former Eastern Michigan standout Matt Shoemaker is also available. After battling injuries the last two seasons, he was non-tendered by the Angels.
With Wilson gone from the bullpen, the Tigers may also be dipping into the deep pool of available relievers. They may choose to use their Rule 5 pick on a relief pitcher, as well.
With McCann gone, the Tigers are left with a young and relatively inexperienced catching duo — second-year Grayson Greiner and John Hicks, who will also play some first base and DH, manning the catching position.
Still, the Tigers don't appear interested in adding another veteran to the mix. They signed Bobby Wilson, who has played parts of nine seasons in the big leagues and will be 36 in April, to a minor-league contract. For now, he is the veteran third catcher likely to start the season in Triple-A Toledo.
But Chris Herrmann, 31, who came up in the Twins organization under manager Ron Gardenhire, was non-tendered by the Mariners. Gardenhire talked often last season of his desire for a third catcher on the big-league roster, one who can fill in at first base and outfield. He often mentioned Herrmann as that kind of player.
Another non-tendered player the Tigers may consider is left-handed power threat Justin Bour, if he's not out of their price range. He's a 30-year-old first baseman and designated hitter who has hit 20 or more home runs the last three seasons and four of the last five.
He stands to get a raise above the $3.4 million he made last season splitting time between the Marlins and Phillies. He'd be a good fit, though. A left-handed bat that could replace Victor Martinez (retired) as the everyday DH, or share first base and the DH role with Cabrera.
That would allow Hicks to concentrate on catching, figuring he and Greiner would share the duties close to a 50-50 split.
As for the procurement of prospects, Avila has but one blue chip to play, and that is right fielder Nick Castellanos, who is entering his final year of team control. To this point, there hasn't been a lot of meaningful interest from teams, except from the Astros, who have reportedly made preliminary inquiries.
Pitchers Matthew Boyd and Shane Greene could also draw some trade interest. Both are arbitration-eligible. According MLBTradeRumors.com, Greene could get as much as $4.8 million in arbitration and Boyd up to $3 million.
Other arbitration-eligible players include Castellanos ($11.3 million), Blaine Hardy ($1.2 million), Michael Fulmer ($3 million), Daniel Norris ($1.4 million) and Drew VerHagen ($900,000).
Assuming all that money will eventually be added to the payroll (roughly $25.6 million) – they were all tendered -- it's hard to see the Tigers spending much more than another $5 million to $7 million on free agents going forward.   
The meetings begin in earnest on Monday and conclude with the Rule 5 draft on Thursday.
cmccosky@detroitnews.com
Twitter: @cmccosky