Tuesday's MLB: Ex-Tiger Curtis Granderson agrees to deal with Marlins
Associated Press
Miami — Former Tigers outfielder Curtis Granderson has agreed to a minor-league contract with the Miami Marlins and will report to big league spring training.
If added to the 40-man roster, he would get a one-year contract that pays $1.75 million while in the major leagues and have the chance to earn $250,000 in performance bonuses for plate appearances.
The 37-year-old is a three-time American League All-Star and 15-year major league veteran. He batted .242 last year in 123 games with the Toronto Blue Jays and Milwaukee Brewers, reaching the postseason for the eighth time.
Granderson has a career average of .252 with 332 home runs and 903 RBIs. Among active players he ranks third in triples, sixth in home runs and seventh in games and runs scored.
He played for the Tigers from 2004-09, leading the league in triples in 2007 and 2008. He hit .272 with an .828 OPS in six seasons in Detroit.
He could see considerable playing time with the Marlins, who will begin spring training with three unclaimed outfielder jobs.
Dodgers fan dies after being hit by ball
A grandmother celebrating her 79th birthday and 59th wedding anniversary at a game at Dodger Stadium last August died four days after being hit in the head by a foul ball.
Linda Goldbloom's death Aug. 29 was ruled an accident by the Los Angeles County Medical Examiner-Coroner. She was in the stands Aug. 25 when a ball hit by a San Diego Padres player sailed over protected netting and struck Goldbloom.
She died at L.A. County-USC Medical Center. The cause of death was acute intracranial hemorrhage with history of blunt force trauma as the secondary cause, the online coroner's report said.
"A very hard, low trajectory line drive came up and hit her in the head," her husband, Erwin Goldbloom, told KNBC-TV in an interview broadcast Monday. "We loved each other very much."
The Dodgers said in a statement they were "deeply saddened" by Goldbloom's death and the "matter has been resolved between the Dodgers and the Goldbloom family." The team told the Associated Press there would be no further comment for now.
"They offered to pay the funeral expenses, but then we filed a lawsuit for wrongful death and that's when we had the mediation," Erwin Goldbloom said. "It was settled."
He didn't disclose further details of the settlement.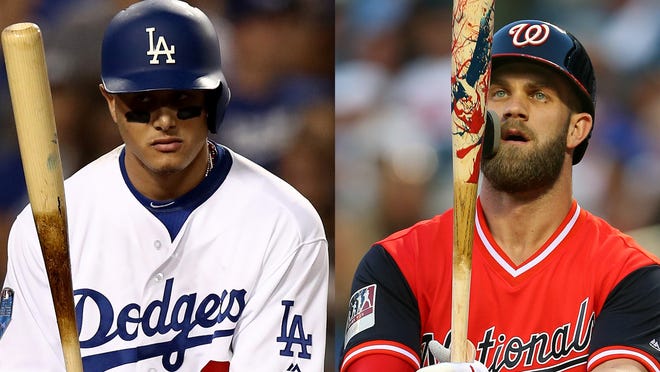 Players win cases
Astros shortstop Carlos Correa and Rays outfielder Tommy Pham have won their salary arbitration cases.
The decisions Tuesday gave players a 3-1 lead over teams in cases this winter.
Correa was awarded a $5-million salary, rather than the $4.25 million offered by the Astros. Arbitrators Elizabeth Neumeier, James Oldham and Gary Kendellen made the decision.
Correa made $1 million last year, when he hit .239 with 15 homers and 65 RBIs while being slowed by a bad back. He batted .315 with 24 homers and 84 RBIs in 2017, helping the Astros win their first World Series title.
Pham will get $4.1 million instead of the $3.5 million offered by the Rays. Arbitrators Margaret Brogan, Andrew Strongin and Gil Vernon ruled in Pham's favor.
Around the horn
The Phillies signed catcher Drew Butera to a minor-league contract with an invitation to attend major-league spring training.
... The Giants acquired right-hander Jake Barrett from the Diamondbacks for cash.