Tigers are sharper but fall to White Sox for second straight night

Chris McCosky
The Detroit News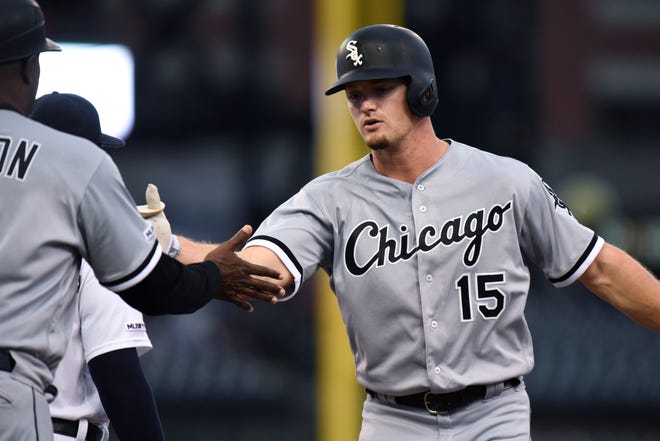 Detroit — Detroit Tigers manager Ron Gardenhire's message to his baseball team the day after a sloppy, uninspired 10-1 loss to the Chicago White Sox was calm, but direct. And apparently taken to heart. 
"We have to finish this out," Gardenhire said. "That's our message to these guys. Don't stop playing now. Keep playing. Finish this out. Because it does mean something. What they are doing now, it means something."
The young Tigers, most of whom will be fighting for non-guaranteed roster spots next season, responded. They played a much crisper, competitive game here Saturday night.
"They were into it," Gardenhire said. "(Friday) was just one of those games, they were a little gassed, or whatever. They regrouped and came out ready to go. We were in the ballgame and that's what you want.
"We stayed in it and gave ourselves a chance."
It came down to the final out, but the effort didn't result in victory. The White Sox quelled a ninth-inning rally and walked off with a 5-3 win. It was the fifth straight loss for the  Tigers and No. 109 on the season.
And, with four games left at Comerica Park, they still need one win to avoid becoming the first team in the modern era to lose 60 home games.  
Down three entering the bottom of the ninth, the Tigers had the tying runs on base with no outs against White Sox closer Alex Colome, Dawl Lugo, who had three hits, singled, Travis Demeritte reached when the third strike got past catcher James McCann and pinch-hitter Ronny Rodriguez singled in a run.
Next up, Willi Castro scalded a ball to the right side of the infield. The ball left his bat with an exit velocity of 109 mph. But White Sox second baseman Yolmer Sanchez, who had stolen two hits earlier in the game showing elite range going to his left, snared Castro's two-hopper and turned it into a fast double play.
"Willi absolutely crushed that ball," Gardnehire said. "If it goes by him, we've got action. That's what we were hoping for it, but you have to hand it to (Sanchez). He made a great play."
Colome struck out Victor Reyes to end the game.
Loss or no loss, the Tigers made a more professional showing in this one.
Left fielder Brandon Dixon made a spectacular catch of a foul pop-up, courageously diving head first near the railing behind the third-base line.
BOX SCORE: White Sox 5, Tigers 3
"I didn't think it was going to make it to the railing," Dixon said. "Off the bat I honestly thought it was going to be a fair ball. It just kept tailing away."
In the same inning, with the White Sox up 3-2, catcher Jake Rogers ended a White Sox rally by picking off Adam Engel at third base. They had runners at second and third with two outs and the dangerous Jose Abreu batting.
Engel took an extra couple of steps toward the plate on a ball in the dirt and Rogers threw a seed to Dawel Lugo who applied a running tag.
"I saw he'd got off pretty far on the pitch before," Rogers said. "I looked at Lugo, gave him the sign and he nodded back. Good throw. It was a good play. I didn't want to give in to Abreu there. 
"We were able to get a clean pick."
There was also a lot for the Tigers to like about rookie left-hander Tyler Alexander's outing.
"It started with our starting pitcher," Gardenhire said. "He kept everybody in the game and that's a good way to go about it. He attacked and kept everything moving."
First and foremost, Alexander threw strikes — 72 percent of them. He distributed his five-pitch mix evenly and for four innings was unflappable with runners in scoring position. He stranded a runner at second base in the second inning, worked out of a two-on, no-out mess in the third and left runners at first and third in the fourth.
"They put together a lot of really good at-bats," Alexander said. "This is the third time I've faced them and they've seen me quite a bit. But they've done this every time I've faced them.
"They foul off the decent pitches I make and they crush mistakes."
Going into the fifth, it felt like a storm was coming — and not the one that brought a brief rain shower in the second inning. Alexander had given up seven hard-hit balls in those four innings. And sure enough, the White Sox broke through.
With a home run by Tim Anderson and a two-run double by Yoan Moncada, they chased Alexander and took a 3-0 lead.
"I threw a lot of strikes, but a lot of them weren't great strikes," Alexander said. "I would say my command within the strike zone wasn't that good. But I am going to throw a lot of strikes and if I miss, I'm going to miss down the middle.
"Good or bad, that's just what it is."
The Tigers got two of those runs back against White Sox starter Ivan Nova in the bottom of the fifth. Rogers singled and went to third on a double by Willi Castro. Rogers scored on a ground out by Reyes. Castro scored on a 152-foot sacrifice fly by Brandon Dixon.
Dixon hit a foul ball that drifted toward the tarp beyond the White Sox dugout. Abreu tracked it, caught it and fell into the stands. Castro jogged home.
It stayed a one-run game until the eighth inning. David McKay (1 2/3 innings) and Buck Farmer (one) kept the White Sox in check. 
But rookie reliever Bryan Garcia's baptism of fire continued in the eighth. In what is likely his penultimate appearance, Garcia gave up a two-out, two-run single to Abreu, which opened the game up for the White Sox.
With one on and two out, Leury Garcia singled right past Garcia's head. Garcia then walked Anderson after a seven-pitch battle and Abreu hit the first pitch he saw, a slider, into left field.
"I hope I have a couple more (outings), I want to finish on a high note," Garcia said. "This isn't how I expected this to go. Just have to learn from it and move forward." 
Miguel Cabrera was scratched from the lineup because of soreness in his right knee. 
Twitter.com: @cmccosky