Michigan's Erik Jones negotiates NASCAR learning curve
David Goricki
The Detroit News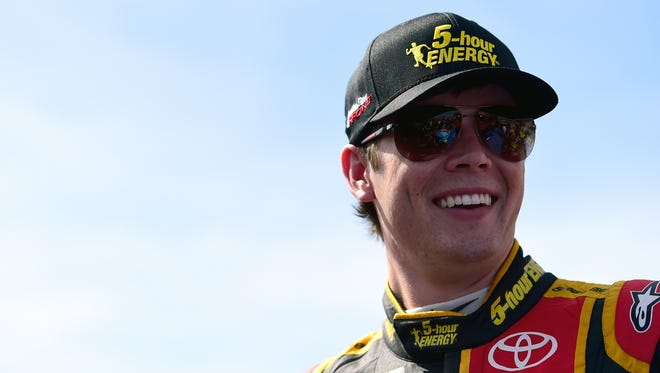 Michigan native Erik Jones is showing great speed in his No. 77 Toyota Camry for Furniture Row Racing in his rookie season in the Monster Energy Cup series.
Jones, a 21-year-old graduate of Swartz Creek, is quickly finding his way while being teammates with Martin Truex Jr., who is the series points leader with two wins this season.
Jones finished seventh in the Coca Cola 600 at Charlotte over Memorial Day weekend, then placed third this past Sunday at Pocono for his first Cup podium finish.
No doubt, there's a big difference from the Xfinity series, in which Jones competed last June at MIS, but he is making a strong transition heading into this Sunday's Firekeepers 400 at the two-mile superspeedway at MIS.
"It's been a tough transition, the Cup series is a lot different, much more competitive, much bigger step than going to Xfinity series," Jones said. "I've just been trying to learn more about these race cars, how to put yourself in a good position to be there at the end, that's been probably the biggest challenge overall. Just being a rookie driver, rookie team, we're trying to all learn together still and get better and better, just improve every week."
Jones and his crew have done just that with the podium finish at Pocono.
New stage in Cup racing affects strategy for drivers
"You want to run well. and at Pocono it was the first race I felt like we were really in contention at the end and had a shot at it which was really cool," Jones said. "Hopefully, we can get some more of that coming up here. It definitely gave a boost to everyone's confidence and shows that maybe we can win some of these races."
Jones enjoys coming to Michigan and loves running at MIS.
"You always look forward to go back and race there since it gives some friends and family members who can't travel to come out and get the chance to watch me," pointed out Jones who won the Camping World Truck series title in 2015.
"I've been there (MIS) a few times in the Trucks and Xfinity. It's still pretty narrow, only a few lanes, but still puts on a good show. It's kind of hard at times to get through traffic, get the runs where you want to, but I think it's a pretty racey track and it gets better every year. It's just fun to go out and kind of carry that speed that you have there. It's one of the fastest tracks we get to go to so it's kind of fun."
Jones' trip to MIS was anything but fun last June, when he announced the death of his father, Dave Jones, who played a major role in his career. He took to the track just days after his father's death and finished fourth.
Jones' father was there to watch him make his rapid rise in NASCAR, which included three Cup races subbing for Joe Gibbs Racing in 2015, and actually leading at Kansas while subbing for Kyle Busch.
Now, Jones has a quality teammate in Truex.
"It's been nice to have a guy who is a veteran in the Cup series to be able to help me out," Jones said. "They're fast every weekend so it's nice to just have another team there that we can baseline ourselves off of. We have used that and it's been helpful so it's nice to have a guy with that kind of experience."
Jones said last Friday at Pocono he had big plans for this week, saying he planned to have dinner with his 85-old-year grandfather, then hang out with his friends who are Oakland University students.
However, Jones' travel plans were pushed back, resulting in him arriving Tuesday evening in Michigan with a test session in a Late Model car planned for Wednesday.
Still, Jones said it will feel good to be back home after a busy few months to start the season.
david.goricki@detroitnews.com
Twitter: @DavidGoricki
Firekeepers 400
When: 3 p.m. Sunday, Michigan International Speedway, Brooklyn
Support races: ARCA Corrigan Oil 200, 6 p.m. Friday; Xfinity Irish Hills 250, 1:30 p.m. Saturday
TV: All races on FS1
Defending champion: Joey Logano
Tickets: mispeedway.com