Pistons will miss Monroe's skill, influence
Terry Foster
The Detroit News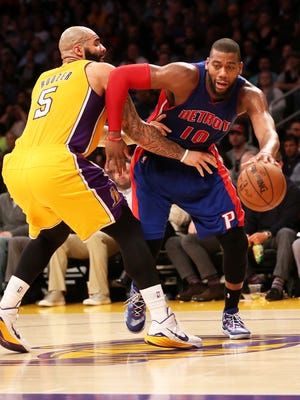 Orlando, Fla. – Reggie Jackson views it as losing a big brother.
That was the role former Piston Greg Monroe played when Jackson was traded to Detroit from Oklahoma City last season. Monroe knew Jackson wanted to be a future team leader, and Monroe helped Jackson in his transition to a new team.
On Thursday, free agents can sign contracts with their new teams, and Monroe officially will end his five-year stay with the Pistons when he signs a three-year, $50 million contract with the Bucks.
The 6-foot-11 Monroe is expected to move from power forward to his more natural position of center. That means post battles with former teammate Andre Drummond when the Pistons and Bucks meet.
"He was like a big brother to me," Jackson said. "And he was a role model also. We are going to miss what he brings to the table, and we wish him the best with the Bucks."
In 378 games with the Pistons, Monroe averaged 14.3 points, 9.2 rebounds and 2.3 assists while shooting 50.5 percent from the field. Monroe was not a bad player, but he did become a bad fit in coach Stan Van Gundy's offense.
Van Gundy wanted to clean out the middle for Drummond, who has lost weight and is working on his low post game. That's partly why Van Gundy released Josh Smith during the season and traded for Ersan Ilyasova, who was the Bucks' power forward. Ilyasova is a stretch four and a career 37-percent 3-point shooter, and Monroe has never made a 3-point basket in his NBA career.
Only two starters return from last season's opening-night lineup: shooting guard Kentavious Caldwell-Pope and Drummond. Jackson, Ilyasova and either Marcus Morris, obtained in a trade with Phoenix, or rookie Stanley Johnson, will be the new starters.
"With Greg, two things came out that were very important," his agent, David Falk, told NBA.com. "In Detroit, he had been there five years and had five coaches. He wanted to go somewhere that there was stability. And in Detroit, he'd played there five years and had never been in a playoff game. Playing for a team that was ready to be in the playoffs was a major factor."
Playoff action was important to Monroe. He talked to veteran players about what it was like to be in the playoffs and that did play in his decision. The Pistons were 145-249 (.368 winning percentage) with Monroe and never finished higher than fourth in the Central Division.
"We would love to have Greg back. He is a great talent," Jackson said. "He is one of the best at his positon in the league. He might not be the most vertical. He might not be the quickest guy, but that is what I love about this sport. You can have all different types of guys of different backgrounds and athleticism."
Reserve guard Spencer Dinwiddie said he would also miss Monroe and his mentorship.
"I'm happy for him individually," Dinwiddie said. "He was one of those guys I was close to. He was a really good vet. I'm glad he can move on and be in a great situation for himself. As far as the team, it obviously hurts losing one of your best players. But Stan is a great coach and he is going to do what it takes to make us a better team in the long run."
Jackson loved the "automatic buckets" Monroe provided in the low post, but he acknowledged this might be the best situation for both teams.
"It's going to be tough playing him," Jackson said. "But we look forward to the challenge of playing against him. He has done so much for the city with just being the best he could be. Unfortunately, it did not result in a lot of wins, but he is going to be missed."