Trade for Pistons? Van Gundy happy but always looking
Rod Beard
The Detroit News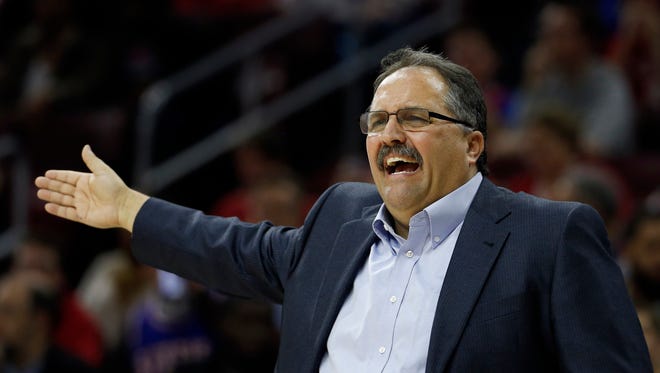 Chicago — Compared to last year, Pistons coach Stan Van Gundy and general manager Jeff Bower have had a much calmer early part of the season.
In their first season with the Pistons — and after a 5-23 start — they were like an HGTV show, trying to renovate and remake the roster to fit their needs. It's been a tumultuous process, shuttling players in and out, trying to find the right mix.
But they might be close to the finished product — at least for now.
While they haven't made any moves since the start of the season, they're much better off this season, at 15-12. The starting five rates as one of the best in the league, and with Brandon Jennings (Achilles) returning to the court with the NBDL's Grand Rapids Drive on Saturday — and his projected return to the Pistons in a week or two — things could be shaping up for the roster.
But does that mean Van Gundy wouldn't be open to making a trade to try to shore up the lineup and get another scorer?
That's not so clear.
With three new starters this season and a remade bench, he's content to let them continue to build and find a groove before trying to shake things up.
"We're in a situation where it would have to be a pretty clear step up in terms of talent for us to make a move," Van Gundy said Friday morning. "I like the chemistry and character of our group. We won't make lateral moves or marginal moves, because we think the continuity is important."
The conventional wisdom was that Jennings would be on the trading block because he has an expiring contract, and after Reggie Jackson signed a long-term deal in the offseason, Jennings became a valuable trade chip.
Not so fast.
Jennings has said he's looking to return to be a super sub and play as one of the central pieces off the bench, which could be just what the Pistons need to shore up the lack there. They could be in the market for a wing or shooting guard, but with Jodie Meeks (toe fracture) also looking to return around February, many of the things they'd be seeking on the trade market could already by in their cupboard — albeit injured.
But Van Gundy said there are no imminent trades and that they're not actively searching to ship Jennings — or anyone else — just for the sake of change. Beginning Tuesday, teams were able to deal players that they picked up in the offseason, but there hasn't been any movement yet.
Things have been quiet in the trade market, but that doesn't mean there hasn't been some window-shopping.
"You're always on the lookout for a guy that you think either now or for the future appreciably changes your talent," Van Gundy said. "You really approach it the same way you always do — you're talking and seeing what's out there, but there hasn't been anything that's even made us take a second look, at this point."
One of the bigger concerns is maintaining the balance in the locker room and keeping good character with the players. One addition could muddle that mix and create a firestorm. And having played only a third of the season with this group, they still haven't fully jelled into the group they'll be with more time to figure things out.
"I don't think you can truly get good until you have some continuity to what you're doing," Van Gundy said. "We'll be pretty careful — not to say we're not looking. Jeff's on the phone every day and you're always looking. You're doing your diligence, but at the same time, we like our group."
Rod.Beard@detroitnews.com
Twitter.com/detnewsRodBeard