Lions prepared, will 'let draft come to us'
Josh Katzenstein
The Detroit News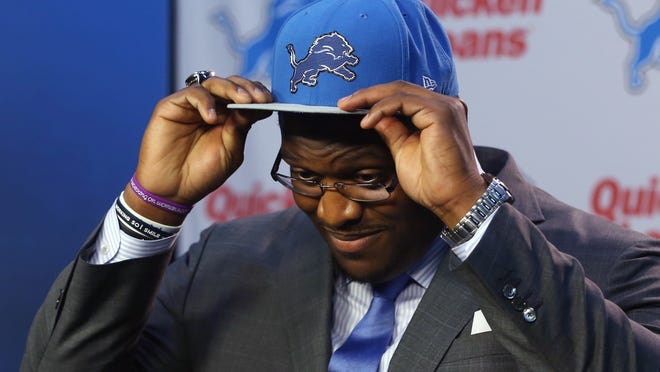 Allen Park — The Lions have less than one week left to make final preparations for the draft, and general manager Bob Quinn expects to have his first draft with the team go smoothly.
"I think the biggest thing I learned (in New England) was probably that all the decisions are made before draft day," said Quinn, who spent the last 16 years in New England. "There's no big arguments on draft day. The board's set. You follow the board. You follow what your plan is and there's really not a lot of discussion about who's a better player because really all that work's done in advance.
"So it's really a calm room. It's going to be really quiet, and we'll just let the draft come to us."
Letting the draft come to the Lions means waiting for opportunities to pick players at lower slots than where they're ranked on their board. That could mean a player the Lions like starts falling, so they trade up. It could also mean the Lions don't see the right pick when they're on the clock and try to move back.
There have been two blockbuster trades for the first two picks, and Quinn said the Lions have been involved in talks, too, though he didn't get specific.
Western's Braverman draws notice despite small stature
"This time of year is when you're starting to field calls about moving around in the draft, and we've definitely had plenty of those here in the last few days," he said. "We have 10 picks today. We may have 10 picks at the end of the draft. We may have more, we may have less."
As for what the Lions are looking, Quinn provided few details.
And while more trades could impact the draft, Quinn is confident he'll be ready.
"My strength on draft day is taking all the information and having a plan prior to the draft and then executing that plan," he said. "I'm not going to be caught off-guard by who's left on the board or who's not on the board."
Quinn said coach Jim Caldwell will be with him in the draft room, but he wouldn't say who else would join them. It stands to reason director of player personnel Kyle O'Brien and director of college scouting Lance Newmark will be there.
No matter who's in the draft room, though, Quinn knows that the future of the new players will reflect on him, good or bad.
"There's more pressure of course," he said. "I'm making the pick."
NFL draft
When: First round at 8 p.m. on Thursday, April 28; rounds 2-3 at 7 p.m. on Friday, April 29; rounds 4-7 at noon on Saturday, April 30.
Where: Auditorium Theatre, Chicago.
TV: ESPN and NFL Network.
Lions: If they make no trades the Lions will have 10 picks – one in the first round (No. 16 overall), one in the second (46), one in the third (95), one in the fourth (111), two in the fifth (151 and 169), three in the sixth (191, 202, 210) and one in the seventh (236).