Lions' Reiff obligingly accepts switch to right tackle
Justin Rogers
The Detroit News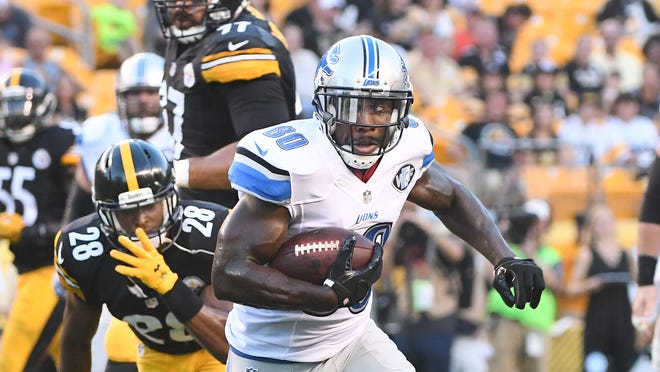 Allen Park — After starting three consecutive years at left tackle, and performing well in the role, there aren't a lot of veteran NFL players who would graciously accept being removed from that premium position to make room for a rookie.

Then again, Riley Reiff isn't like most NFL players.

"I played right side in my career before," Reiff said. "That's where they want me and I'll do whatever they want, what's best for the group. I'm open for anything."

Reiff, the gruff, no-nonsense lineman out of Iowa is a coach's dream. Not only has he not complained about the switch to right tackle, he's embraced the move. And at this stage of training camp, he's looked like the Detroit Lions' most consistent hog in the trenches. 

"I can't say enough good things about him," coach Jim Caldwell said. "He's really been excellent."

But up to this point, Reiff hasn't talked about the switch. He hasn't talked about anything this offseason. The notoriously media-adverse lineman would probably rather get a root canal than field a dozen questions from reporters. 

He broke that silence after a light practice Saturday, but he largely stuck to a script of clichés about getting better through hard work. 

"It's coming in here working with the guys, just coming to work every day and trying to find ways to get better," he said. "Whether it's film study, technique work, it's really boring actually. It's not some magical equation. I'm coming in here, working hard, paying attention, listening, just trying to make the group better."

One way Reiff is helping the group is by being a mentor for the man who is replacing him on the blindside, Taylor Decker. It can be difficult to imagine Reiff, who is just 27 years old, willingly seeking to counsel a younger player, but he's enjoyed taking the rookie under his wing.
Snap observations: Lions take long look at rookies in opener


"I don't know how much of a voice I have, but if a younger guy asks for my opinion, I try to rely back on my previous experience and what I've been through," Reiff said. "If I can give them a good answer, then yeah, I take a lot of pride in helping people succeed.

"I've had a lot of people along the way do that for me.  You don't know how much — I guess I can't speak for other people — but I appreciate that a lot. That's what friends do for friends."

Reiff, the Lions' first-round draft pick in 2012, came into the league and joined a veteran-laden room led by Jeff Backus, Dominic Raiola and Rob Sims. In many ways, Reiff's demeanor, on and off the field, is a mirror image of Backus. 

Now, four years later, Reiff is entering the final year of his rookie contract. And as you might imagine, he wasn't interested in talking about his future with the organization beyond 2016. 

"I'm not going to go there," he said. "Right now I'm concentrating on coming in every day and working hard, trying to get better. You can't think like that."

jdrogers@detroitnews.com
Twitter: @justin_rogers