Snap observations: Lions take long look at rookies in opener
Justin Rogers
The Detroit News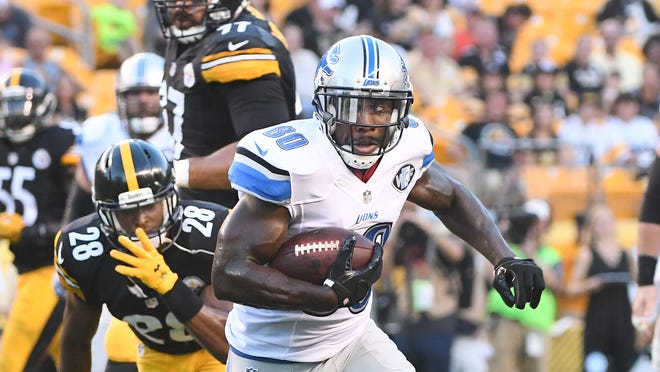 Pittsburgh -- The Detroit Lions used the preseason-opening victory over the Pittsburgh Steelers to get an extended look at the team's draft class, particularly the mid-round selections.
No one played more snaps for the Lions in the 30-17 win than offensive lineman Joe Dahl, who worked 55 of the team's 77 offensive reps. On the defensive side of the ball, fourth- and fifth-round selections Miles Killebrew and Antwione Williams led the charge.
The Lions were less aggressive with their early-round choices. Offensive tackle Taylor Decker, Detroit's first-rounder, recorded 23 snaps, while second-round defensive tackle A'Shawn Robinson worked 18.
Here are some additional observations from the snap count report.
• Veteran wide receivers Andre Roberts and Jeremy Kerley got extended looks, playing 33 and 27 snaps, respectively.
• Zach Zenner, George Winn and Stevan Ridley had similar workloads in the game, but Zenner and Winn played earlier. The third running back job remains wide open.
• The Lions took it easy with their top defensive starters, holding Ezekiel Ansah and Darius Slay from the contest and playing Tyrunn Walker and Glover Quin just four snaps each.
• Don Muhlbach and Jimmy Landes continue to share the long snapper role evenly. The rookie was on the field for five reps, the veteran four.
| | | | | | | | |
| --- | --- | --- | --- | --- | --- | --- | --- |
| Players | Position | Offense | % | Defense | % | Special Teams | % |
| Joe Dahl | T | 55 | 71% |   |   | 7 | 23% |
| Michael Ola | T | 36 | 47% |   |   | 4 | 13% |
| Dan Orlovsky | QB | 35 | 45% |   |   |   |   |
| Andre Roberts | WR | 33 | 43% |   |   | 4 | 13% |
| Orson Charles | TE | 32 | 42% |   |   | 10 | 33% |
| Quinshad Davis | WR | 30 | 39% |   |   | 5 | 17% |
| Cole Wick | TE | 29 | 38% |   |   | 11 | 37% |
| Cornelius Lucas | T | 29 | 38% |   |   | 5 | 17% |
| Geoff Schwartz | G | 29 | 38% |   |   | 3 | 10% |
| Luke Marquardt | T | 28 | 36% |   |   | 6 | 20% |
| Graham Glasgow | C | 28 | 36% |   |   | 3 | 10% |
| Gabe Ikard | C | 27 | 35% |   |   | 3 | 10% |
| Jeremy Kerley | WR | 27 | 35% |   |   | 3 | 10% |
| Chase Farris | G | 27 | 35% |   |   | 2 | 7% |
| Jake Rudock | QB | 27 | 35% |   |   |   |   |
| Corey Robinson | T | 26 | 34% |   |   | 2 | 7% |
| TJ Jones | WR | 25 | 32% |   |   |   |   |
| Taylor Decker | T | 23 | 30% |   |   |   |   |
| Zach Zenner | RB | 22 | 29% |   |   | 8 | 27% |
| Jay Lee | WR | 22 | 29% |   |   | 5 | 17% |
| Laken Tomlinson | G | 21 | 27% |   |   |   |   |
| Travis Swanson | C | 21 | 27% |   |   |   |   |
| Larry Warford | G | 21 | 27% |   |   |   |   |
| Jace Billingsley | WR | 20 | 26% |   |   | 4 | 13% |
| George Winn | RB | 19 | 25% |   |   | 6 | 20% |
| Stevan Ridley | RB | 17 | 22% |   |   | 2 | 7% |
| Alex Chisum | WR | 16 | 21% |   |   |   |   |
| Adam Fuehne | TE | 15 | 19% |   |   | 11 | 37% |
| Marvin Jones | WR | 15 | 19% |   |   |   |   |
| Theo Riddick | RB | 14 | 18% |   |   |   |   |
| Matthew Stafford | QB | 14 | 18% |   |   |   |   |
| Riley Reiff | T | 14 | 18% |   |   |   |   |
| Golden Tate | WR | 14 | 18% |   |   |   |   |
| Anquan Boldin | WR | 11 | 14% |   |   |   |   |
| Matthew Mulligan | TE | 10 | 13% |   |   | 2 | 7% |
| Dwayne Washington | RB | 5 | 6% |   |   | 7 | 23% |
| Michael Burton | FB | 5 | 6% |   |   | 7 | 23% |
| Ben McCord | TE | 4 | 5% |   |   | 3 | 10% |
| Antwione Williams | LB |   |   | 34 | 61% | 11 | 37% |
| Miles Killebrew | DB |   |   | 29 | 52% | 10 | 33% |
| Isaiah Johnson | DB |   |   | 27 | 48% | 8 | 27% |
| Alex Carter | DB |   |   | 25 | 45% | 9 | 30% |
| Crezdon Butler | CB |   |   | 25 | 45% | 8 | 27% |
| Gabe Wright | DT |   |   | 25 | 45% | 3 | 10% |
| Johnson Bademosi | CB |   |   | 23 | 41% | 11 | 37% |
| Brandon Copeland | DE |   |   | 23 | 41% | 10 | 33% |
| Kerry Hyder | DT |   |   | 23 | 41% | 7 | 23% |
| Khaseem Greene | LB |   |   | 22 | 39% | 8 | 27% |
| Chi Chi Ariguzo | LB |   |   | 20 | 36% | 4 | 13% |
| Khyri Thornton | DT |   |   | 20 | 36% | 1 | 3% |
| Stefan Charles | DT |   |   | 18 | 32% | 2 | 7% |
| A'Shawn Robinson | DT |   |   | 18 | 32% | 1 | 3% |
| Darrin Walls | CB |   |   | 17 | 30% | 6 | 20% |
| Kyle Van Noy | LB |   |   | 16 | 29% | 10 | 33% |
| Anthony Zettel | DT |   |   | 16 | 29% | 5 | 17% |
| Charles Washington | S |   |   | 15 | 27% | 11 | 37% |
| Rashaad Reynolds | CB |   |   | 15 | 27% | 1 | 3% |
| Adairius Barnes | CB |   |   | 14 | 25% | 11 | 37% |
| Wallace Gilberry | DE |   |   | 14 | 25% | 2 | 7% |
| Deonte Gibson | DE |   |   | 14 | 25% |   |   |
| Tavon Wilson | SS |   |   | 13 | 23% | 8 | 27% |
| Josh Bynes | LB |   |   | 13 | 23% | 2 | 7% |
| Zaviar Gooden | LB |   |   | 12 | 21% | 11 | 37% |
| Keith Lewis | DB |   |   | 12 | 21% | 6 | 20% |
| Rafael Bush | FS |   |   | 12 | 21% |   |   |
| Don Carey | SS |   |   | 11 | 20% | 4 | 13% |
| Quandre Diggs | CB |   |   | 11 | 20% | 4 | 13% |
| Louis Palmer | DE |   |   | 11 | 20% |   |   |
| Quanterus Smith | DE |   |   | 11 | 20% |   |   |
| Tahir Whitehead | LB |   |   | 10 | 18% | 1 | 3% |
| Nevin Lawson | CB |   |   | 10 | 18% |   |   |
| Devin Taylor | DE |   |   | 8 | 14% |   |   |
| Tyrunn Walker | DT |   |   | 4 | 7% |   |   |
| Glover Quin | FS |   |   | 4 | 7% |   |   |
| Devon Bell | K |   |   |   |   | 11 | 37% |
| Sam Martin | P |   |   |   |   | 6 | 20% |
| Jimmy Landes | LS |   |   |   |   | 5 | 17% |
| Don Muhlbach | LS |   |   |   |   | 4 | 13% |
| Matt Prater | K |   |   |   |   | 3 | 10% |