New Lion Forsett has fond memories of Thanksgiving 2012
Tony Paul
The Detroit News

Allen Park — Oh, he remembers. The smile and the laugh said it all.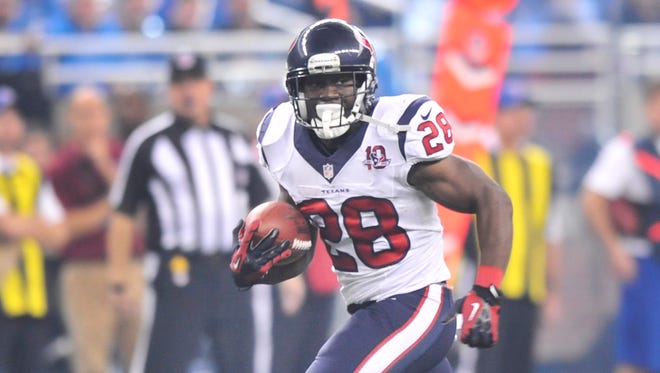 Veteran running back Justin Forsett, the newest Lion, was Public Enemy No. 1 — OK, maybe No. 2, after Jim Schwartz — among Lions fans on Thanksgiving Day 2012.
Then with the Houston Texans, Forsett scored a controversial touchdown on an 81-yard run that was critical in the Texans' 34-31 overtime victory over the Lions at Ford Field.
Forsett, of course, was down well short of the goal line, and the play was about to be reviewed, as all scoring plays are.
But before it was reviewed, an emotional Schwartz threw the red challenge flag, which killed any chance at a replay and drew the Lions an unsportsmanlike penalty.
"Ha," Forsett said Wednesday, when asked for his memories of that day. "Crazy, crazy game. It was a good day for me, but it was a special play that happened on Thanksgiving for me.
"I remember the boos and the Twitter messages that I got on social media forever."
Asked Wednesday if he was down around the 25-yard-line, Forsett played coy.
"What you talking about?" he said, stone-faced. "I don't understand."
Forsett, 30, actually admitted he was down right after the Thanksgiving Day game in 2012. And he did it again Wednesday.
"I was definitely down," he said with a grin.
At the time, Lions players assumed the play was dead around the Texans' 25, only to watch, stunned, as Forsett popped up and headed 75 more yards for the end zone.
Forsett, 30, was signed Tuesday by the Lions to help a depleted backfield. A seventh-round pick out of Cal in 2008, this is his seventh team.
He came to Detroit after losing out on the starting running-back job in Baltimore. He's a familiar face for many in the Lions locker room, having played under Jim Caldwell in Indianapolis, and having played with safety Glover Quin in Houston, among other connections.
tpaul@detroitnews.com
twitter.com/tonypaul1984