Detroit Lions film review: 10 observations vs. Bengals
Justin Rogers
The Detroit News
Allen Park — The audience for a Detroit Lions film review is down to sadists and those who want to take a glance at the car accident while passing through to a less depressing article. That said, I made a commitment to stick to this format at the start of the season, so here we are. Here are 10 observations from Sunday's 26-17 loss to the Cincinnati Bengals.
BENGALS RUN WILD
The Bengals ran for a meaty 142 yards in the victory, with receiving back Giovani Bernard shouldering the load after starter Joe Mixon suffered an early injury. Bernard's 23 carries and 116 yards were both career-highs.
Bernard did much of his damage around the edges. Running behind pulling linemen, he gained 58 yards on four of these attempts. He broke free for 25 on a shotgun carry in the second quarter when the Bengals went with two receivers to the right and two tight end, off tackle, to the left. The tight ends sealed the outside lane and cornerback Nevin Lawson, the last defender on the edge, was destroyed by a block from a pulling guard.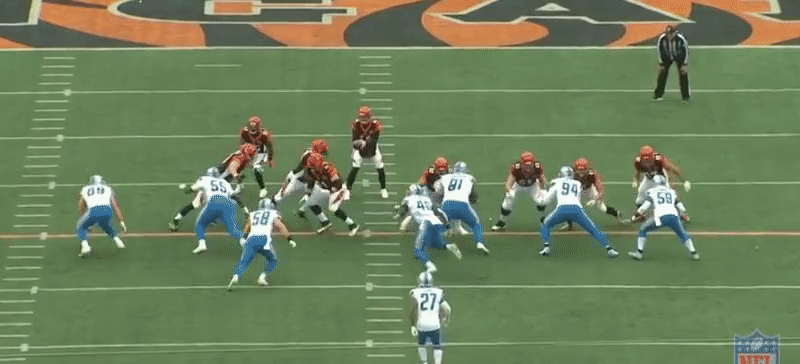 Bernard found similar success on a 10- and 11-yard gains in the fourth quarter. He capped the win late in the fourth quarter by taking an I-formation handoff around the right edge, following the fullback who neutralized safety Miles Killebrew on the perimeter. Safety Glover Quin had a shot to make the stop, angling through an interior lane, but lost his footing through the traffic.
Bernard also had success between the tackles. The Bengals ran it up the gut so much that Detroit's starting defensive tackles combined for 15 tackles.
Despite the lofty tackle total, A'Shawn Robinson struggled against the run early in the game. The Bengals ran it directly at him three times on one scoring drive, including a pair of third-and-1 conversions.
GREEN SLAYS SLAY
Lions fans have been spoiled by Darius Slay this season. He earned his Pro Bowl selection with a string of shutdown performances against some of the NFL's best receivers, but A.J. Green decisively won Sunday's showdown.
Shadowing Green, Slay was credited with three pass breakups, although one came when the receiver had beat the corner deep, only to see the ball ricochet off his face mask when he turned to locate. Normally, that's a strong day for a defensive back, but Green was targeted eight more times, catching six passes and drawing a pass interference penalty on another. He was also flagged for a questionable offensive pass interference that wiped out a 28-yard gain.
Slay gave up multiple first-down completions in the second half, extending drives. He was beaten twice on slants and a third time on a short comeback on third down. The best thing you can say is he didn't give up a deep completion or a score.
Green is a seven-time Pro Bowler and two-time All-Pro. He's arguably having the worst season of his career and his still over 1,000 yards with eight touchdowns. Sometimes Slay is going to lose head-to-head against elite talents and that's what happened this week.
TION KEEPS CHUGGING
The Lions have cycled through a number of short-yardage backs in recent years, but they may have found something in Tion Green. If nothing else, he's earning himself an extended look next year, especially if the Lions don't land a three-down workhorse in the draft.
Running out of the I-formation, behind linebacker turned fullback Nick Bellore, Green easily converted a third-and-1 and fourth-and-1 during a fourth-quarter touchdown drive. Oh, and Green scored the touchdown, a 5-yard run off left tackle.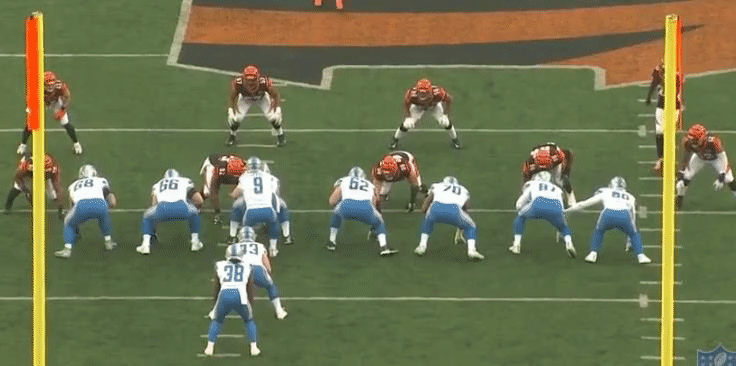 The blocking deserves plenty of credit on all three carries, but Green showed needed improvement getting his shoulders square and plowing through his lane with the authority befitting his frame.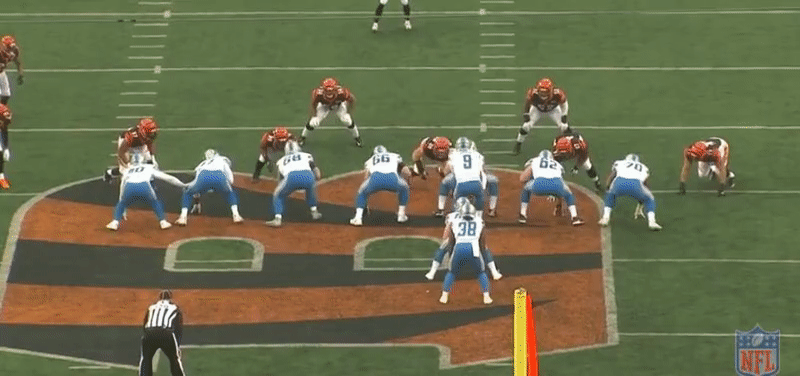 ONE AND DONE
Don Barclay's season is over after being placed on injured reserve on Tuesday and it's doubtful he'll wear a Lions uniform again. His one start for the organization was a memorable one, and not in a good way.
The Lions were in a rough spot along the offensive line, having to start three back-ups against the Bengals. Joe Dahl, despite a tough matchup against Geno Atkins, largely held his own. Corey Robinson, at right tackle, did an adequate job. But Barclay struggled all day, and appropriately ensured the loss by imploding on the final drive.
Barclay's struggles started early in the game when he surrendered pass rush pressure to Michael Johnson, who prevented quarterback Matthew Stafford from following through on a short throw intended for Golden Tate, causing the pass to sail.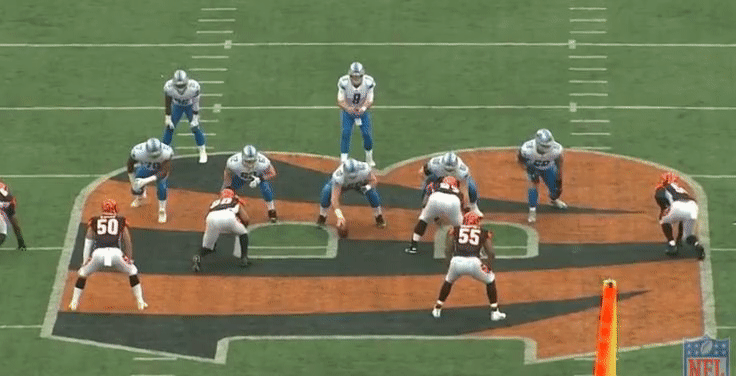 Down a score late in the fourth quarter, Barclay lost his footing and dragged a defender down with him, drawing a hold, got driven into Stafford again, causing another errant pass, then false started. That turned second-and-13 into third-and-28, all but ending hopes of the comeback.
MISDIRECTION CORRECTIONS
The Lions have been painfully susceptible to misdirection plays, but linebacker Tahir Whitehead demonstrated schematic growth during on a number of plays against the Bengals.
On back-to-back plays in the red zone, Whitehead stayed home on a zone-read keeper by quarterback Andy Dalton and a play-action rollout, taking away Dalton's two options to that side, leading to a sack.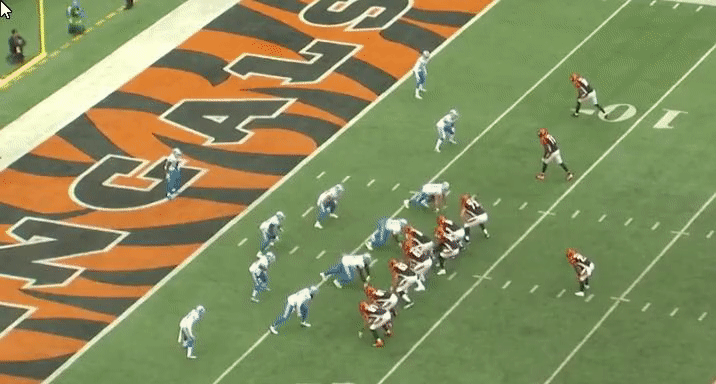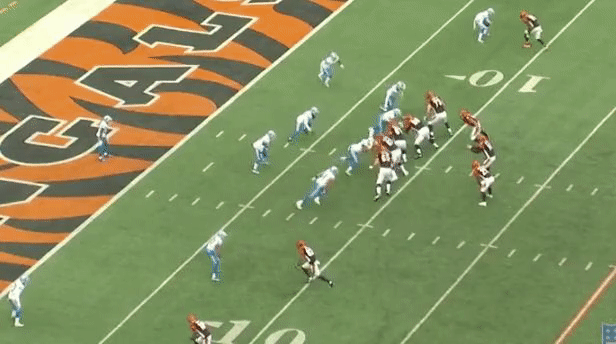 And on the Bengals' play-action touchdown pass in the third quarter, Whitehead likely went unnoticed but did his job well following a backside passing option into the flat.
It's a small sample size, but a significant positive to see Whitehead consistently in position to make plays that have proven difficult for the Lions to stop this season.
STILL GOT IT
Dwight Freeney did next to nothing in his first three games with the Lions, but finally broke through with three quarterback pressures while playing just 23 snaps against the Bengals.
The best part was seeing him effectively use his signature spin move early in the game, making fill-in left tackle Clint Bolling look silly. Freeney got home for a hit on Dalton on the snap as the quarterback rushed a throw that ended up incomplete and forced a punt.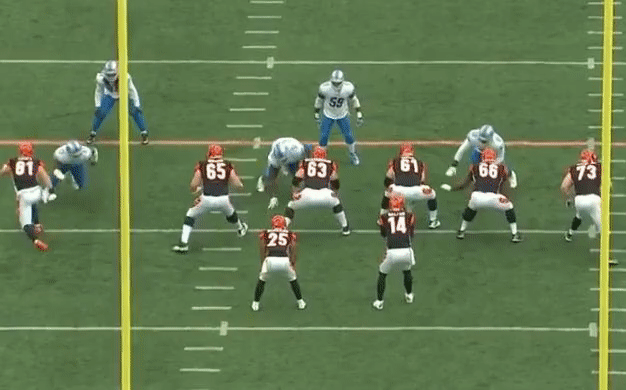 VINTAGE PERFORMANCE FOR ANSAH
Speaking of guys who haven't done much this season, Ziggy Ansah's 2017 has been a major letdown. But the impending free agent put a strong showing on tape for potential offseason bidders with four tackles behind the line, including three sacks.
On the first, Ansah crashed downline following a play-action run, but squared his shoulders toward Dalton when he recognized the play fake. Despite significantly slowing his momentum to change directions, Ansah bullied 250-pound tight end Tyler Kroft back into the quarterback, essentially wrapping up Dalton for a 6-yard loss around Kroft's body.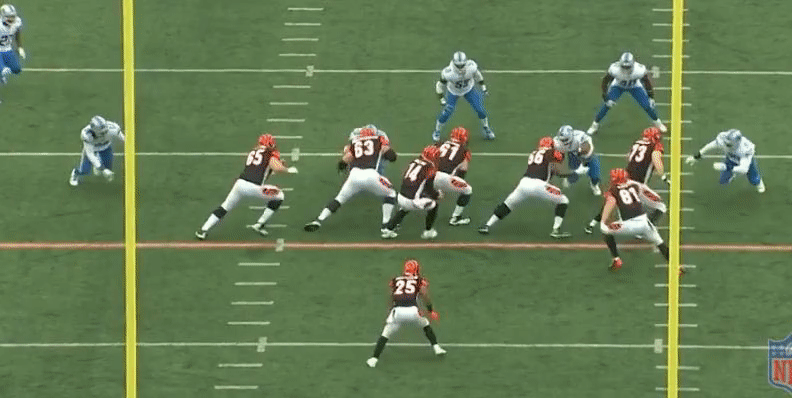 Credit for Ansah's second sack can partially be attributed to Whitehead. On an aforementioned misdirection play, where Whitehead clogged Dalton's throwing lanes on a rollout, Ansah peeled off a block from tight end C.J. Uzomah and chased the quarterback out of bounds for a loss of four.
Ansah got Dalton in the red zone a second time in the fourth quarter by converting speed to power against Boling. Ansah turned the corner and got two hands into the tackle's chest, before shedding and dropping the quarterback in the pocket for another loss of six.
The Lions defensive end also had a tackle for a loss on a poorly designed pass play, splitting between a pulling guard and Bernard to immediately stop wide receiver Brandon LaFell on a tap pass while motioning through the Bengals' backfield.
DIMES TO EBRON
Tight end Eric Ebron was responsible for two of Detroit's three biggest gains in the loss, thanks to a pair of beautiful passes from Stafford.
In the opening quarter, the Lions spread out their four receiving options on a third-and-5, splitting Ebron out wide to the right with Tate in the slot to that side. There was some coverage confusion from the Bengals before the snap, but rookie linebacker Jordan Evans was ultimately shifted outside to cover the tight end.
Despite having two safeties staggered deep before the snap, the Bengals appear to be in Cover-1. With the deep man shading to Marvin Jones on the opposite side of the field, and the near safety driving down toward Tate running an out route at the sticks, Ebron was one-on-one down the sideline. With a clean inside release, he quickly got a step on Evans and Stafford makes a perfect throw, dropping it right over Ebron's shoulder for the 33-yard touchdown.
And that was the second-most impressive connection between the two.
In the final frame, Stafford showcased his elite-level anticipatory throwing ability, firing a difficult ball well before Ebron comes open. Running a deep crossing pattern from just off right tackle, Stafford let go of the pass when Ebron had yet to get beyond middle linebacker Vincent Rey, who has dropped into a deep zone. The precision pass floated just over defender's fingertips, hitting Ebron in stride for a 29-yard gain.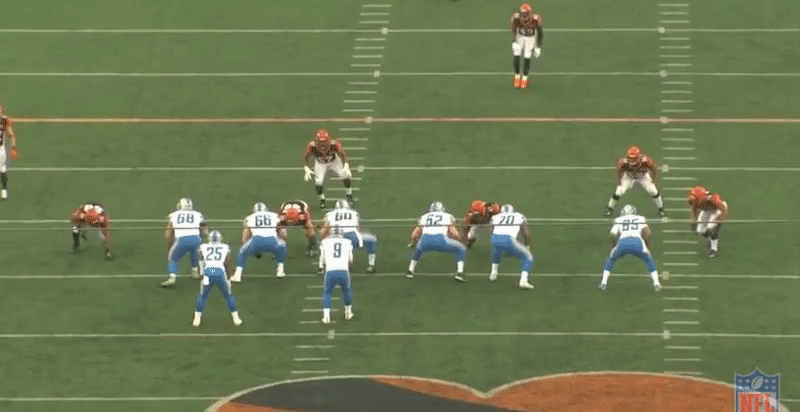 FLAT ATTACK
The Bengals had a three-pronged offensive game plan, built around sticking to the run, force-feeding the ball to Green and attacking the flats.
Cincinnati connected on six throws to the flats, often taking advantage of a linebacker slow to get into position. The Bengals had their best success when the Lions blitzed, which left spacing issues in the zone coverage. The best example came in the third quarter when running back Brian Hill leaked out into the right flat when the Lions blitzed a linebacker and safety to that side.
There wasn't a defender within 10 yards when Hill hauled it in, and taking advantage of poor pursuit angles in the secondary, was able to weave his way to a 34-yard gain.
EASY DOES IT
Quandre Diggs is making the conversion to safety look easy, but opposing quarterbacks are doing their best to help with the transition. For the third straight week, he intercepted a pass thrown directly at him. This week, Diggs can thank a well-executed blitz for his latest turnover.
On the first play of the second quarter, a first-and-10 just across midfield, the Lions brought Whitehead and Jarrad Davis on a blitz, with both linebackers charging through the "A" gap between the center and right guard.
Both the guard and center, plus Bernard, initially picked up Davis, the first man through. But as Whitehead followed, the guard and Bernard switched off, allowing Davis to squirt past the protection. With pressure in his face, Dalton heaved a throw off his back foot that sailed well over the head of his intended target into the waiting arms of Diggs.