Quick reads: Ragnow, Lions' O-line pave the way
By Nolan Bianchi
The Detroit News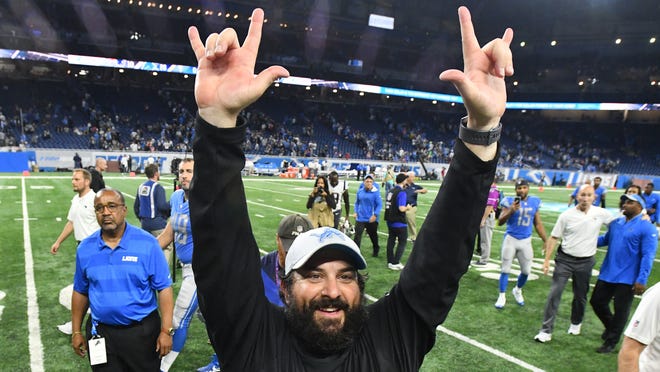 Nolan Bianchi gives a quick rundown of the Lions' 26-10 victory over the Patriots Sunday at Ford Field.
Holy 100-yard rusher, Batman
Rookie back Kerryon Johnson snapped the Lions' streak of 70 games without a 100-yard rusher with a 101-yard performance on just 16 carries. Johnson and LeGarrette Blount — who rushed for 48 yards — benefited from the absence of New England defensive backs Eric Rowe and Patrick Chung, which required the Patriots to drop more bodies into coverage to avoid giving up deep balls to Kenny Golladay and Marvin Jones. A transition to Johnson becoming the premier back in Detroit had been underway since its Week 1 loss against the Jets, and with Theo Riddick getting no carries on the night, it's safe to say the backfield officially belongs to Johnson. Johnson's impressive 6.3 yards-per-carry is a testament to his patience at the line, which allowed him to bounce it to the outside for a solid gain when holes didn't open up in front of him. Still, the Lions' offensive line did a solid job of paving the way for the former SEC Offensive Player of the Year to go up the middle.
Ragnow reigns on offensive line
Speaking of the offensive line, Frank Ragnow was the standout performer of the big men up front, which held steady all game and allowed for the Lions to pick up a total of 159 yards on the ground. The former first-round pick received heavy criticism for lackluster pass protection in the first two weeks of the season, and picked up his game by getting off the line quickly to pave lanes for Johnson and Blount all night. NBC analyst Cris Collinsworth said in the fourth quarter after an 8-yard run from Blount, "These are some of the biggest holes I've seen in the National Football League," comparing running lanes to something that'd be seen in a pee-wee football game.
More:Lions' next opponent: Seahawks beat Cowboys
More:Report: Lions made big push to trade for Patriots TE Rob Gronkowski
More:Lions without Ziggy Ansah again; Kerry Hyder a healthy scratch
Secondary Smoke
The Lions secondary dealt with just three active New England receivers and an always-dangerous Rob Gronkowski handily. Cornerback Darius Slay, who was questionable all week due to a concussion suffered last Sunday in San Francisco, lived up to his 'Big Play' moniker with an interception in crunch time and textbook coverage on other deep balls when Tom Brady was looking to get back in the game in a hurry. Brady was held to 133 yards passing — the fewest yards he's thrown indoors in his career. Former Seattle Seahawk DeShawn Shead, who'd been tasked with covering Gronkowski in a matchup with New England a few years prior, was part of a double-team that gave the Patriot tight end no room to breathe all night. Aside from its success in limiting big plays downfield, the airtight coverage from the Lions secondary also resulted in a handful of coverage sacks, namely a huge second-down sack of Brady by Eli Harold in the fourth quarter before the Patriots turned it over on downs in their own red zone.
Leaping off point?
After losses by division rivals Minnesota and Green Bay earlier in the day and a disappointing performance from Dak Prescott in a 24-13 Cowboys loss to the Seattle Seahawks, two things are clear: The NFC North race is just beginning and the Lions' next two games before the Bye Week are much more manageable than they appeared after a crushing Week 1 loss at home to the New York Jets. Chris Carson ran for 102 yards on Dallas and 33-year-old Adrian Peterson picked up 120 yards on the ground against the Packers, meaning that the Lions new-found rushing attack should position them nicely to attack a pair of defenses in disarray over the next two weeks. 
Nolan Bianchi is a freelance writer.