Cowboys' Sean Lee likely to miss another showdown with Lions' Matthew Stafford
Matt Schoch
Special to Detroit News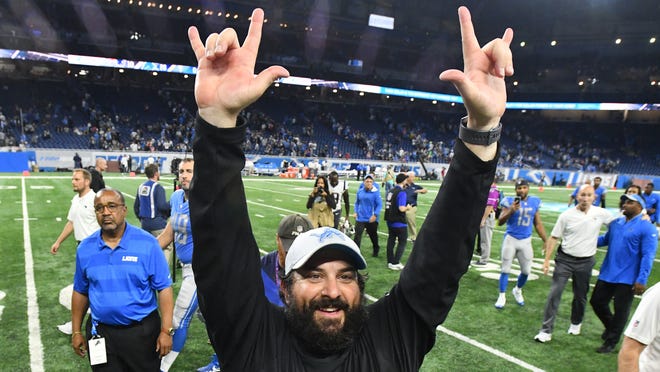 The expected absence of Cowboys linebacker Sean Lee on Sunday would take away the line of scrimmage chess match that he's had with Lions quarterback Matthew Stafford over the years.
But while Lions offensive coordinator Jim Bob Cooter has enjoyed watching that play out, his offense could benefit from the outside linebacker's left hamstring injury that's expected to sideline the two-time Pro Bowler for a few weeks.
"He plays the game at linebacker mentally with the quarterback," Cooter said Tuesday in a conference call with reporters. "He does a great job lining them up, getting them into certain calls, getting them out of certain calls, adjusting the defense when needed. That's something he's great at."
More: Lions' confidence swells after upset over Patriots
Stafford is 2-1 against Lee, with the linebacker missing the 2015 Dallas playoff win with an injury and Stafford missing a 2010 Dallas win.
Lee intercepted Stafford twice at Ford Field in 2013 but the quarterback still got the 31-30 win after Stafford's 1-yard sneak with 12 seconds left, putting a bow on Calvin Johnson's 329-yard receiving day.
With Lee out, rookie Leighton Vader Esch should take his place on the weak side. The 19th overall draft pick out of Boise State, Vader Esch led the team with 11 tackles in Sunday's 24-13 loss at Seattle.
Dallas drama
For the second time in three weeks, Cowboys head coach Jason Garrett had to answer questions about offensive play calls, but said again Monday he was sticking with coordinator Scott Linehan despite rough results.
Under the former Lions offensive coordinator, the Cowboys have scored 41 points in three games, 31st out the NFL's 32 teams.
In a call with reporters, Lions defensive coordinator Paul Pasqualoni downplayed the significance of who called Dallas plays for his team's preparations this week.
More: What they're saying after the Lions' upset of the Patriots
"We're focused on their players, what the concept of the run game and the pass game and the drop-back game and all those things are, so we're not going to be distracted by that," Pasqualoni said. "We're just going to get prepared to defend what they do. Whoever they decide on the playcaller is really their business."
Garrett called plays from 2007-12.
Linehan was the Lions offensive coordinator from 2009-13.
Matt Schoch is a freelance writer.