It took a village to snap Lions' 100-yard rushing drought
Matt Schoch
Special to The Detroit News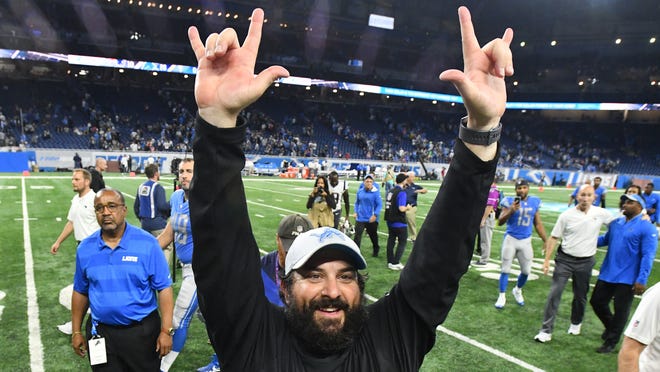 The record will forever show that it was rookie Kerryon Johnson who snapped the Lions embarrassing streak of 70 straight games without a 100-yard rusher  — and he did it with 1 yard to spare Sunday.
But it took a team effort to take down the tired trope.
A revamped and cohesive offensive line, dominant early defense and a commitment to the run by the coaches helped Johnson hit the century mark, which the Lions were spoiled with when Barry Sanders made it routine during the 1990s.
"It takes a lot to get us there,"Johnson said after the convincing 26-10 win against New England at Ford Field. "It takes a lot to do that and pass block and (the offensive line) did an awesome job."
The 1,760-day drought, the longest since the NFL-AFL merger, was right up there with cliche tidbits Lions fans long dreaded during broadcasts.
With continued success on the ground, maybe Detroit could erase another fact of futility for weary fans: One playoff win since 1957.
More: Lions avoiding flags under tougher roughing-the-passer rules
To get that far, the 1-2 Lions likely need more big games from Johnson, the Lions' first 100-yard rusher since Reggie Bush on Thanksgiving Day 2013. That also was the day before Johnson, then a high-school sophomore, led Madison Academy to a Alabama state semifinal victory en route to a Class 3A state championship.
By comparison, Sanders rushed for 100 or more yards in 77 of his 159 games during his Hall-of-Fame career.
Up front, guard T.J. Lang returned to the Lions lineup after missing Week 2's loss against San Francisco. The opposite guard, first-round draft pick Frank Ragnow, drew high praise from NBC commentator Cris Collinsworth throughout the broadcast, saying "these are some of the biggest holes I've seen in the National Football League" about paths cleared for Johnson and LeGarrette Blount.
"It wasn't a left-side, right-side thing, those guys were five guys playing together, along with tight ends and fullbacks and the running backs, everybody," offensive coordinator Jim Bob Cooter said Tuesday on a call with reporters. "Those guys came out and really worked hard to get the right block, the right combination to sort of finish plays. There were a lot of really encouraging things that happened there."
The rest of the line are returning starters from last season in tackles Taylor Decker and Rick Wagner, along with center Graham Glasgow. The unit beat up a short-handed group of Patriots defensive linemen and linebackers.
"I think this was our most physical game that we've played so far," Johnson said. "We made a decision to run it downhill and our O-line got behind it, we got behind it, and that's what we started to do."
Added quarterback Matthew Stafford: "That's a defense that does not want you to run the football on them and we did it and I was happy to be a part of it. Those guys deserve it. They've been working extremely hard, they've been hearing it from you guys for a long time and it's just nice to put that one behind us and go play some football."
The Lions have averaged 4.5 yards per carry this season, ninth in the NFL and more than a yard better than last season's 3.4 average. The last time the Lions ended a season that high was 1997, during Sanders' penultimate season, when the team averaged 5.5 yards per run.
More: Cowboys' Sean Lee likely to miss showdown with Lions' Matthew Stafford
The Lions have been 28th or worse in the NFL on yards per carry over each of the last four seasons, coming in dead last in 2015 and 2017.
Detroit's dominant defensive start to Sunday night's game had much to do with Johnson's big night, which was coupled by 48 yards on 16 carries by Blount.
Tom Brady and the Patriots' offense did not record a first down until there was less than 4 minutes left in the half, allowing the Lions to keep the ball on the ground against the tired Patriots, already down 13-0 at that point.
Playing from ahead also allowed Cooter and the coaches to stick with the run.
The 33 rushing attempts has not been topped by the Lions since Sept. 21, 2014, a home win against Green Bay, Detroit's Week 5 opponent after this coming Sunday's game against Dallas.
"We've still got some getting better to do, no doubt about that, but it was encouraging," Cooter said.
Matt Schoch is a freelance writer.