Lions film review: Five observations vs. Bears
Allen Park — Wash, rinse, repeat. The Detroit Lions' suffered another double-digit loss this past weekend, the team's third straight, falling to the Chicago Bears, 34-22. 
The defense gave up touchdowns on Chicago's first four possessions, while the offense mustered a measly 10 points through three quarters. The film, as you might imagine, doesn't reflect much more kindly on the performance than the live viewing. 
But our weekly tradition is to review and study the game tape to better understand what went wrong and what, if anything in this case, went right.
Here are five observations from this game:
Big plays hurt again
Talking to linebacker Devon Kennard after the game, he said something I initially pushed to the back of my mind. Paraphrasing, he felt the Lions defense played well outside the big plays. 
Unfortunately, there were a lot of them, and unlike several other games this season, none came on the ground. The Bears sliced and diced through a Lions secondary missing its best defensive back, All-Pro cornerback Darius Slay. 
Consider this: The Lions were allowing a little more than three completions of 20-plus yards per game entering this contest. Against the Bears, not exactly the league's most frightening passing attack, the Lions surrendered eight gains of at least 20 yards through the air. 
In many cases, the Lions simply lost their one-on-one matchups. DeShawn Shead, picking up the majority of Slay's reps, got beat twice for long gains in the first quarter.
As the middle option out of trips left on Chicago's opening possesion, Allen Robinson got Shead to turn his hips the wrong way early in the route, juking onside before slicing inside on a slant. 
The Bears had cleared Robinson plenty of space to operate with the receiver far left running a short hitch and the innermost option a shallow cross. With the quick separation and spaced out secondary, Robinson was able to take the short pass 35 yards after running through Shead's desperation diving tackle attempt.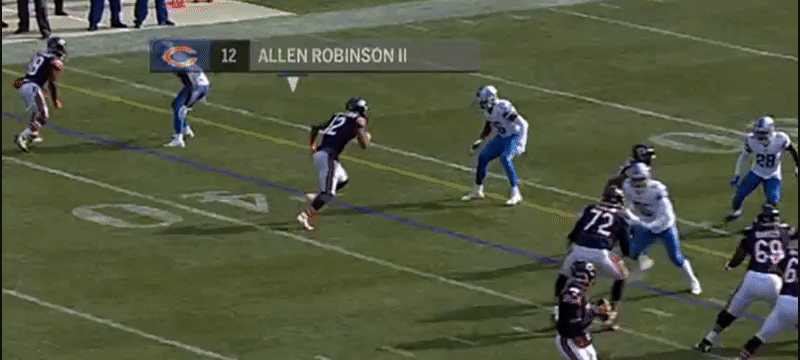 In the third quarter, Robinson would score on a short slant, running it in from 26 yards out after beating Nevin Lawson with similar ease.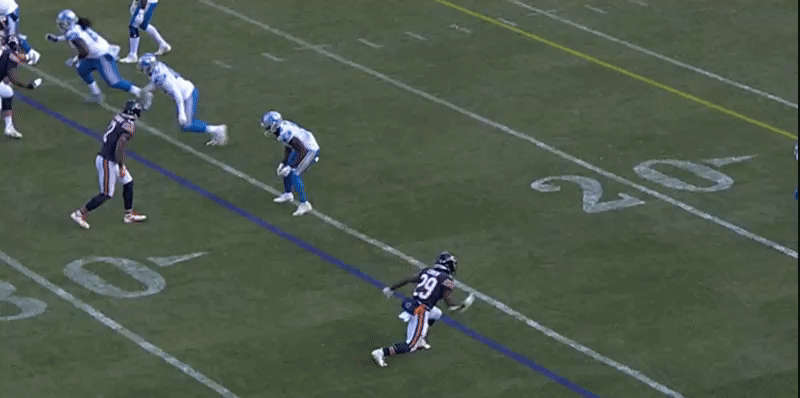 That was Robinson's second score.  Shead got bested for the first, in the opening quarter, thanks again to poor technique on the receiver's release. Running a stutter-and-go, the defensive back got turned inside as the receiver released outside, down the right sideline. Quarterback Mitch Trubisky under-threw the pass, allowing Shead to close the gap with Robinson, but the corner didn't have enough time to locate the ball, resulting in a 36-yard score.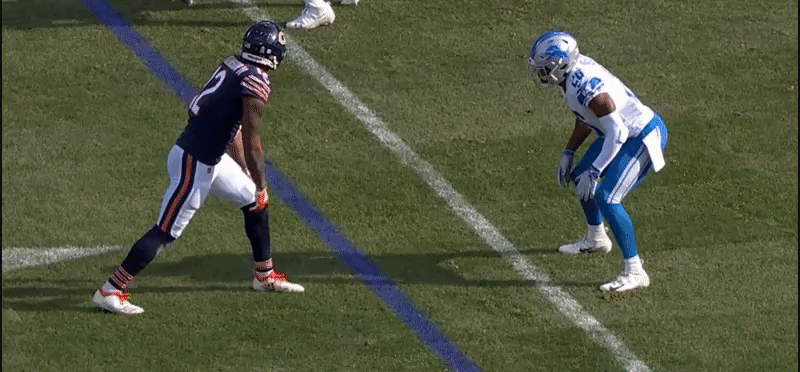 Prior to Robinson's touchdown, the Lions were beat two other times for 20-plus on that drive.
The first was a rare example of Trubisky beating good coverage with a better throw. The Lions were in Cover-3, with deep safety Glover Quin shaded to the left side of the Bears' formation. To the right, Chicago had outside receiver Taylor Gabriel and Robinson in the slot run vertically. Lawson, the outside cornerback matched up with Gabriel, while Quandre Diggs trailed Robinson deep from the underneath zone. Trubisky feathered a perfect pass to Robinson between the two defensive backs, just over the outstretched fingers of Diggs for 27. 
That's a play where you tip your cap and move on. 
On the next play, the Bears got 20 more when tight end Ben Braunecker released deep on Lawson after Trubisky scrambled from his pocket. Prior to Sunday, Braunecker had 41 career receiving yards in 28 games.  
Chicago's two longest plays, a pair of completions to rookie Anthony Miller, came as the result of glaring errors, one physical and one mental. 
In the second quarter, Miller was able to get as open as you'll see any receiver because of assignment confusion between Diggs and Shead. After the game, the latter took the blame for Miller leaking free on a corner route before running through Glover Quin's tackle attempt for a 45-yard touchdown.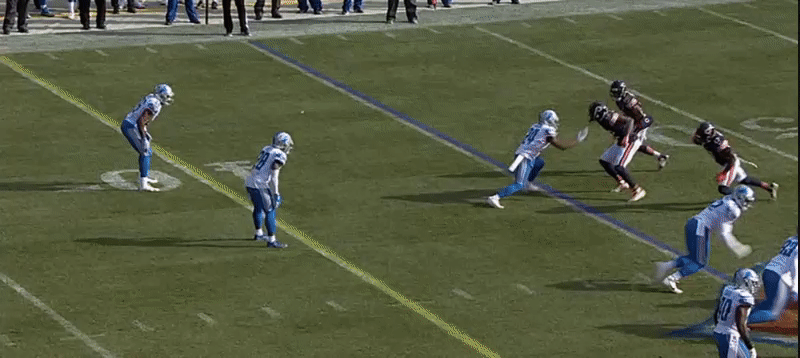 Miller scored a 55-yard gain in the third quarter when linebacker Christian Jones' jam near the line of scrimmage was so forceful it sent Diggs, the man in coverage, tumbling to the ground.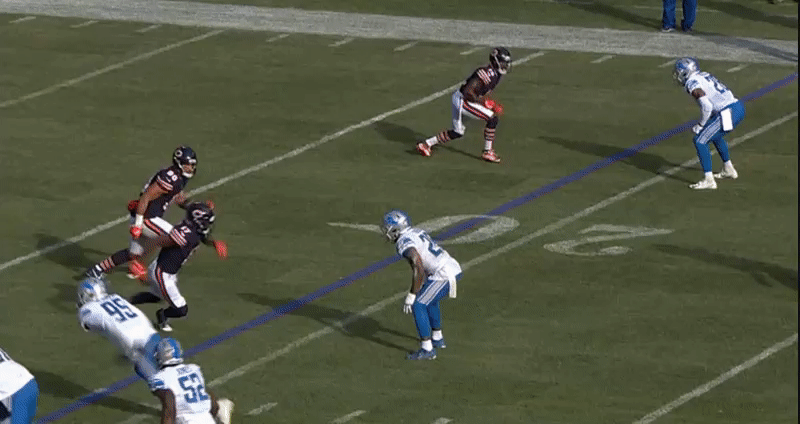 The Bears attempted several more shots downfield, including three bombs to Gabriel, which all went incomplete. 
How much Slay would have helped is difficult to quantify, but there's a significant performance gap between him and Shead that the Bears were able to successfully attack. It also refocused the spotlight on Detroit's need to improve the team's defensive back situation next offseason. 
Another six-pack of sacks
One week after he was unceremoniously dumped by the Vikings 10 times, Lions quarterback Matthew Stafford added six more sacks to the season's ledger, suddenly putting him on pace to top his career-high from a year ago. 
It's wild to think how quickly the story of the offensive line's performance shifted in three weeks. 
As we did a week ago in this space, let's look what went wrong with each sack. 
Q1, 1ST & 5, 9:41
This one has to be chalked up to poor play design. The Lions ran play-action out of shotgun, and as a component, had receiver TJ Jones selling a block from the right slot. The problem here was the cornerback covering Jones, Bryce Callahan, was tight to the formation and simply drove into the backfield unblocked, quickly dropping Stafford before any routes could develop.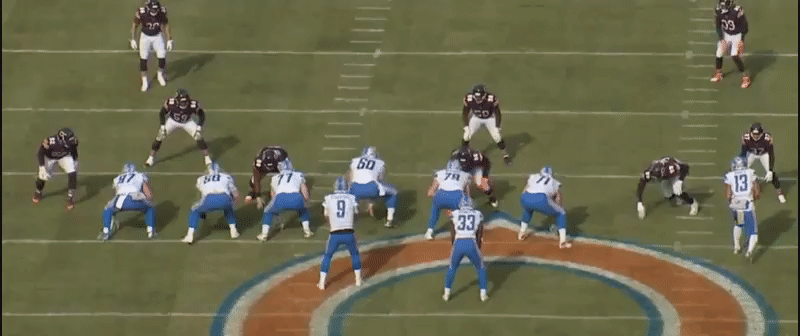 Q1, 3RD & 9, 6:02
The biggest issue on this play was the protection didn't hold up long enough for the underneath routes to develop. The Lions had three receivers on the play, two to the left, all run vertical routes. Running back Theo Riddick, offset to Stafford's right out of shotgun, and tight end Michael Roberts, off left tackle, both ran delayed routes, first showing intent to stay in and protect the quarterback. 
Roberts came open into the left flat — a route the Lions had gained 16 yards on earlier in the game — but it was too late. The Bears rushed five on the space. Defensive tackle Akiem Hicks beat right guard Kenny Wiggins, forcing Stafford to stay in the pocket, where he was put down by rookie linebacker Roquan Smith coming clean on a stunt around center Graham Glasgow. 
Q3, 1ST & 10, 8:45
The Lions are going to have to deal with Khalil Mack twice a year for a while, so you might want to get used to this happening on occasion. 
Rushing from a wide-9 alignment, Mack barreled directly into the chest of Rick Wagner, driving the right tackle back far enough where the edge rusher could swat at Stafford's arm as he went to fire a pass. Instead, the quarterback had to pull it down to avoid a fumble. Snap to sack, 2.5 seconds.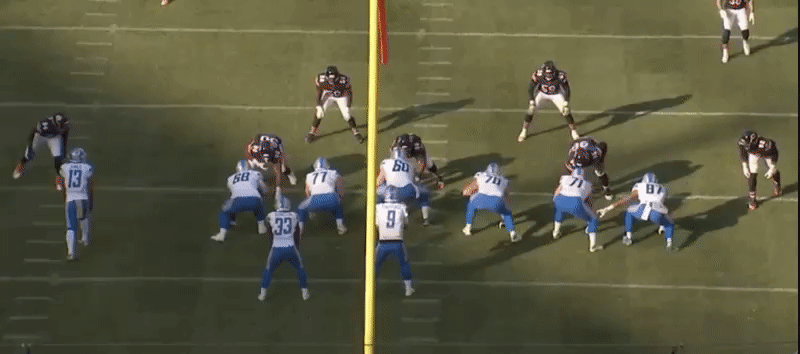 Q3, 1ST & 10, 2:44
Again, it was Wagner getting beat, this time by Leonard Floyd. Also rushing from a Wide-9, Floyd spun inside on his fifth step, catching the offensive tackle by surprise and off balance. As with most of Chicago's sacks, the pressure arrived before Stafford could reasonably be expected to throw.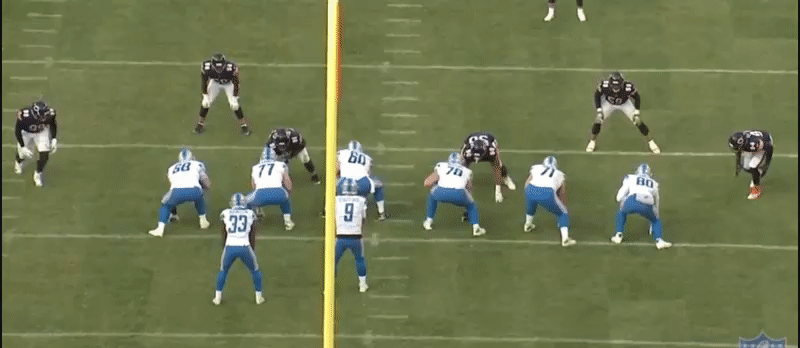 Q4, 1ST & 10, 14:25
Another Chicago rusher quickly won his individual matchup, this time along the interior. Defensive tackle Bilal Nichols made Frank Ragnow look silly, swatting away the rookie guard's punch attempt and swimming inside on a beeline to the quarterback. 
Q4, 3rd & 8, 13:13
If you've seen one highlight from this game, this Mack sack was probably it.
Rushing from Stafford's left, the All-Pro linebacker easily discarded tight end Levine Toilolo's chip block attempt before plowing over left tackle Taylor Decker. 
Honestly, it looks terrible for Decker, but what might have been easily missed was Ragnow stepping on the left tackle's foot, pinning it to the ground at the most inopportune time. That left Decker a sitting duck for Mack's powerful bull rush and Stafford ended up paying the price a fraction of a second later with the blindside wrap-up. 
Ground control
If you're looking for an ember of hoping coming out of this game, it has to be Detroit's run defense, which held the Bears to 54 yards on 22 carries. That includes a long of 9 yards, which came on the Bears' first offensive snap. 
In this department, the Lions consistently won up front behind the impressive play of defensive linemen Damon Harrison, A'Shawn Robinson and Da'Shawn Hand, while linebackers Jarrad Davis and Jones consistently did a nice flowing to their gaps. 
Detroit did allow two rushing touchdowns, which Harrison stepped up and took the blame for via Twitter. Lined up directly over center Cody Whitehair on the runs, Harrison lost control of an A gap on both plays, despite not facing a double-team. Those were uncharacteristic lapses for the veteran nose tackle, who has played at an extremely high level since being acquired in a trade last month. 
Where Martin got hurt
Punter Sam Martin suffered an undisclosed injury against the Bears, which required further evaluation at a Chicago hospital before returning home with the team. 
The moment wasn't captured on the broadcast, but the hit shows up on the coaches film. 
In the middle of the third quarter, Martin's 54-yard punt was fielded by Tarik Cohen, and like so many times this season, the Lions had some issue with their coverage lanes, allowing the return man to break free. 
Potentially needing to make a play, Martin ran 45 yards downfield to help funnel Cohen into Detroit's coverage. For the punter's troubles, Bears receiver Joshua Bellamy delivered a vicious hit from the side. Martin, not suspecting the blow, had the wind knocked out of him and was left on all fours.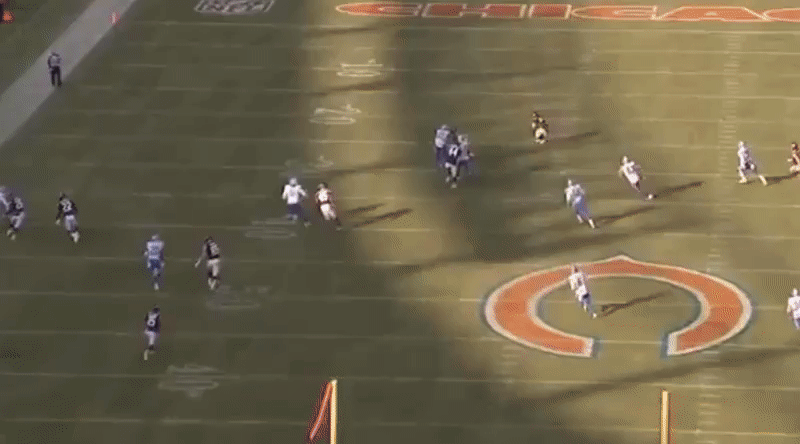 He remained in the game, punting once more and attempting two onside kicks in the fourth quarter. The postgame evaluation cleared him of any additional concerns and he said he's planning to play this Sunday against Carolina. 
Separation anxiety
As discussed earlier, Miller was able to make two big plays because of defensive lapses, while Robinson's successes were the result of skillfully getting separation from Detroit's defenders. 
The Lions currently don't have a receiver capable of consistently winning early in routes, significantly hindering the offense's ability to make plays in the passing game. 
Marvin Jones and Kenny Golladay are talented receivers, no question, but they often win despite not earning a lot of breathing room against man coverage. Jones' ability to control his body and create late separation with his frame make him a unique talent at his size, while Golladay's big frame make him a slow accelerator who leans on rounded routes as opposed to sharp breaks. 
Just look at most of their longer catches from this game. Golladay's 25-yarder along the sideline was tightly contested. And the windows on back-to-back completions in the second quarter — first to Golladay for 13 yards to convert 3rd-and-12 and a 14-yard to Jones across the middle on the next snap — can best be described as tiny. 
On Detroit's longest pass, a 32-yard pass to Jones to open the second half, Stafford stepped up to avoid pressure in the pocket and basically threw Jones' open.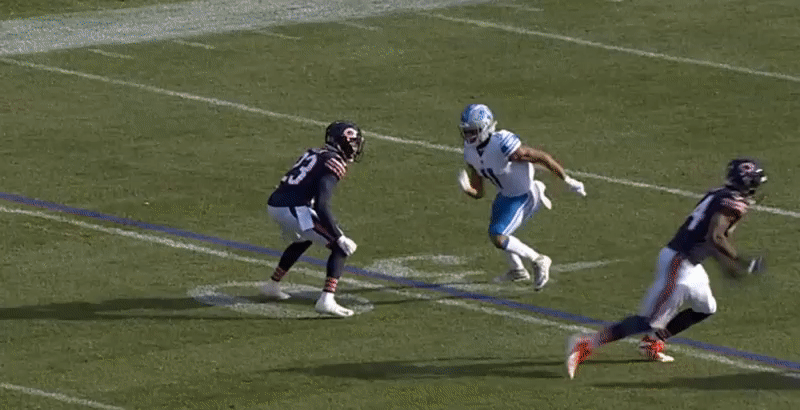 Because of these skill set limitation, the duo's routes can be longer developing, which can be problematic if the opposing pass rush is as talented as it is in Minnesota and Chicago. It's also why Golden Tate was so important to the scheme, with his ability to get open quickly in short areas and act as a safety valve for Stafford. It has unquestionably played a role in the quarterback being sacked 16 times the past two weeks. 
I don't really have an obvious solution to offer. Theo Riddick can do some of the stuff Tate did, but the route tree is more limited, allowing opponents to sit on short throws without the threat of the back getting behind them. The Lions did take a longer look at rookie Brandon Powell this week, but there wasn't a lot to write home about in the trial run. There's also Bruce Ellington, who signed last week, but was a healthy scratch against Chicago. 
However the Lions do it, they need to find a way to manufacture more quick-strike options for Stafford to give the passing game the balance it's currently lacking and negate some of the heat the quarterback has faced in the pocket. 
jdrogers@detroitnews.com
Twitter: @justin_rogers