Rams' dominant defensive front a vision of what might have been for Lions
Justin Rogers
The Detroit News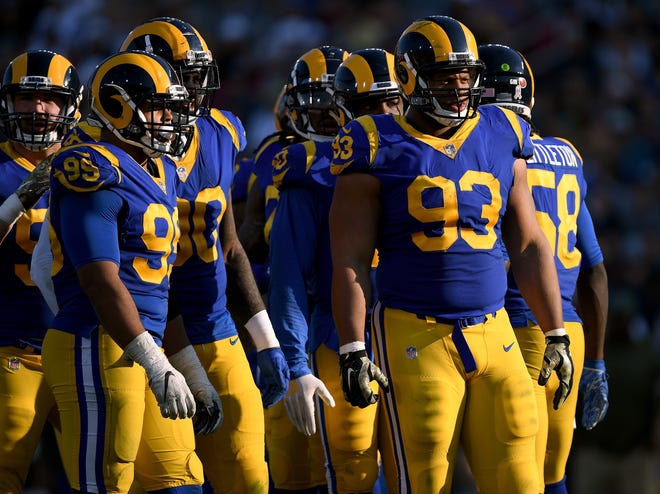 Allen Park — The Los Angeles Rams defensive line is a nightmare for opponents.
For Detroit Lions fans, it's a painful reminder of what could have been. For quarterback Matthew Stafford, he'll be staring down a double-barreled shotgun every snap on Sunday, at two the premier defensive tackles of this generation. 
First, there's the one Detroit passed, Aaron Donald, a three-time, first-team All-Pro and arguably the NFL's best defender, regardless of position. 
The Lions had an opportunity to draft Donald in 2014, but opted to select tight end Eric Ebron instead. 
More: Lions' Jim Bob Cooter content to let outsiders dissect job performance
Donald is what you might call unstoppable. Despite being subjected to more double-teams than any defensive lineman in the league, by a wide margin, he's leading the NFL with 14.5 sacks. According to Pro Football Focus, he's averaging a staggering seven quarterback pressures each week. 
To complement Donald, the Rams went out and signed former Lion Ndamukong Suh in free agency. 
Suh, who the Lions selected No. 2 overall in the 2011 NFL Draft, will be making his first trip to Detroit since he left in free-agency, signing a monster deal with the Miami Dolphins in 2015. 
Detroit's defense hasn't been the same since Suh's departure. In 2014, the unit ranked third in points allowed. The scoring defense checked in at 23rd, 13th, and 21st the past three years and is currently 24th this season.
These days, Suh is producing a tier below his teammate, yet has still be borderline dominant, tallying 3.5 sacks, 12 quarterback hits and 35 total pressures.
And what's more impressive is the two interior linemen rarely leave the field. Suh and Donald have each played at least 88 percent of the Rams' defensive snaps this season.
More:Lions wide receiver Marvin Jones out for the season
Combined with the edge pressure brought by defensive ends Samson Ebukam and Dante Fowler Jr., who was acquired at the trade deadline, the Rams are getting pressure on 36.9 percent of drop backs, according to Football Outsiders. That's the best rate in football. 
The matchup up front presents an massive challenge for Detroit's offense, which gave up 16 sacks over two games earlier this month before making an aggressive adjustment. The past two games, the team has significantly dialed back its downfield looks in favor of the the league's fastest passing attack.
That necessary adjustment has kept Stafford upright — just three combined sacks the past two games — but has also hindered the overall effectiveness passing the ball. The offense is netting a paltry 6.1 yards per attempt on the quarterback's 75 throws.
jdrogers@detroitnews.com
Twitter: @Justin_Rogers