Detroit Lions film review: 5 observations vs. Eagles
Justin Rogers
The Detroit News
Allen Park — And we're back. 
A technical issue on the NFL's end derailed last week's film review, but we're back in business following the Detroit Lions' 27-24 victory over the Philadelphia Eagles. 
Without further hesitation, let's get into five takeaways from our Tuesday tape study. 
The return of the return
Given the fact the Lions' emerged victorious, maintaining their undefeated status through three weeks, we thought we'd start on a positive note, by taking a closer look at Jamal Agnew's 100-yard kickoff return for a touchdown. 
An All-Pro punter return as a rookie in 2017, Agnew has been in a rut for more than a year. His sophomore season was derailed by a knee injury and he was off to a dreadful start to the current campaign, putting the ball on the ground twice through two games and finding little breathing room with his other returns. 
That led to a mid-game benching a week ago, but Agnew bounced back in a big way against the Eagles, taking the first kickoff he fielded to the house. 
After the game, Agnew said the Lions were expecting the Eagles to kick to the left, but Jake Elliott's effort came in to the right side, just shy of the numbers. Agnew fielded the kick with both feet just inside the goal line and came out angling left, following lead blocker J.D. McKissic. 
A successful kickoff return is typically the result of several key blocks, and this was no exception. The first came at the 14-yard line from rookie running back Ty Johnson. 
Coming right to left, Johnson just managed to get a piece of linebacker T.J. Edwards from the side at the last possible moment, narrowly avoiding a block in the back that would have negated the play. Johnson's block freed McKissic to lower a shoulder into safety Andrew Sendejo, opening a cutback lane for Agnew just beyond the left hash. 
It's here, at the 20-yard line, Agnew has to make a man miss. He angled his return back to toward the left sideline, running away from the reach of safety Rudy Ford, who has bounced free off the block of tight end Logan Thomas. 
Agnew was able to get all the way too the sideline because Miles Killebrew, working in tandem with rookie Will Harris, sealed Eagles defensive end Josh Sweat inside, maintaining the outside lane. 
The final hero of the return, one who wasn't really captured on the broadcast, was cornerback Dee Virgin. Like Agnew, Virgin has had a rough start to the year, drawing three penalties on special teams. On this play, he delivers not one, but two blocks for his return man. 
Early in the return, Virgin unloads a de-cleating block on linebacker L.J. Fort at the 27, pancaking the man who is nearly 40 pounds heavier. But Virgin wasn't done, he got up and chased down the kicker 15 yards upfield, ensuring Agnew's path was unimpeded to the end zone. 
From there, it was off to the races, but a true team effort along the way.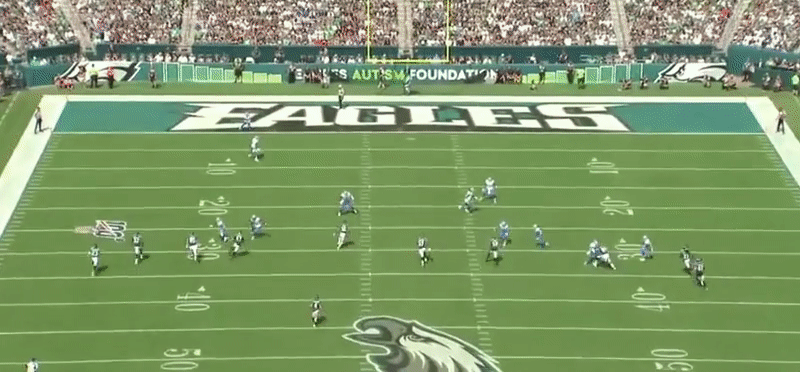 Where are the holes?
For the resources the Lions have committed to the run, they're not getting a return on investment through three games. And things haven't been trending in the right direction. The teams total rushing yards, as well as their yards per carry, have dropped each of the first three games. 
Acknowledging it's not a one-man band in the backfield, let's focus on Kerryon Johnson's 20 carries, for the sake of timeliness. We're going to go through them one-by-one, listing down and distance and field location, and try to draw some conclusions at the end. 
► 3rd-and-1, DET 34: The offense is in shotgun, with two tight ends off left tackle, prior to T.J. Hockenson motioning to the right side to balance the formation. Johnson is offset to quarterback Matthew Stafford's left. Tight end Jesse James and left tackle Taylor Decker do a nice job sealing off an outside lane, while Hockenson is assigned to pull back across the formation and cut linebacker Zach Brown. But the rookie misses, leaving Brown upright to make the stop after a 2-yard gain. 
► 1st-and-10, PHI 44: The Lions come out in a tight formation, a tight end off each tackle and wide receivers Marvin Jones and Kenny Golladay close to the edges. Stafford is under center with Johnson alone in the backfield. The Eagles counter with seven in the box. 
On the snap, Sendejo, initially aligned outside the tight end on the right side of Detroit's formation, shoots through the A gap between the center and guard, untouched. The design has Jones digging the safety out, but has no shot based on his and the defender's alignment. Simply put, it's a great defensive call. Johnson is able to spin out of a loss of yardage, but is stopped for no gain. 
► 1st-and-10, PHI 34: It's an I-formation look with fullback Nick Bawden in front of Johnson. There's only one tight end, James, off right tackle. Bawden goes left on the snap, while Johnson heads right behind pulling guard Joe Dahl. There are a lot of good blocks on the play, but Decker inexplicably doesn't sustain on linebacker Nigel Bradham, turning his attention to another linebacker in backside pursuit. Bradham puts an initial hit on Johnson in the hole and teammate Derek Barnett cleans it up after a gain of 5. 
►  2nd-and-5, PHI 29 -This was Johnson's longest gain of the day, an 11-yard pickup. Again in I-formation, with two tight ends off right tackle, Hockenson motions to the left side pre-snap. Rick Wagner and Frank Ragnow seal off an outside lane, while Graham Glasgow climbs to the second level to body a linebacker. Johnson follows Bawden around the right edge, picking up a block from the fullback for the chunk gain.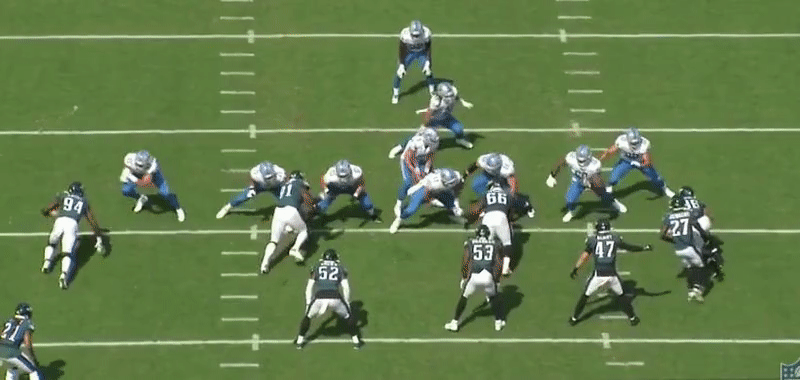 ► 1st-and-goal, PHI 3: The Lions line up with Johnson as the single back and James off right tackle. McKissic motions through the backfield on the snap for a play-action end around as the handoff goes to Johnson. Ragnow does his job, clearing nose tackle Hassan Ridgeway out of the lane, but Glasgow breaks off from his double-team a little early, leaving Wagner with poor leverage on Akeem Spence, who drops Johnson just short of the goal line. 
► 2nd-and-goal, PHI 1: I-formation, three tight ends, two to the left. The Lions look to run power to that side, but Decker, James and Bawden are all stood up at the line. Johnson runs into that wall, gaining nothing. 
► 3rd-and-goal, PHI 1: Essentially the same look, and result, as the previous play, but instead of running into the wall, Johnson goes up and over for the touchdown. 
► 1st-and-goal, PHI 7: After a nearly 12-minute break, Johnson gets the call inside the red zone again. Working as a single back, with Hockenson off right tackle and Thomas off left, Johnson gets a solid seal block from Ragnow, but not much more. Dahl pulls from left to right on the snap, but doesn't get much of the defensive tackle, and Kenny Wiggins also struggles to sustain in the second level. The tackle is actually made by Brandon Graham, coming down the line unblocked, raising fair questions about the play design. 
► 1st-and-10, PHI 22: Another I-formation look, with James off left tackle. Before the snap, Golladay is motioned next to Wagner on the right side. The left side of the line, which includes Wiggins in for Dahl, does a nice job. Glasgow pulls to that side and adds the final block, but Bawden appears to miss his man on the backside (or Wagner took the wrong man), allowing Graham to grab Johnson's ankle just as he's about to get the edge for a potentially big gain. That slowed the back's momentum just enough for help to arrive, limiting the pickup to 5 yards. 
► 1st-and-10, DET 25: More I-formation to open the second half, with James off right tackle. The line works combo blocks, that while not pretty, are effective enough. The trouble comes from the right side, where James does a poor job and Bawden is unable to square up his assignment, leading to a gain of 3. 
► 2nd-and-7, DET 28: Detroit sticks with the run, going single back with Thomas as the lone tight end, off left tackle. McKissic motions from left to right, but the corner in coverage doesn't follow. The run is designed to go left, but that cornerback has the edge, forcing Johnson to cut back inside. Working in a phone booth, he finds room in the B gap between Decker and Dahl for 6 yards. 
► 3rd-and-1, DET 34: Johnson finishes out the three-play stretch by converting the third-and-short with a 2-yard gain, running behind powerful drive block work by Dahl and Ragnow. 
► 1st-and-10, DET 2: Buried in the shadow of their own goal line, the Lions turn back to I-formation with Hockenson and James off shoulder of either tackle. The blocking is bad in a few spots, with Glasgow late to break off a double team and pick up the hard-charging Brown, while Barnett splits the double team from Hockenson and Decker. Johnson gets dropped for a 1-yard loss. 
► 1st-and-10, DET 14: It's another loss of yardage after the Lions fail to react to a late defensive shift. After Golladay motions in from out wide to tight off right tackle, Graham slides from outside Wagner's shoulder to a 5-tech look between Wagner and Glasgow. With the run call designed to have Glasgow pull, Wagner is at a major leverage disadvantage as Graham slices into the backfield and puts a quick hit on the back. 
► 1st-and-10, PHI 48: Back to I-formation, with James off left tackle. The run goes right and the initial blocking is there, including a thunderous effort from Bawden in the hole. But Wiggins, in at left guard, is spun around by the defensive tackle as he tries to climb to the second level, preventing him from getting a body on Brown, who makes the tackle after three yards. 
► 2nd-and-7, PHI 45: From a single-back look, Johnson takes a handoff going right, but Wagner gets swatted aside by Graham. That funnels Johnson outside, where help is there for Philadelphia, resulting in a 3-yard loss. 
► 1st-and-10, PHI 42: Countering Detroit's I-formation and two tight ends, Philadelphia stacks the box with eight defenders. Bawden and Ragnow deliver on their assignments, but Hockenson's cut block fails and Wagner isn't able to break off his double-team with Glasgow to slow Bradham, leading to a gain of just 2 yards. 
► 2nd-and-8, PHI 40: Hockenson and James are off right tackle and do a poor job working a tandem block, allowing Vinny Curry to maintain his gap and force Johnson outside where he's tripped up by cornerback Sidney Jones. 
► 1st-and-10, PHI 28 - I formation, one tight end off left tackle, against nine defenders crowding the line. I'm not sure what the Lions thought would happen here. Motioning Golladay inside only draws a 10th defender into the box area. Johnson plunges into the gut for no gain. 
► 2nd-and-10, PHI 28: The Lions go back to two tight ends with Johnson as the single back, offset to the right of Stafford in shotgun. There were actually some really good blocks on the play, including a well-executed cut by Hockenson, pulling right to left, but there are not enough blockers to handle the extra defenders, leading to another no gain up the gut. 
► Conclusion: Right now, the problems are a revolving door. While there are a few schematic issues, it's more about singular execution errors on each given play. The offensive line, particularly the interior looked much better than you might have expected. Ragnow was excellent against the Eagles and Dahl and Glasgow both performed well enough for the ground game to be better than it was.
The Lions definitely need to get better blocking from their non-offensive linemen. The tight ends are performing well below expectations, and Bawden needs to be more consistent given the emphasis on the fullback role in this offense. The receivers, especially Golladay, also need to be better. At his size, he should be dominating opposing defensive backs. 
Next man up  
Early in the third quarter, the Lions lost Pro Bowl cornerback Darius Slay to a hamstring injury. That left the team to rely on Mike Ford, an undrafted rookie from a year ago, to play the final 31 defensive snaps and potentially serve as a replacement for the upcoming matchup against Kansas City. 
Let's take a look at how Ford performed. 
The Eagles wasted zero time testing the young defensive back, throwing his direction the first play after Slay exited. On 3rd-and-7, Eagles quarterback Carson Wentz took a deep shot to receiver Mack Hollins down the left sideline. 
Ford's initial coverage was good, with a smooth turn, staying with Hollins until the receiver managed late separation at the top of the route before dropping the ball. The play drew a flag, and while most assumed it was Ford who would be penalized, it was Hollins that was hit with offensive pass interference. 
More: Ford tough: Lions' second-year cornerback reliable as Slay's replacement
Wentz only looked Ford's way twice more the rest of the way. Later in the third quarter, facing 3rd-and-8, Ford's technique got a little sloppy. Playing off-man coverage against Hollins, Ford got too deep on his back pedal and wasn't able to challenge the throw when Hollins broke back to the ball. Making matters worse, Ford collided with teammate Justin Coleman on the recovery, providing Hollins an opportunity to extend the gain after the catch for a total of 20 yards.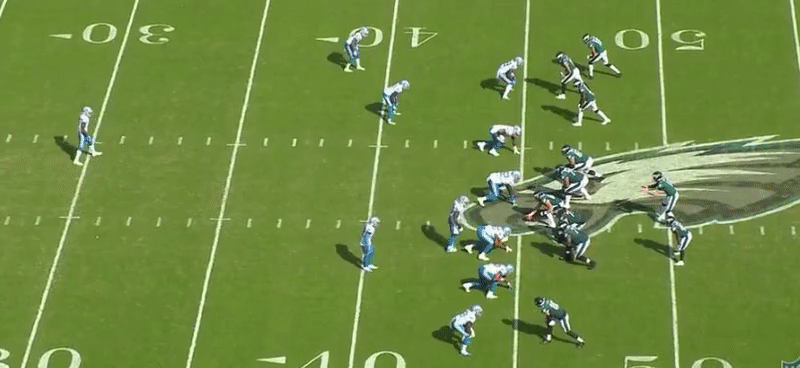 In the fourth quarter, again covering Hollins, the receiver managed to get inside leverage on his release, giving him a half-step on the coverage when he broke inside on a 14-yard dig. The pass hit Hollins in the hands, but he couldn't handle it and Ford knocked away the deflection, ensuring the incompletion. 
I'd also put the Eagles' final touchdown on Ford, although we cannot say that with certainty without knowing the coverage assignments. The Eagles ran a pick play to get Nelson Agholor free on a short out. As the outside man, it makes sense that Ford should have picked up the receiver on a coverage switch, but didn't, leading to a wide open catch and score.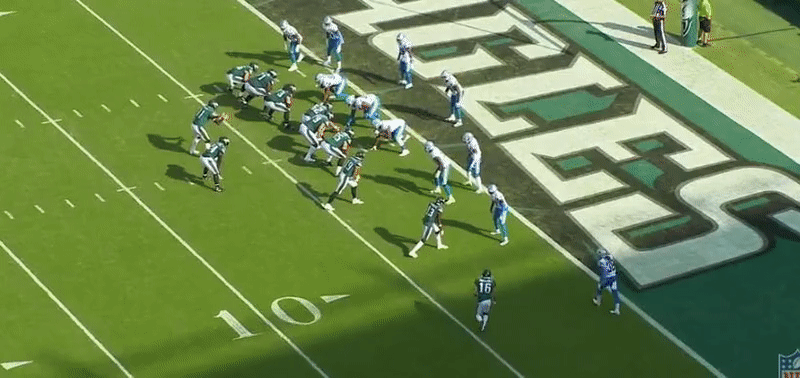 Kansas City's passing attack is relentless and will make corners pay for the smallest of mistakes. If Ford is called upon to play, he'll have to be sharper or Patrick Mahomes will make him pay.  
Smooth operator
After two relatively quiet outings to start the season, it was Marvin Jones' turn to serve as Stafford's preferred target. 
At this point we're all well aware of Jones' abilities, but if there's been a knock on his game, it's been his ability to get separation. The unique thing about Jones is he doesn't really need much space to be effective. The combination of knowing how to use his frame and how to high-point the ball make him a difficult assignment in close quarters. 
But against the Eagles, Jones showcased his finest route running, giving him plenty of space to operate. 
Starting with his first catch in the opening quarter, Jones put on a clinic. Motioning across the formation, left to right, he wound up isolated on the right side against Ronald Darby, an excellent cover corner, in his own right. 
At 5 yards depth, Jones dipped his outside shoulder, signaling a break toward the sideline, but as soon as Darby took a step that direction, Jones squared up and turned his route vertical, where Stafford found him between the corner and closing safety Malcolm Jenkins for 20 yards.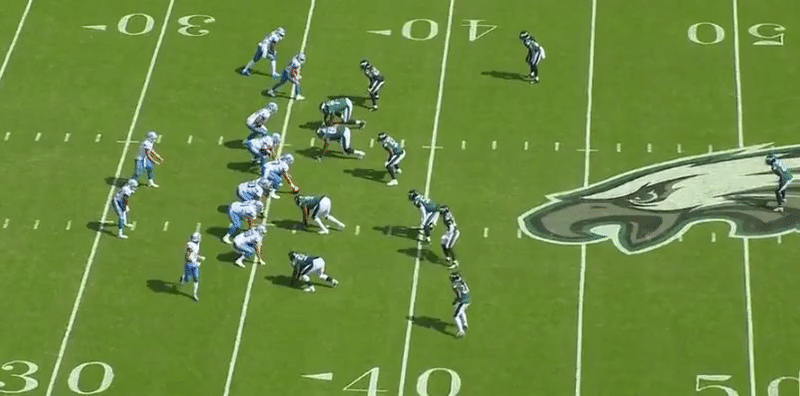 In the third quarter, the veteran Lions receiver got Eagles cornerback Sidney Jones, no relation, all spun around, feigning a post route, before cutting sharply outside when the corner turned inside. Unfortunately, Stafford misfired wide on this throw, leading the receiver out of bounds. 
Marvin got Sidney spun around again later in the third quarter, transitioning from a post look to a corner route, but again, Stafford misfired, this time short. That inaccuracy allowed Jenkins, who was playing underneath, to recover and make a leaping pass breakup. 
Stafford and Jones got back into rhythm, first with a 27-yard pick to beat the blitz, followed by a 12-yard touchdown on a crossing pattern where Jones didn't get the pick it looked like was designed into the play, but still managed to outrun Sidney Jones to a spot in the end zone for the full extension grab. 
Marvin again took advantage of Sidney's alignment in the fourth quarter, as the corner played off-man coverage with a shuffle technique, only to be wildly out of position for Marvin's out-breaking route for a gain of 18 yards. 
Eliminating Ertz
Covering tight ends used to be a major issue for the Lions, but it's been a strength since the arrival of Matt Patricia. Going back to last season, the Lions managed to hold George Kittle, Rob Gronkowski and Greg Olsen in check, limiting the three to under 100 yards combined. 
So it came as a surprise of no one, with DeSean Jackson and Alshon Jeffery ruled out, the Lions focused extra resources to slowing down dynamic Eagles tight end Zach Ertz. 
From the start of the game, when the Lions put cornerback Rashaan Melvin in man-to-man coverage of Ertz, and added interior bracket support from linebacker Christian Jones, the game plan was clear. They weren't going to let the two-time Pro Bowler beat them. 
It wasn't a flawlessly executed plan, but the Lions did limit Ertz to a season-low four catches on seven targets. Likely the biggest disappointment for Patricia is the defense allowed Ertz to get free for a couple big gains, leading to 64 total yards. 
Ertz did most of his damage on two throws. He soundly beat Melvin's man-to-man coverage from the slot on a rounded out pattern for a 23-yard gain, then got free for another 23 yards on a well-designed zone beater, where two sit down routes from the slots occupied the underneath linebackers as Ertz slipped behind that layer of the defense on a dig. He added some extra yardage by breaking a tackle attempt by safety Quandre Diggs. 
The Lions leaned heavily on Tracy Walker to control Ertz and the second-year safety deserves a ton of credit for his performance, playing physically and not allowing a single completion. 
The Lions used a measured amount of double-team looks through the first three quarters, but ramped up the attention they gave Ertz down the stretch, frequently giving Walker inside help from a linebacker on third and fourth downs in the final frame.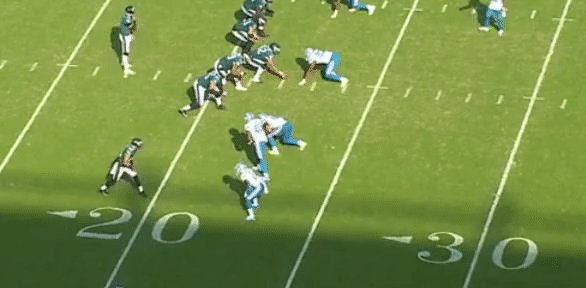 It will be interesting to see if the Lions continue to rely on Walker in man-to-man coverage this week, against Kansas City's Travis Kelce. 
jdrogers@detroitnews.com
Twitter: @Justin_Rogers