Stanley Cup Final: Blues' task against Bruins could be a bear

Ted Kulfan
The Detroit News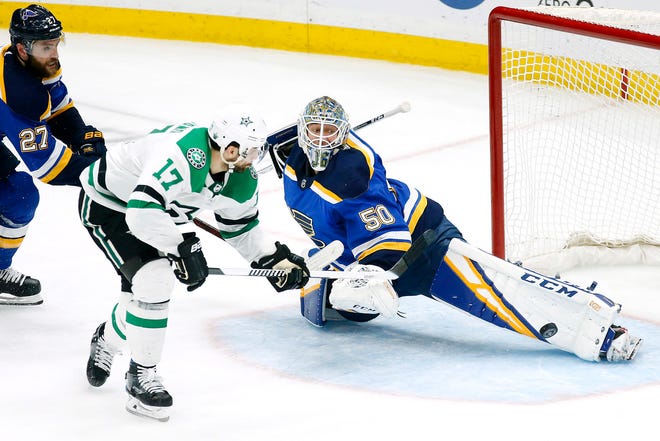 The St. Louis Blues owned the NHL's worst record on Jan. 3 — a wobbly 15-18-4 — and appeared to be headed toward a reconstruction of their roster and continued mediocrity.
The Blues had already fired Mike Yeo and promoted Craig Berube from associate to head coach. The front office easily could have traded several veterans who have tremendous value around the league.
Instead, general manager Doug Armstrong's patience was rewarded.
And Monday, with the Stanley Cup on the line, the Blues begin a best-of-seven series in Boston.
"Give Doug credit," said Ed Olczyk, NBC Sports analyst. "He decided to make a coaching change in November. It was up and down for a period of time, and they hit rock bottom in early January and could have easily sold the farm and started over."
The influence of Berube, and play of goaltender Jordan Binnington, were major factors in turning around the Blues.
St. Louis went 30-10-5 to finish the season, climbing to third in the Central Division. The Blues have eliminated Winnipeg, Dallas, then San Jose in the Western Conference Finals, to continue what has been an unexpected and dominant turnaround.
"The hiring of Berube and the emergence of Binnington," said Mike Milbury, NBC Sports analyst, as to how the Blues emerged. "It's pretty much that simple. Berube was able to find a way to reach the players that he needed to reach and get the most out of them and they needed to solve what had been an ongoing problem in goal.
"And not only did he solve it, it became a strong point with Binnington."
Since arriving in the NHL, Binnington went 24-5-1 to close the season with a league-best 1.89 goals-against average and .927 save percentage and five shutouts. He's a finalist for the Calder Trophy (rookie of the year).
But the Blues will face a goalie in Tuukka Rask who has been equally incredible, especially in the playoffs.
The Bruins have won their last seven consecutive games, including sweeping Carolina in four games in the Eastern Conference Finals.
Rask has been a major reason, with a 1.29 GAA and mind-blowing .961 save percentage and two shutouts in that span.
"He has never played better," Milbury said.
Bruins veteran defensemen Zdeno Chara and forwards Patrice Bergeron, David Krejci and Brad Marchand ignited the Bruins' 2011 Stanley Cup victory and remain important pieces on this tough-minded team filled with depth.
Still, there is a concern regarding the Bruins having to overcome a 10-day layoff to get to Game 1 of The Finals.
"Hopefully we can come out and we can play our game right from the start, whatever rustiness or maybe perhaps getting our legs under you or whatever it may be, hopefully we can shake that out as quick as possible and just get down to playing our game," Bruins defenseman Charlie McAvoy said. "Playing a simplistic game to start is going to be the key to that."
The Blues have the big bodies to match Boston's physical style, something earlier Boston opponents in the playoffs largely did not, and are particularly deep on defense, an important ingredient against the Bruins.
"St. Louis has that match-up capability on the back end," said Pierre McGuire, NBC analyst. "It gives St. Louis a fighting chance to compete with the depth of the Boston Bruins' forwards."
Bruins vs. Blues
Records: Boston 49-24-9 (107 points); St. Louis 45-28-9 (99 points)
Season series: Split two games.
Notable: The teams met in 1970 with the Bruins winning, behind the dominance of defenseman Bobby Orr.
Storyline: Both teams are big, have depth, and the goaltenders, particularly Boston's Tuukka Rask, are dominating.
Key player: Brad Marchand, Boston: If Rask doesn't win the playoff MVP, Marchand might, having consistently carried the Bruins in these playoffs.
Prediction: Boston in 6. The long layoff is a concern, but the Bruins are playing with a purpose.
Stanley Cup Finals
Boston vs. St. Louis
All games at 8 p.m.
Monday: at Boston (NBC)
Wednesday: at Boston (NBCSN)
Saturday: at St. Louis (NBCSN)
Monday, June 3: at St. Louis (NBC)
x-Thursday, June 6: at Boston (NBC)
x-Sunday, June 9: at St. Louis (NBC)
x-Wednesday, June 12: at Boston (NBC)
x-If necessary
ted.kulfan@detroitnews.com
Twitter: @tkulfan