Wings prospect Kivenmaki makes up for size with 'elite skill'

Ted Kulfan
The Detroit News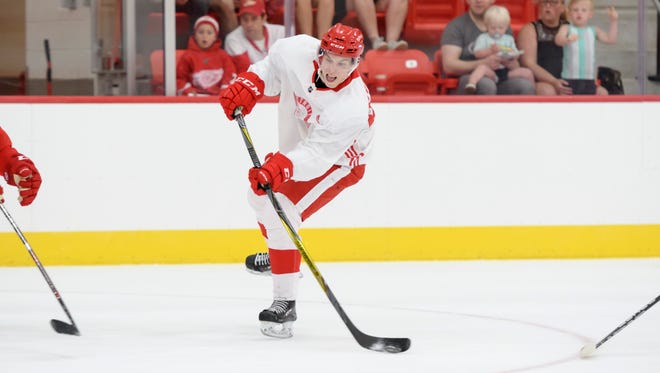 Detroit — The first impression of forward Otto Kivenmaki at last month's development camp was one you'd expect to have, given the measurables.
Yes, Kivenmaki really is that small.
The Red Wings' seventh-round choice in June's NHL Entry Draft was listed at 5-foot-8, 137 pounds by central registry, which may have been some sort of record for smallest player ever drafted.
By the time Kivenmaki arrived at Little Caesars Arena for development camp, he said he was around "70 kilos," which, generally speaking, is close to 150 pounds.
It didn't matter. Kivenmaki isn't going to enter any strongman competitions anytime soon, and that 5-8 mark is giving him a favorable benefit of the doubt in height.
But watching Kivenmaki weave on the ice during the several days of drills, there was the sense this was a player to keep an eye on.
More: Speedy Berggren hopes to become another Red Wings draft gem
"He's a guy that, today, there's more and more smaller players playing in the game," said Shawn Horcoff, the Red Wings' director of player development. "But in order to do that, you have to have that skill, and he has it."
Kivenmaki, 18, is sure to keep gaining weight and strength, so Horcoff isn't necessarily concerned about the lack of size.
"I don't think there's a real number in terms of weight," said Horcoff, as to whether how much weight Kivenmaki needs to gain. "You can tell out there (on the ice) whatever his weight is, he's hard to knock off the puck.
"Through maturity and time, that's going to come. He's a guy who has elite skill and talent, and you can see it. It's just going to take a year or two to put that weight on."
Kivenmaki was ranked 102nd by NHL Central Scouting among all European skaters. In 37 games at SM-Iiiga in Finland's junior league, Kivenmaki averaged a point per game (11 goals and 26 assists).
Hakan Andersson, the Red Wings' director of European scouting, wasn't scared away by Kivenmaki's build.
"He's very small," Andersson said. "(But) he's skilled and has hockey sense. In the late rounds, we didn't think there was any more talent there (to be drafted). Obviously you can draft bigger guys or go in a different direction.
"We thought we had a lot of talent."
More: Report: Agent says Zetterberg 'has not decided' about return to Wings
Kivenmaki has heard about his size his entire hockey career. So when it was brought up to him during the development camp, he wasn't surprised.
"I just have to skate harder," Kivenmaki said of what he has to do to compensate. "Do turns (on the ice) and see (the ice) a little better."
Kivenmaki had no expectations in June of being selected by any team. But when it was the Red Wings who claimed him, that was just fine.
"I wasn't expecting (to be drafted)," said Kivenmaki, who "loved" watching former Wing Pavel Datsyuk, although Pittsburgh's Sidney Crosby is his favorite player.
"But I was happy. It's an honor and a dream come true."
The plan is for Kivenmaki to play, at least, two more years in Finland before even thinking about coming to North America.
"This year I just want to be good in the Finnish Elite League," Kivenmaki said. "Just to get to play there and hopefully in a couple of years play here. There's some younger guys (in the Finnish league), too. The older guys give tips, how to play out on the ice."
ted.kulfan@detroitnews.com
twitter.com/tkulfan